Welcome to the big show, Salukis
November, 20, 2008
11/20/08
11:07
AM ET
NEW YORK -- Southern Illinois, desperate to get on a national stage prior to March, needed play in high-profile, televised nonconference games prior to the NCAA tournament to increase its visibility and credibility.
[+] Enlarge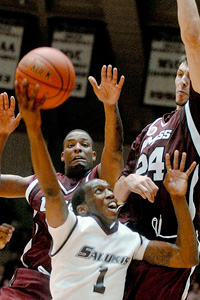 AP Photo/Southern Illinoisan, Paul NewtonKevin Dillard and SIU are hoping for a marquee win against Duke at Madison Square Garden.
The Salukis have been a high-level Missouri Valley Conference and NCAA tournament team under a slew of successful coaches from Bruce Weber to Matt Painter to now Chris Lowery. But what have escaped the Salukis are high-profile national games in November or December to build their profile like Gonzaga or, in the past two seasons, Davidson. Now the Salukis have their shot, as they beat UMass 80-73 on Nov. 12 at home to advance to the semifinals against No. 5 Duke in the 2K Sports Classic (benefiting Coaches vs. Cancer) tonight at Madison Square Garden (
ESPN2, 7 ET
). The other semifinal is No. 4 UCLA versus Michigan (
ESPN2, 9 ET
). SIU has been infinitely more successful this decade than the Wolverines. In fact, it's not even close. Michigan hasn't been to the NCAAs since 1998, while SIU went every season from 2002 to 2007. Still, Michigan has name recognition and can command TV games. SIU doesn't resonate as much. The problem the Salukis have in commanding attention is this: They haven't had a star, an NBA guy. "We've got to have a pro for us to get that," Lowery said, referring to a hot name yielding television time. SIU has had its share of televised games but hasn't been at the level of other mid-majors like Gonzaga, which was able to command attention with its handful of pros. Recently, Davidson has done the same with soon-to-be-pro
Stephen Curry
.
Southern Illinios, however, has lacked that headline name. The beauty of the Salukis is they are the consummate "team" that plays hard-nosed defense, runs a methodical offense and doesn't rely on one player. But a diehard fan, let alone a casual one, would be hard-pressed to name the three double-digit scorers on SIU (Carlton Fay at 16.5 points per game, Bryan Mullins at 11.5 and Kevin Dillard at 11.5).
That's why playing Duke in New York is significant for SIU. While this will seem like a road game for the Salukis (trust me when I say that every game Duke plays in the New York area is like an expanded Cameron Stadium North), the fact that they are on this stage could do wonders for their image with the casual fan, the selection committee and the television executives. It certainly helped that SIU was the host for last week's round against UMass. Event organizer Rick Giles also serves as Lowery's agent, but SIU did deserve to host, considering the Salukis are a more consistent draw than UMass. UMass coach Derek Kellogg said last week he couldn't get over how nice the facility in Carbondale was or the passion of the fan base. The crowd was a solid 5,571 fans. The SIU arena holds 10,014. ESPN's GameDay also went to Carbondale last season for an MVC game between SIU and Creighton. Lowery is well aware of the significance of tonight's game for his program. That's why he is imploring his players to play as tough as they usually do -- but that also means they'll have to watch their foul situation. Lowery said he doesn't call fouls in practice because he doesn't want to hear any complaining. He doesn't want the players to think the whistle is going to protect them. "We've got to match the way Duke plays; they don't change their expression or how they act in any game," Lowery said. "This is going to be a good test for us. "We're going to guard them; we have to limit their second shots. If we can get them out [of their offense] in one shot, then that helps." Limiting offensive putbacks, especially off missed free throws, is another necessity. Another thing the Salukis pride themselves on is taking charges. "We want people to be afraid to go in there," Lowery said. "Hopefully the big stage won't affect our kids." SIU also has road games against Western Kentucky and Nevada and home games against Saint Louis and Charlotte coming up. Stop me if you see a definite NCAA team in that bunch. You don't. That's why neutral-site games against Duke and possibly UCLA will do wonders for SIU's credibility come March for years to come. Playing well, and more importantly winning, will make it more palatable for television executives to call on SIU for future made-for-TV affairs in November and December. • Mercer swept through the SEC in the state of Alabama by beating Alabama and Auburn on the road. The Bears, under former Texas-Pan American coach Bob Hoffman, beat the Tigers 78-74 on Wednesday night, outrebounding them 36-18 in the first round of the Chicago Invitational (the teams eventually will get to the Windy City).
Mercer was projected as a middle-of-the-pack Atlantic Sun team. The Bears are led by James Florence's 22.3 points a game. Western Kentucky transfer Daniel Emerson is averaging 15.3. Georgia Tech plays at Mercer on Saturday. And then Mercer goes to Dayton on Tuesday. These higher-major teams better watch out for the Bears. The Atlantic Sun hasn't had multiple bids to the NCAA tournament, but these are the kind of wins that can have shelf life and at least put a team like Mercer in position to be discussed as a possible at-large if the Bears can eventually win the conference and then lose in the tournament title game.
• Virginia didn't waste time finding a big-time scorer to replace Sean Singletary. Freshman guard Sylven Landesberg scored 21 in a win over South Florida on Wednesday. He opened up with 28 in a win over VMI.
• Credit Tom Izzo of Michigan State for going on the road to lower-level schools. The Spartans played at Bradley last season and visited IPFW on Wednesday, winning 70-59. • Wake Forest's highest-profile player is freshman
Al-Farouq Aminu
, but its most consistent star will end up being guard
Jeff Teague
. He put up 31 points in a win over UNC-Wilmington on Wednesday night. The Demon Deacons quickly are becoming an offensive juggernaut. Wake Forest scored 120 points against Wilmington and 94 in a season-opening win over North Carolina Central. • The surprise so far in the America East might be Maine. The Black Bears are 3-0 after beating Northern Illinois, Kennesaw State and Princeton in overtime. All three games were on the road. Maine plays at Providence on Saturday. • Maui announced its 2010 field: Connecticut, Kentucky, Michigan State, Oklahoma, Virginia, Washington, Wichita State and host Chaminade. With those names, it doesn't look like Maui will be fading in relevance anytime soon.