Henderson's 20 minutes of fame
November, 21, 2008
11/21/08
1:23
PM ET
NEW YORK -- Regardless of what occurs when Duke plays Michigan on Friday night in the final of the 2K Sports Classic benefiting Coaches vs. Cancer (ESPN2, 7 ET), Gerald Henderson can point to the second half Thursday night as evidence that he now can dominate a game.
The Blue Devils needed someone other than
Kyle Singler
to take over. For whatever reason, Henderson hadn't done that this season in the three games prior to Thursday night and he hadn't done it in the first half against Southern Illinois, whose stingy defense led to Duke's unusually erratic play (15 turnovers).
[+] Enlarge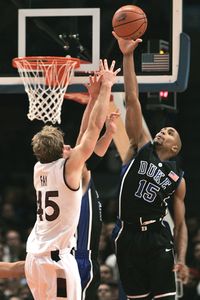 AP Photo/Frank Franklin IIGerald Henderson broke out of an early season slump with a dominating performance in the second half against SIU.
But in the second half, Henderson made the type of plays that on the Blue Devils, only he can make -- taking the ball strong to the hole, creating space for a 3-pointer and making it impossible to double on Singler (who didn't score in the first half and finished with 13 points). Singler said Henderson hadn't been himself lately. But his explosive ability was on display Thursday. "He just needs to focus on that and play like he can," Singler said. "He's a very exciting player." Henderson doesn't hide his confidence. "I just feel like I'm one of those guys that needs to play like that," Henderson said. "My teammates have confidence in me, and I have to be that player." Henderson said he doesn't know why he was not playing to his potential. Maybe he was pressing -- who knows. But through seven halves of basketball over three-plus games, Henderson scored 27 points. He scored 20 in the final 20 minutes Thursday night. "I just thought about having more fun ,and things opened up in the second half and made it easier for myself," Henderson said. "I hope I can string together a number of games where we're winning, playing well and it goes like this every night." • Southern Illinois is a major player now that its freshmen can be impact players.
Ryan Hare
quickly took charges against Duke. Point guard
Kevin Dillard
had 10 points, seven assists and five turnovers while holding his own against the Blue Devils. Redshirt freshman
Nick Evans
was a tough matchup for the Blue Devils until he fouled out with nine points.
Anthony Booker
has a high-major, pro-type body, and while he struggled Thursday (scoreless and one board), it's obvious he has plenty of potential. And the team's best player,
Carlton Fay
, still is only a sophomore. He had 17 points against Duke. Usually, the plan for teams like SIU is to have juniors and seniors on the roster and then take on the higher-profile, big-name institutions with the All-American freshmen and sophomores. But SIU doesn't have to wait anymore. It could be an NCAA team this season. And expect the Salukis to be a top-25 squad in 2009-10. "You can tell that once the freshmen figure it out, we're going to help this program a lot," Fay said. "Coach is always talking about not waiting to rebuild, to be good every year." SIU coach Chris Lowery said that approach changed in his fifth year at the school. "Kids saw we were winning and the opportunity to play here," Lowery said. "This [freshman] class has changed the complexion of our program. For us to be good, we're depending on this class to come in and play."
• UCLA coach Ben Howland said over the summer that he thought the Bruins were way too high in the polls. He was right. This Bruins team isn't ready to be mentioned among the elite this season -- yet. The Michigan game exposed its offensive limitations.
Senior guard Darren Collison (13 points) and freshman wing Jrue Holiday (13 points) were the only two players creating their own shots. Senior Josh Shipp (2-of-9 for five points) has to be much more active, and the inside games of James Keefe and Alfred Aboya need to be much more assertive on the block. The Bruins got much-needed, double-figure scoring from reserve Nikola Dragovic (11 points). But freshmen Drew Gordon, Jerime Anderson and Malcolm Lee and junior guard Michael Roll are going to have to produce.
The Bruins won't play against teams that defend as well as Miami (Ohio) and Michigan (except for Washington State and possibly Arizona State), but the offensive futility has to change. UCLA's defense will carry this squad for a while until the balance of the offense catches up to the Bruins.
Quick hits
• The MEAC scored another significant win for its conference Thursday night when Hampton beat George Mason 50-44. Howard knocked off the Pac-10's Oregon State in its season opener.
• It's hard to underscore the importance of Illinois' win at Vanderbilt on Thursday night. The Illini, much like Michigan, needed something positive to occur. Getting a road win against Vandy, which is rebuilding a bit but still is one of the toughest places to play in the SEC, is a major confidence boost for the Illini. • Mississippi Valley State's ridiculous road swing continues. The Delta Devils lost at Montana on Thursday, adding to road losses at Arizona State, Washington State and Oklahoma. • Keno Davis found a pretty solid bench player for Providence as
Marshon Brooks
scored 30 points and had five steals as a reserve in PC's 111-87 win over Sacred Heart. • The Pac-10 so far has lost to:
Howard (Oregon State)
Portland (Washington)
Michigan (UCLA)
Seton Hall (USC)
UAB (Arizona)
Oakland (Oregon).
The last two were home games; the first two were true road games. I would venture to guess that on this list, UAB has the best shot to make the NCAAs, and then Michigan. But all of them have plenty of work to do. • The Tucson Citizen reported Friday that
Arizona has canceled a home-and-home series with North Carolina
for next season. That makes sense. Lute Olson and Roy Williams set it up. There's no reason to burden a new coach, with likely a gutted roster, with an improbable game. • The NBA is moving the Orlando predraft camp to Chicago but not taking the balls with it, according to a number of reports, including the Sporting News and the Orlando Sentinel. One high-level NBA personnel director told ESPN.com the same thing Friday. That's right. It now will be only physicals and medical testing at Tim Grover's Attack Athletics facility on the west side of Chicago, which was made famous by being the place chosen for President-elect Barack Obama's Election Day basketball game. NBA personnel will be conducting interviews at the site, but no games will be played. It will be interesting to see how this affects the seniors-only Portsmouth Invitational and whether it becomes more important for second-round and free-agent possibilities. Portsmouth had been relegated to second-tier status with the predraft camp, but if it's the only shot for seniors who aren't first-round locks to get a look, it might have new life. Meanwhile, agents likely will play a larger role in trying to secure draft positions for players earlier in the season if the NCAA adopts the ACC legislation of setting a 10-day post-Final Four decision date on whether or not to declare and stay in the draft. This will be discussed in January at the NCAA convention and could be voted on then or in April. This would be for the 2010 draft. If this had been in place this past spring, you can almost guarantee that players like UAB's
Robert Vaden
, North Carolina's
Ty Lawson
and
Wayne Ellington
and Arizona's
Chase Budinger
would have stayed in the draft, since they wouldn't have had time to figure out through workouts that they weren't ready.