Younger Curry spices things up at Liberty
December, 2, 2008
12/02/08
12:22
PM ET
Ritchie McKay sent out text messages to make sure his friends remembered what he looked like and that he still coached, and to let them know that his team was playing on national television when Liberty faced UNC-Asheville during ESPN's 24-hour Tip-Off Madness on Nov. 18. "I wish I hadn't done that," said McKay, whose Flames lost 84-56. "But being at this level, the good thing is that there isn't the volatility after one loss." Since that game, Liberty (5-1, 0-1 Big South) has won four straight against higher-level competition. The Flames went into Virginia and beat the Cavaliers by four, and after a non-Division I game against Coker, the Flames defeated William & Mary in double overtime and George Mason in overtime.
[+] Enlarge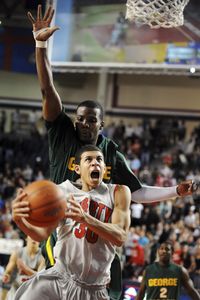 AP Photo/The News & Advance/Chet WhiteLiberty's Seth Curry is following in the footsteps of his sharpshooting older brother, Stephen.
The reason for the Flames' success doesn't rest on just one player, but it's hard to ignore his last name.
Freshman Seth Curry, the younger brother of Davidson superstar Stephen Curry, is doing for Liberty what his elder brother has done for the Wildcats. He is prolific. Seth Curry was just 6-of-17 for 18 points in that loss to Asheville. But since then, he has scored more than 20 points in each of the past four games, including 26 in the Flames' win at Virginia. He has made nine field goals in four different games this season, and he has made 17 3s in six games so far. He's grabbing boards, as well (six on Monday night).
"He's special," McKay said of Seth Curry. "He's got maturity. He's a Curry. He's got all the character and the humility. He has invigorated our program."
McKay's starting lineup consists of five guards; the tallest is 6-foot-5. The 6-1 Curry averages 22 points per game. The other four starters are Anthony Smith (18.8 ppg), Kyle Ohman (14.7), Brolin Floyd (7.3) and Jesse Sanders (7.3). Curry made a jumper and hit two free throws in the final minute to beat the Patriots on Monday night.
"I'm having as much fun in coaching as I've ever had," McKay said. "I absolutely love it here. We've got tremendous kids and they embrace the university's mission, spiritually. This is a fun team to coach." • Western Kentucky is in position to earn an NCAA tournament at-large berth, despite losing its coach from last season(Darrin Horn went to South Carolina) and its top two scorers (Courtney Lee, now with the Orlando Magic, and Tyrone Brazelton -- as well as Ty Rogers, who hit the shot to beat Drake in the signature moment from the first round of last season's NCAA tournament). How? Well, the Hilltoppers have wins over then-No. 3 Louisville in Nashville and over Southern Illinois. Western Kentucky has plenty more opportunities to build on these wins and make them matter for March with a game against Georgia on Tuesday night at home and road games at Florida State and Mississippi State. This may sound like a bit of a reach, but it isn't when a school like Western Kentucky -- which was in the Sweet 16 last season and plays in a well-respected league like the Sun Belt -- can knock off quality teams in November. The expectations have changed for first-year coach Ken McDonald. "The biggest thing in my mind is that we've started to form an identity," McDonald said. "We've got to back it up every night now. We've shown we can do it." McDonald said the schedule is challenging for a team that lost so many key players. He scheduled tougher and didn't get out of any previously scheduled games because he wanted to test his team prior to what he thought would be a one-bid Sun Belt league. Last season, two teams got into the NCAAs (South Alabama did, too). The Sun Belt tends to be a one-bid league, but it could change if Western Kentucky can keep winning. "It's worked out where we have a couple of quality wins," McDonald said. • McDonald said the Louisville game was part of a four-year series. The first game was in Nashville, the next one in 2009 will be at Louisville, the third one in 2010 will be in Bowling Green, Ky., and the fourth will be back at Louisville in 2011. He said the two schools split the gate receipts in Nashville for Sunday's game. Tuesday night's game with Georgia is the last of the five-year deal to play the Bulldogs as part of Dennis Felton's exit contract when he left Western Kentucky for Athens. This will be the fourth meeting between the two schools. WKU leads the series 2-1.
• Wisconsin coach Bo Ryan was ticked that the Badgers had to go to Virginia Tech in the ACC/Big Ten Challenge when the matchups were released over the summer. He thought the Badgers deserved a home game. Now that it's over and Trevon Hughes hit a shot in the lane to win the game with less than a second left, Ryan should be glad it was on the road. The Badgers picked up a key road win that will only help Wisconsin come selection time.
Wisconsin has to go to Marquette next week. That's it in terms of road games for the rest of the nonconference schedule. Last week, Wisconsin had to go to overtime to beat Iona in St. Thomas and beat San Diego before losing to Connecticut in the final. The Toreros may not be a tournament team. Virginia Tech should be close. Marquette should be a lock come March. So the Badgers needed a true road win for the résumé.
• Virginia Tech might be the most hard-luck team this season. The Hokies got burned by a last-second shot to lose to Wisconsin at home. Last week, Xavier nipped Virginia Tech in overtime on a half-court shot in Puerto Rico. Last March (and maybe for coach Seth Greenberg there is a carry-over effect) the Hokies lost to North Carolina in the ACC tournament on
Tyler Hansbrough
's last-second shot. • Arizona State's
James Harden
may make it hard for anyone in the Pac-10 to catch him for league Player of the Year. He's averaging 30 points a game in the past four games, shooting 56.1 percent, 52.4 percent on 3s and 89 percent at the line. He's also grabbing 8.3 boards a game, not bad for a 6-5 guard. The Sun Devils, determined to make the NCAAs after being overlooked last season, missed out on a shot at Wake Forest in the final of the 76 Classic in Anaheim when they suffered their first loss of the season in the semifinals (to Baylor). • Savannah State is going through quite a rebuilding process that could end up with the Tigers enjoying a winning season. The Tigers were 2-28 in 2005-06, won 12 games in 2006-07 and 13 in 2007-08. This season the Tigers are one of the year's success stories. Savannah State beat Bowling Green at home Monday night. They nearly clipped Michigan in Ann Arbor Saturday, losing 66-64. The Tigers already have knocked off New Orleans and Coastal Carolina and are 5-2 on the season (4-2 against Division I teams). Savannah State plays its usual slew of road games (13) as an independent. But it's worth tracking this potential success story.