Bruins have a void to fill down low
December, 5, 2008
12/05/08
10:58
AM ET
AUSTIN, Texas -- UCLA was down three, with less than a minute left in the game Thursday, and Texas extended its defense out on the Bruins' perimeter. UCLA tried multiple times to get into the lane, to create a shot attempt, to create space, to create something to either convert a 3-pointer or get to the basket for a bucket and a foul. What the Bruins couldn't do was throw the ball inside to create offensive balance. They were, at this point in the game, predictable.
[+] Enlarge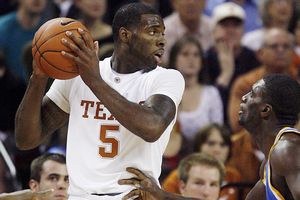 AP Photo/Harry CabluckAlfred Aboya, right, will be asked to shoulder much of the responsibility down low for UCLA this season.
That might not change too much this season. "It's definitely a concern of ours," UCLA senior wing
Josh Shipp
said. "It's no secret that we're guard-oriented. We try to establish a post presence early in the game to set up for the guards, and if we do that, it will make it a lot easier." The good news for the Bruins is they went down by 10 on the road to the Longhorns and managed to claw back and take the lead with a 12-0 run. They were right there on the final possession to tie the game and send it into overtime. They just couldn't convert, and Texas won 68-64. But the larger issue for the Bruins is: How do they fix the offense? The defense was solid enough to win the game.
Darren Collison
scored 22 points, and there were plenty of possessions on which he answered a Texas offensive spurt. Shipp had his moments, too, scoring 15. But heralded freshman guard
Jrue Holiday
exerted so much energy trying to guard
A.J. Abrams
that his offense suffered. Holiday finished with three points on 1-for-6 shooting, including 0-for-3 on 3s. "Darren is doing the best he can, and Josh did the same, but they need me to step up," Holiday said. "[Thursday] I didn't. I'm still learning, and we're a young team." Collison said he's not worried about the squad. He's convinced the younger players like Holiday will get on the same page and ensure that the Bruins are an elite team throughout the season. But coach Ben Howland isn't giving the other freshmen (
Drew Gordon
,
Malcolm Lee
and
Jerime Anderson
) double-digit minutes consistently. "We'll be where we want to be in March," Collison said. "We just have to be more patient, look inside. We don't want to be too predictable." Kevin Love and Luc Richard Mbah a Moute's departures to the NBA left a void down low for the Bruins that would be a tall task for any team to fill. Big men
James Keefe
and
Nikola Dragovic
would prefer to pop 3-pointers, so that means senior
Alfred Aboya
has the responsibility of anchoring the post until Gordon or
J'Mison Morgan
is ready to contribute more often. That might not happen this season. So the onus will be on the guards to create more offense for each other. "We're just as good as the other teams, but the difference is we have a lot of new guys," Collison said. "We have a lot of talent, we just have to get it all on the same page." The problem for the Bruins is they have only one more high-profile nonconference game against a likely NCAA team, Notre Dame on Feb. 7 at Pauley Pavilion. They missed out on a chance to play Duke in New York in the finals of the 2K Sports Classic benefiting Coaches vs. Cancer. Instead, they lost to Michigan and beat Southern Illinois, a team that might not make it to March's main event. The Pac-10 is rebuilding and might not have more than one other top-25 team outside of the Bruins. That team might just be Arizona State. What does this mean? That the Bruins, even if they win the Pac-10, could find themselves a lower seed than they have been in the past and without the normal advantages of being the top team in the West. If Gonzaga continues to roll after beating Tennessee in the Old Spice Classic in Lake Buena Vista, Fla., last weekend, the Zags could be the top-seeded team in the West, with the advantage come March. Gonzaga still has games at Tennessee, against Connecticut in Seattle and against Memphis at home. "March is a long way from now, and we've still got the Pac-10 play and this team isn't where it needs to be," Collison said. "The good thing is that we fought back in a hostile environment. We can build on that positive and leave the negatives behind."