Last-second losses put Hokies in a hole
December, 12, 2008
12/12/08
10:47
AM ET
Virginia Tech is eight points away from being undefeated.
If you want to break it down even further, the Hokies are three shots away from being 8-1 instead of 5-4. Go back to last season's ACC tournament and toss in another last-possession loss to North Carolina, and the Hokies could be coming off an NCAA berth. How does this make Virginia Tech coach Seth Greenberg feel?
[+] Enlarge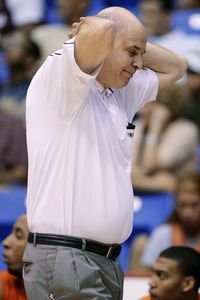 AP Photo/Andres LeightonSeth Greenberg's Hokies have suffered a few heart-breaking losses so far this season.
"I'm disappointed but not discouraged," Greenberg said.
No team this season has been hit with more bad luck late in games than the Hokies. Xavier beat Virginia Tech in Puerto Rico on a half-court shot. Wisconsin buried the Hokies on a floater with less than a second remaining, and Georgia scored in the final 28 seconds Tuesday in Athens for a one-point win over the Hokies.
"Xavier made a half-court shot, so does that make us a bad team? Wisconsin makes a last shot, does that make us a bad team?" Greenberg said. "We're playing without one of our best players and we're playing close games."
That player who is out was scheduled to return to practice Thursday. Sophomore forward J.T. Thompson, who averaged 5.6 points and 4.1 rebounds a game last season, has been out this season with a hernia.
"We haven't been complete and we've been inconsistent," Greenberg said. "Everyone wants to be gloom and doom. We'll have ample opportunities [in the ACC] to get quality wins. Teams that play well now may not later. It's a long season. The injury [to Thompson] set us back a bit. How far off are we, eight points away? Are we that far off?"
The Hokies are getting solid play out of wing A.D. Vassallo, who is averaging 18.9 points a game and 6.7 rebounds. Malcolm Delaney (15.8 ppg, 3.9 rpg) and Jeff Allen (14.2 ppg, 8.4 rpg) have been consistent as well. Getting Thompson in the mix could provide four double-figure scorers. The Hokies' primary loss from last season was athletic wing Deron Washington.
But the concern for the Hokies might be lost opportunities. Tech has four more nonconference games remaining -- starting with Sunday's against Longwood -- and none are against likely NCAA teams. That leaves Virginia Tech to do its damage in the balanced ACC. The Hokies also get national-title contender North Carolina only once (at home, at least) and Duke twice.
The Hokies also have only 14 home games all season. Virginia Tech has one more tournament: the Holiday Festival in New York from Dec. 20-21, playing Columbia in the first round and St. John's or Marist the second night. Virginia Tech also plays an odd road game at Charleston Southern before opening the ACC at Duke on Jan. 4.
Greenberg was optimistic that if the Hokies can be above .500 in the ACC, they would have enough top-50 wins to be NCAA tournament-worthy.
• A number of coaches were a bit surprised to get their Final Four packets from the National Association of Basketball Coaches and find in them a way to sell their Final Four tickets in a legal manner. For the first time, the NCAA and NABC are offering up a "pilot program" to sell their official tickets. Greg Shaheen, the NCAA tournament's director and overall Oz of the event, said the NCAA's official ticket provider, PrimeSport, is authorized to sell a coach's tickets that he isn't using. The revenue from the sale of the ticket would be going to a "variety of scholarship and aid sources of the Association as the event's underwriter," according to Shaheen. By doing it this way, NABC coaches can sell their tickets without "violating the policies through which they are able to obtain tickets."
The policy on coaches scalping their tickets independently still stands. A coach could lose the privileges of a ticket to the Final Four for five years if caught. Some coaches in the past have lost ticket privileges for life by selling them in unauthorized channels. According to Shaheen, the pilot program with PrimeSport provides a "legitimate means to assure the tickets are being sold through the official program and preserve future ticket privileges." Coaches have sold their Final Four tickets for years. It will be interesting to see how many go through an approved, NCAA/NABC-endorsed channel instead of perhaps having someone close to them sell the tickets for profit or trade.
• The "Holy War" game between Villanova and Saint Joseph's rarely disappoints. Thursday night was another classic example. Villanova won 59-56, and it came down to the final two possessions at the Pavilion. The records don't matter when these two teams get together. This was a tough scheduling turnaround for Nova after playing Tuesday night in New York in the Jimmy V Classic against Texas, a late-night loss to the Longhorns that ended in the midnight hour.
• Santa Clara coach Kerry Keating checked in to remind me that his scheduling plan of getting a team from each of the Western leagues to play each other (except for the Pac-10) is actually considered a tournament. So the four games against Fresno State, Pacific, Northern Arizona and San Diego State will count as two games on the schedule, not four individual games. He said the only way everyone would agree to this is to do it in this fashion. His reasoning for calling it a tournament instead of not just scheduling games with these schools (two home and two road for each of them) is to avoid being taken advantage of in a tournament format.
Keating is still peeved that Santa Clara had to go to Athens, Ga., for the consolation round of the NIT Season Tip-Off instead of hosting the games once Arizona could not do so due a scheduling conflict with the McKale Center. But an NIT/NCAA official said earlier in the week that they never heard complaints from Keating about being sent to Athens.