Hogs go wild on Big 12 favorites
January, 7, 2009
01/07/09
2:28
PM ET
No team in the Big 12 this season may do what Arkansas just did: beat Oklahoma and Texas. Forget that both games were at home. Those are two wins, regardless of venue, that no other team in the Big 12 may get this season. Arkansas plays in the SEC, and that means the Hogs have the two best nonconference wins of any SEC team. Tennessee's wins over Georgetown in Orlando and Marquette in Nashville are next, with South Carolina's road win over Baylor probably after those two.
[+] Enlarge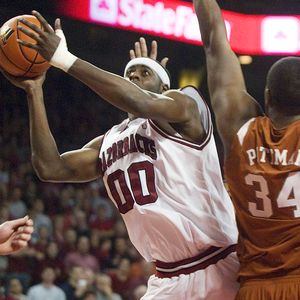 AP Photo/Beth HallJunior forward Michael Washington is averaging a double-double for the 12-1 Razorbacks.
But Arkansas -- yes, rebuilding Arkansas -- has the two wins on its résumé that stand apart and make the Hogs the team to beat in the SEC West. "I don't see anybody beating those two teams [in the same season] in the Big 12; maybe Kansas can win at Kansas," Arkansas assistant coach Rob Evans said. Texas is at Kansas. But Kansas goes to Oklahoma. Arkansas head coach John Pelphrey didn't make as declarative a statement. But he was honest in his assessment of where the Hogs are at this stage in the season at 12-1 entering SEC play (some guy who writes this column thought their early-season loss at projected lower-level Missouri Valley team Missouri State was a bad sign for this squad. I couldn't have been more wrong at the time). "We've certainly overachieved," Pelphrey said Wednesday, after Tuesday night's thrilling win over Texas at Bud Walton Arena. "We've got so many new guys and didn't know the adjustment level. But everyone has had a great attitude. So, no, I didn't think we'd be 12-1, and beat Texas and Oklahoma. I hoped we could sneak one of them." The difference has been the quick maturation of freshman point guard
Courtney Fortson
(15.1 ppg, 5.8 rpg, 7.1 apg) and the huge jump in production for junior
Michael Washington
(from 4.3 points to 17.8 a game from his sophomore to junior season). "Our biggest challenge is how we handle the success," Pelphrey said. "We've got three guys who played a college game last year. But we've got a good attitude. We've got to stay committed to defense."
Stefan Welsh
was committed Tuesday, doing an outstanding job on Texas'
A.J. Abrams
(3-of-16 and 1-of-8 on 3s). The expectations for this team have changed. No one in the SEC West outside of Arkansas has stood up to be noticed. LSU, Alabama, Mississippi State, Ole Miss and Auburn are all flawed and have had their share of bumps, let alone injuries. Arkansas enters the SEC West as the clear favorite based on what the Hogs have done. "Our nonconference is behind us now, though," Pelphrey said. "The expectations here are to challenge for the SEC West and get to [the NCAA tournament] every year." What the wins over Oklahoma and Texas proved, though, was how hard it's going to be to beat Arkansas at Bud Walton Arena. SEC East favorites Tennessee and Kentucky have to go to Arkansas. "These people here love when the players play hard; they care about the name on the front of the jersey," said Pelphrey, who played at Kentucky and coached under Billy Donovan at Florida. "I haven't been to two other places louder than [Tuesday night]." • Texas has to go back to Arkansas next season, too. Evans said a new two-year series starts next season between the two schools with the first year of the contract in Fayetteville. • Maryland has won seven straight since getting blown out by Georgetown in the third-place game at the Old Spice Classic in Orlando. The first of that streak came against Michigan, three days after the loss to Georgetown. That easily was the most important game of the season.
"If we had lost that Michigan game, it would have really hurt," Maryland coach Gary Williams said prior to hosting Morgan State Wednesday night. "I really like coaching this team. They're playing the way I want to play, a good passing team. We don't have the size, but we've got three guards playing really well."
Maryland should have a strong power rating after nonconference games against Michigan State, Gonzaga, Georgetown and Michigan, going 2-2 in that group (with wins over the two Michigan schools). "We're the only school in the ACC that plays Carolina and Duke twice," Williams said. "We had a good power rating last year and we didn't get in." Maryland opens the ACC Saturday against Georgia Tech. • Williams said he was "stunned" by Boston College's win over North Carolina Sunday night, just like "every other fan. All you ever heard all summer was that North Carolina had a chance to go undefeated. You didn't see Boston College as the team that would take them out. "At the same time, I've played against Al Skinner [BC head coach] and I know his system. He sticks with it, and the key to beating a team like Carolina is that your players can't lose confidence. Al Skinner quietly has done as good a job coaching as any coach in the country. He doesn't change for anybody." A year ago, Maryland beat North Carolina later in the season but wasn't able to make the NCAAs. The crushing loss was a 73-70 defeat at home to Clemson after the Terps held a 20-point, second-half lead. "That ruined our confidence," Williams said. "BC beat Carolina in the first game and now has 15 games left in the ACC, and now they may feel if they can beat Carolina, why can't they beat anyone else?" • Utah blew out LSU by 30 Tuesday night. That's yet another reason why Arkansas should be dubbed the new SEC West favorite. LSU didn't defend well (Utah shot 63.5 percent), sent the Utes to the line (21 of 24), didn't shoot well (33 percent) and got zippo from
Garrett Temple
(goose egg in 29 minutes). Utah is on a roll, with
Luke Nevill
playing sensationally. He scored 23 points (11-of-13 on FGs) and the Utes have won four straight. • Solid road win for UTEP as the Miners won by 13 at New Mexico on Tuesday behind
Stefon Jackson's
18 points. • Alabama put up a good fight and lost by seven at Clemson. Maybe I'll be wrong here, but I still see Alabama being a factor in the SEC West.
• Can't underestimate how much Connecticut needed that road win at West Virginia on Tuesday night. The win was huge for the Huskies in their chase for the Big East title. The Huskies are on the road for two more at Cincinnati and at St. John's.
•
Scottie Reynolds
put up 40 on Seton Hall, but Villanova still needed overtime to win in New Jersey. Hard to see the Pirates making the tourney with an 0-3 start in the Big East, including home losses to West Virginia and Villanova. • I said yesterday that Illinois State could go undefeated for a while if it got past a road game at Bradley. The Redbirds didn't. Now the Braves are in first at 4-0 in the Valley. Preseason favorite Creighton lost again in the Valley to drop to 2-2, falling to Northern Iowa at home. • Regardless of Purdue being without
Robbie Hummel
(back) and
Chris Kramer
(left foot) for its game Tuesday night, Penn State still gets a quality win over Purdue at home. Penn State is 2-1 in the Big Ten and 13-3 overall. The Nittany Lions' one loss in the league was a near-miss at Wisconsin. Penn State isn't going to wow anyone, but it is at least off to a solid start to put itself in position to be in competition for an NCAA bid. • Pitt, Clemson and Wake Forest are the only remaining unbeaten teams. • From our crack crew at ESPN research: Alabama State center
Chief Kickingstallionsims
scored a career-high 23 points on Monday against Grambling State. Chief's full name is Grlenntys Chief Kickingstallionsims Jr. Chief was named after his father and the 19-letter name is considered to be the longest ever in Division I. The next longest this season, according to our staff, is Iowa State's
Scott Christopherson
at 14 letters.