Gophers need to rebound to rebound
January, 21, 2009
01/21/09
6:50
PM ET
Minnesota hosts Purdue on Thursday in what could turn out to be a major game for the Gophers.
Sure, a win helps the overall profile and keeps the team in the chase to catch Michigan State.
But more than anything, Minnesota needs to show that it can rebound from another Big Ten setback. The team can do that by, well, rebounding.
The Gophers, who cherish the neutral-site win over Louisville like a prized possession, opened the Big Ten season with a thud, getting crushed at home by 12 to Michigan State. The Spartans dominated the backboard, grabbing 41 rebounds to the Gophers' 22. MSU got 16 offensive rebounds.
[+] Enlarge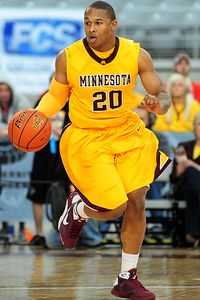 Mark J. Rebilas/US PresswireLawrence Westbrook and the surprising Gophers will try to improve to 17-2 with a win over Purdue on Thursday.
Minnesota didn't wilt, though, coming back with four straight wins, including against Ohio State at home and at Wisconsin in overtime.
UM outrebounded the next three opponents and was outrebounded by only one at Wisconsin.
And then the Gophers went to Northwestern on Sunday. They outrebounded the Wildcats by just one, grabbed only six offensive rebounds and wilted in the second half to lose by nine.
"This team does have to learn how to handle success," Minnesota coach Tubby Smith said of his young Gophers. "After Louisville, we played Michigan State and got clobbered on the boards, but then we bounced back."
Smith is hoping for the same result. But he said he's got to trim down his rotation. He said he's playing too many players citing the 12 that saw action against the Wildcats.
Minnesota has shown staying power so far. The Gophers are in a position to earn an NCAA bid. The question now: Can they come up with enough big wins in the Big Ten to hold onto a spot? Beating Purdue on Thursday would certainly help.
• Saint Joseph's coach Phil Martelli doesn't dispute the theory that the Hawks are a much better Atlantic 10 team than they were in nonconference play. Familiarity with opponents has helped, but also taking the time to figure out who they are is a reason. Martelli said the rhythm of a conference schedule is also helping the Hawks, who are 9-7 overall and 3-0 in the A-10 heading into Wednesday's game against Duquesne.
Martelli also agrees that no one other than Xavier has made a case yet to earn an at-large berth to the NCAA tournament. That doesn't mean the A-10 can't get multiple bids, but there is a lot of work to do. He said the league shouldn't hold its head in the sand, though, adding that the A-10 is scheduling correctly and that there is stability with a new commissioner taking the league in the right direction.
"We're in a numbers chase right now," Martelli said. "We've got to get our RPI, strength of schedule and [wins and losses] to all line up."
• Even though the Palestra arena and the city of Philadelphia didn't bid to host future Atlantic 10 tournament (Springfield, Mass., Cincinnati and Dayton, Ohio, Pittsburgh, Pa., and Atlantic City, N.J., did) the perfect spot really is the Palestra. It's small, cozy and would provide an outstanding environment.
• File this one away: Penn State beats Michigan by 15 and the Nittany Lions now have a better Big Ten record (4-3) than the Wolverines (3-4). But if Penn States does finish ahead of Michigan in the standings by a game or two, don't be surprised if the Lions don't get into the NCAA tournament. The standings aren't the true reflection of the selection process. Michigan still has two wins over UCLA and Duke that Penn State won't get, and if the two teams were ever compared against one another in March, the Wolverines would almost certainly have the better overall resume.
• BC desperately needed to snap its four-game funk, and it did just that with an overtime win at Georgia Tech on Tuesday. The Eagles are now 2-3 in the ACC, 14-6 overall, and not dead yet for a bid if they can beat the teams they're supposed to from here on out. Meanwhile, Tech is still searching for its first ACC win. That's hard to imagine when you watch this team play.
• Gerald Henderson is a stud. When he plays up to his potential he can be one of the stars of the game. He seems to be really in a good groove right now for Duke.
• Still surreal how Craig Robinson's life is these days. He spends Tuesday on the steps of the U.S. Capitol listening to his brother-in-law take the oath of office, hangs out in the White House before and after the balls Tuesday night, sleeps in the Lincoln bedroom, and then on Wednesday is making his way to the Bay Area for practice. Oregon State plays at Cal on Thursday. Even during all of Tuesday's historic events, Robinson, who was accompanied on the trip by OSU athletic director Bob DeCarolis, said he couldn't help but think of how his team should best defend the Bears' prolific 3-point shooting.
• Saw Connecticut coach Jim Calhoun and his family walking on the backside of the Capitol after the inauguration on Tuesday. He, like literally a million-plus other people, was in a great mood over the events of the day. Great to see Calhoun so invested in seeing history. He was like everyone else in the frigid temperatures, walking and making his way out. Calhoun was hustling to get back to Storrs, Conn., for practice in advance of Wednesday night's home game against Villanova.