Breaking down BracketBusters
February, 3, 2009
02/03/09
1:28
PM ET
BracketBusters was created to give teams from lower-profile conferences a chance at a full day of exposure and possibly another quality nonconference game before the selection process.
Butler at Davidson, the highlight game Feb. 21, is a blockbuster game. Both teams will be in the NCAA tournament, regardless of whether they win their conference tourney. This game could easily be an NCAA second-round matchup, considering the way both teams have played at times this season. Butler's Brad Stevens said Monday the good news was that the two teams probably won't face each other now in the NCAAs. The other positive outcome is that they will have to play next season in Indianapolis as part of the return portion of BracketBusters.
Utah State at Saint Mary's is another one that makes sense based on geography. Utah State is undefeated in the WAC. Saint Mary's was just ranked before Australian Olympian and sophomore point guard Patty Mills went down with a broken hand. This game will be crucial for both squads. Saint Mary's must prove it can beat a quality opponent without Mills for the NCAA tournament selection committee. The only other team on the schedule that fits the criteria will be Gonzaga on Feb. 12, and Mills isn't due back until late February at the earliest. USU could use another quality road win since the WAC is having a down season with no other potential at-large team.
Northern Iowa at Siena is another quality game, but it's the wrong opponent for Siena. Northeastern should be playing the Saints. Instead, Northeastern was stuck playing at Wright State in a game that does nothing but hurt the Huskies.
Siena is the top team in the MAAC, and undefeated at this juncture. The Saints played a great schedule, even though they didn't win any of the games in Orlando at the Old Spice Classic or against Kansas or Pitt. Northern Iowa is leading the Missouri Valley with a 10-1 record. But the Panthers beat NO ONE in the nonconference that will be in the NCAA tournament. Even the teams from supposedly higher-rated conferences like the Big East (Marquette), the Big 12 (Iowa State), the Big Ten (Iowa) -- and if you want to throw in the Mountain West (Wyoming) -- were all losses. The only win against a team from a higher-rated conference was Auburn from the SEC. Auburn is 2-4 in the SEC, 13-8 overall.
[+] Enlarge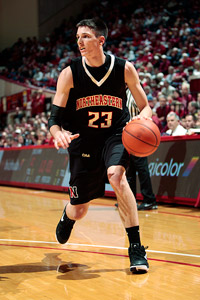 AJ Mast/Icon SMIMatt Janning and Northeastern will play at Wright State on Feb. 21.
Northeastern is 15-6 overall and in first place in the Colonial at 10-1. The Huskies' best win was at Providence, a team that is currently 6-3 in the Big East. NU did win at Indiana, but you could put the Big Ten-winless Hoosiers in the same category as Auburn in terms of a win in name only. The Huskies did lose to Michigan, South Florida, Rhode Island and Memphis, with only two of those teams (Memphis and Michigan) possible NCAA teams.
In ESPN.com's InsiderRPI, Siena is rated No. 23, Northeastern No. 55 and Northern Iowa No. 76. Northeastern also beat VCU, which is ranked No. 61, and which got a better road game in going to Nevada. Northeastern also beat George Mason, which is rated No. 60, and got a better road game at Creighton. Memo to the CAA office: Northeastern is the best team in your league, so deal with it and prop the Huskies up in this event.
UNI might not get a bid if it doesn't win the Valley. Siena probably has to win the MAAC. Northeastern probably has to do the same in the CAA. The one area in which a loss to Wright State (7-4 Horizon, 13-9 overall) could hurt is in seeding NU if it gets a bid. Losing at Nevada or Creighton wouldn't hurt as much.
One of the more intriguing games, although it might not sell tickets, is Green Bay at Long Beach State. Green Bay beat Butler on Monday to go to 10-2 in the Horizon, 18-6 overall. Long Beach State is atop the Big West at 6-2 (11-9 overall). The Buffalo at Vermont game should also be highly competitive, since the Bulls (14-5, 6-1) and Catamounts (16-6, 7-2) are currently atop the MAC East and America East, respectively.
Here's a schedule of the BracketBusters games that will be televised by the ESPN family of networks. Game times and networks will be released Monday.
Feb. 20
VCU at Nevada
Illinois State at Niagara

Feb. 21
George Mason at Creighton
Butler at Davidson
Miami (Ohio) at Evansville
Hofstra at Fairfield
Green Bay at Long Beach State
Liberty at Old Dominion
Boise State at Portland State
Utah State at Saint Mary's
Northern Iowa at Siena
Buffalo at Vermont
Northeastern at Wright State

Some quick hitters for Tuesday:
• Jeff Capel isn't going to Georgia or anywhere else that's not a slam-dunk basketball job. UGA isn't a better job than Oklahoma. At least one close source to Capel confirmed that he's not going to run out of Norman for just anything. OU athletic director Joe Castiglione can match money, too. If Maryland had opened -- and it isn't now, according to athletic director Debbie Yow -- then that might be a possibility, since it is an elite basketball job. But go to Georgia? From what I've been told, no shot.
• Xavier's Sean Miller is a popular name to throw against a wall and see if it sticks. But Miller again has a great situation at Xavier. He just got a 10-year deal. Like Gonzaga's Mark Few, it would have to be a major, major upgrade in a job to pull Miller away from XU. The buyout isn't an issue for him, but quality of life is, so don't expect to see Miller hopping around unless it's a can't-miss situation.
• Glad to see Yow came out and quieted the rumors on Gary Williams. This has obviously been a tough week for Yow (our condolences to her on the loss of her sister, Kay). But she did need to settle everyone down. Few people have as much passion for their job as Williams does for his. I couldn't see a scenario in which he was going to get fired. Not sure what the exact buyout was on Williams' contract, but the full figure of his deal was $6 million with three years remaining. Williams will go down swinging, and he should. He deserves to try to right the ship in College Park. The assistants need to step up and do a better job of recruiting, too.
• If Michigan State were healthy, do you really think the Spartans would lose to Northwestern and Penn State in the same season? Taking Raymar Morgan out of the lineup for an extended period of time (he won't play against Minnesota due to "walking pneumonia") was going to hurt. Morgan played limited minutes the past two games. If he's not healthy, the Spartans won't be right.
• If Seton Hall's Bobby Gonzalez had done what Texas Tech's Pat Knight did in running on the court -- twice -- to challenge the officials, do you think the Big East would have just reprimanded him? The Big East does seem to have more teeth than the Big 12 when it comes to disciplining their folks. Gonzo was suspended for a Big East game this season for his actions in the Rutgers game last season. While Knight defending his players can be viewed as admirable, the appearance of charging the officials could have easily resulted in a suspension.
• The decision by Juan Pattillo to remove his redshirt status has been a great one for Oklahoma. He is averaging 10.3 points, 2.7 boards and 19 minutes a game over the past three games. He's also 12-of-18 from the field and 7-of-7 from the free-throw line. The JC transfer didn't get eligible until August and missed summer conditioning. He was also banged up and wasn't able to practice as much. But he took the redshirt status away before the Texas game Jan. 12. Since then, he has turned into a great find off the bench at both ends of the court.
• By the way, the more the Big East and ACC teams beat each other up, the more likely it appears Oklahoma will be one of the No. 1 seeds.