Saint Mary's feels Davidson's pain
February, 18, 2009
02/18/09
3:17
PM ET
Bob McKillop was on the bus ride home from Furman on Saturday and he couldn't stop thinking about Saint Mary's coach Randy Bennett.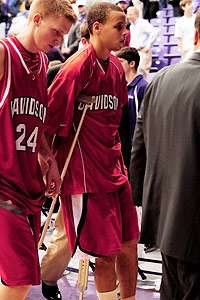 David Allio/Icon SMIDavidson hopes Stephen Curry's ankle will heal in time to play Butler this weekend.
On the bus, All-American junior guard
Stephen Curry
was nursing his sprained left ankle, unsure of the damage done when his ankle hit the Furman floor in a way that looked as though his ligaments had been stretched to their limit.
McKillop said he knew how much Saint Mary's depended on Patty Mills. When he went down with a broken right hand, so too did the Gaels, who have lost four of six games since Mills was injured in the first half of their Jan. 29 game at Gonzaga.
"I was hoping it wasn't serious when I saw it," Bennett said. "Curry is one of the best players in the country. It would affect them similarly. The whole team is built around him. It's not that they don't have good players. They have a good team and a good program. But it's all about Curry right now."
Losing Curry for an extended period of time haunted McKillop, knowing how much the season can be distorted by one injury to the one singular star on a team.
"It was frightening," said McKillop, who talked at length about Curry and the Wildcats' status on Wednesday's "ESPNU College Basketball" podcast.
"When I saw the replay on the bus ride home it looked darn serious for the ligaments to be stretched as far as they were," McKillop said. "I thought there was a tear, a bone break. I've seen him contorted before. But he usually bounces right back up. He's usually rubber man."
But McKilllop said Curry had tears in his eyes while he sat on the bench. Lying prone on the court beside the bench was another reason for concern. Curry, like most players when they ever have to come out of a game due to injury, would just come back to the bench if he wasn't hurt.
"He's thin, there's a lot of bounce to him and not a lot of muscle on his body, and sometimes the body heals faster," McKillop said. "We'll see where he is Wednesday [before the tip against The Citadel]. It's a credit to him, to our trainer that he went through a shooting workout with a little bit of a limp" on Tuesday.
McKillop said there were no plans to save Curry for Saturday's game against Butler. If Curry can go then McKillop will use him.
Had Curry been gone for a game, or multiple games, then McKillop may have felt the unsettlement of an unknown return, something Bennett is dealing with now.
"It's more the days and the weeks after it when it hits you," Bennett said. "When it happens, you're in the moment, the heat of a game and you don't think in terms of how it is going to impact the team or the program for the rest of the season. It's in the two or three weeks after that that you wake up mad in the morning."
Bennett said the stitches were taken out of Mills' hand this week. Bennett said Mills is on track for a return, likely for the WCC Tournament in Las Vegas next month.
"The doctor was pleased, you can barely see the hairline fracture," Bennett said. "He's moving it now and going through hand therapy. But it's too early to say when he'll return. We'll play it conservatively, especially early. We'll see where he is in two weeks."
The Gaels (20-5, 7-4 in the WCC) have four games remaining, two at home (against San Diego and Utah State) and two on the road (at Pepperdine and Loyola Marymount).
• Sad news out of the Virginia Tech community. Former player Allen Calloway, 25, died Sunday of a heart attack after being weakened by lung and brain cancer. Calloway was diagnosed in 2005. The Hokies will wear a patch in memory of Calloway for the remainder of the season. The Richmond Times-Dispatch quoted Virginia Tech coach Seth Greenberg as saying that, "He was a just a joy to be around. Allen Calloway made everyone's day better. He was an amazing, amazing young man."
• Arizona interim coach Russ Pennell has told me that he has always been under the impression that he's the interim coach with no chance to be the full-time coach. Pennell has done a great job with this group, putting Arizona in position to be an NCAA tournament team. I can't see Arizona offering him a full-time job based on its actions. If Arizona officials even thought of going with Pennell, and I have heard nothing that says they are, then they've lost this recruiting season since the word is out that the Wildcats are looking for a high-profile name. The Wildcats will likely lose juniors Jordan Hill and Chase Budinger to the NBA draft, so the Wildcats will be going into a rebuilding mode next season.
• Kentucky has given no timetable for a return of forward Patrick Patterson, still nursing a bum ankle that kept him out of the past two games, a win at Arkansas and a loss at Vanderbilt. The Wildcats host Tennessee on Saturday.