Saint Mary's considers adding another game
March, 3, 2009
03/03/09
1:51
PM ET
Saint Mary's quest to get
Patty Mills
and the Gaels in the best possible position for a potential NCAA tournament berth may take another interesting twist if coach Randy Bennett goes ahead with a plan to add a game before Selection Sunday.
Bennett said he will decide by the end of the week whether he will play a game against either a Division I or II team after the conclusion of the West Coast Conference tournament.
Saint Mary's is in the unique position to add a regular-season game because it didn't schedule its maximum number. The NCAA allows a school to play 29 regular-season games, plus one for the conference tournament if it's not in an exempt tournament. If a team does play in an exempt tournament, the number can rise to 32. Saint Mary's played 29 games and was in the Anaheim Classic. Bennett said he intended to play another game but couldn't get one to schedule over the summer that fit in with the Gaels' plans.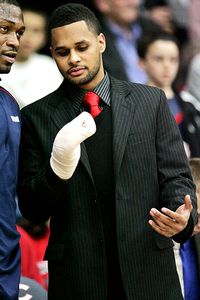 AP Photo/Paul SakumaSMC has been without Mills since he went down with an injury during a Jan. 29 game at Gonzaga.
Playing a game next Wednesday, Thursday or Friday before Selection Sunday wouldn't do anything for the power rating or change the committee's mind on the Gaels either way. But Bennett is considering whether to give Mills, who is scheduled to come back from a broken right hand for Sunday's WCC tournament semifinal at the Orleans Arena in Las Vegas, another opportunity to get reps before the postseason.
"I haven't made a final decision but I still think we'll play it to get another game for us, even if we were to win the [WCC] tournament,'' Bennett said. "I want to be in the NCAA tournament. We don't have total control [if the Gaels don't win the WCC]. But even if we do win it, I want us to be as good as we can for the NCAA tournament."
Gonzaga scheduled a game for Tuesday night against South Carolina-Upstate to give the seniors one final home game before the WCC tournament. Bennett doesn't see much of a difference between playing a game against a provisional Division I team like USC-Upstate and against a D-II team, even though the timing would be off by a week.
Playing a non-Division I team wouldn't affect the RPI, either.
"I want one more game for the repetitions,'' Bennett said. "We've got two-plus weeks to get Saint Mary's as good as we can for the NCAA if we can make it. Hopefully it will work out like that.''
Bennett is trying to think out of the box because this season went awry at the worst time. Mills was playing the best basketball of his brief two seasons at Saint Mary's when he broke his right hand at Gonzaga. He had scored 18 points (making six 3s) and the Gaels held a six-point lead at the half. Mills was playing as well then as he did for the Australian Olympic team last summer.
The Gaels were ranked and in position to possibly pull off an upset in Spokane. But then Mills broke his hand and Saint Mary's was exposed as leaning too much on the star point guard. Saint Mary's dropped the game, fell to Portland and out of the polls and then lost two of the next three before winning the last five games.
Mills was cleared by his surgeon on Monday and has one more doctor's appointment Friday before the team flies to Las Vegas on Saturday morning. Saint Mary's and Gonzaga earned byes to the Sunday semifinals. SMC would likely have to beat Portland to get to the final while Gonzaga could face Santa Clara and WCC Player of the Year John Bryant.
Mills "hasn't played in four weeks,'' Bennett said. "I don't want to jeopardize his health or career. So I'm cautiously optimistic.''
Bennett said Mills was expected to shoot late Monday night and would do noncontact drills Tuesday and Wednesday before some five-on-five from Thursday to Saturday.
"Let's face it, he's going to be rusty for a little bit, but he's in great shape,'' Bennett said. "That's not going to be an issue. He's got to get his strength and mobility in his hand.''
If Mills can perform well in some form, even if it's simply as a defensive stopper or playmaker and not a shooter, the Gaels have a shot to play with or beat Gonzaga. If they don't, and play another game that the committee may watch late next week, it could influence the committee's decision on whether this team is ready for a bid. The Gaels will be judged on their merit through the WCC tournament, but the human element could play a role; some committee members may be intrigued to see just how effective Mills can be if the Gaels are one of the last teams left on the board.
• Notre Dame's collapse Monday night was hard to predict based on how confident the Irish were after Saturday's loss to Connecticut. The players were adamant they would be ready to beat Villanova and earn a bid. But they weren't even close to being the better team against the Wildcats. The Irish didn't look like the same team that beat Louisville by 33 points or even the one that played with UConn down to the final minutes. It's hard to justify an Irish candidacy now without a run to the Big East final, assuming they would knock off two elite teams along the way.
• Baylor's free fall has been nearly as epic. Baylor, like Notre Dame, was once ranked. The Bears and Irish were both the talk of early-season tournaments even though they didn't win either (Notre Dame in Maui and Baylor in Anaheim). Both teams had experienced players returning. The Irish had Luke Harangody and Kyle McAlarney. Baylor had Curtis Jerrells and LaceDarius Dunn. Yet neither could avoid major losing skids in their respective conferences. Notre Dame lost six straight Big East games, seven games overall with a loss at UCLA. Baylor lost six straight Big 12 games. Both faced must-win games Monday night to have any chance. Notre Dame lost to Villanova at home to drop to 7-10, 16-13. Baylor lost at Texas to fall to 5-10 in the Big 12, 17-12 overall. Both teams will likely be in either the NIT or CBI.