Sorting out another wacky Wednesday
March, 5, 2009
03/05/09
10:29
AM ET
Do you want to know how wacky Wednesday was in college basketball? The question at the end of the night wasn't whether Kentucky or Florida or Miami or Virginia Tech is in or out of the NCAA tournament picture, but rather, "What about Northwestern?"
That's right. Why not Northwestern?
Late Wednesday and into early Thursday morning, NU coach Bill Carmody pondered the same question after getting home from another stunning road win for the Wildcats -- this time at Purdue.
What about Northwestern?
No offense to the devoted purple-clad alumni, but pondering during the first week of March the candidacy of a Big Ten school that has never been to the tournament speaks volumes about how fluid this season has gone and how tough the decisions will be for the NCAA tournament selection committee come March 15.
[+] Enlarge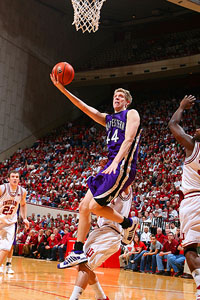 Brian Spurlock/US PresswireKevin Coble and his Northwestern teammates suddenly find themselves playing a huge game in Columbus this weekend.
"I haven't felt this confident about a team since I've been here," said Carmody, who is in his ninth season at Northwestern after leaving Princeton. "We'll see what happens, but if we can get that win [at Ohio State on Sunday] we'll see. We've beaten some pretty good teams. It's always 'Who have you beaten?'"
And the answer is quite a few quality teams. Strip the Northwestern name off the jersey and just look at the facts of what is now an 8-9 team in the Big Ten, 17-11 overall.
Northwestern has home wins against Florida State, which ranks16th in the RPI, Wisconsin, Ohio State and Minnesota -- all teams ahead of the Wildcats in the standings -- and road wins, yes road wins, at Michigan State and Purdue, two of the top three teams in the league. Had the Wildcats not blown a 14-point lead to Illinois in the final five minutes and had they closed out Purdue at home -- a game in which they also lost a 14-point lead -- then a bubble discussion about Northwestern would be moot. The Wildcats would be in.
"There are 30 teams that probably feel like us," Carmody said. "We've beaten some of the best teams in the top 50."
They have, indeed. Six in fact. None of the Big Ten bubble teams have that many. Not Wisconsin. Not Penn State. Not Michigan. Not Minnesota. Not even Ohio State.
OK, if you're not buying the at-large argument for the Wildcats, fine. But why not look at the Wildcats as a capable team that could win the Big Ten tournament in Indianapolis? There isn't a team in the Big Ten that Northwestern hasn't beaten or been competitive against. Forwards Kevin Coble, John Shurna and Luka Mirkovic can hang with the best in the league, and so far, so have guards Craig Moore and Michael Thompson.
"A few weeks ago, I would have said no way," Carmody said about winning the Big Ten tournament. "Now I'm thinking, 'OK, we won at Purdue and let's see what happens at Ohio State.' If we do that then we'll see what happens in the tournament. I'm certainly not overconfident, but it's a really nice team to coach and a nice bunch of players."
Here's a fun fact about Northwestern: While other bubble teams are doing everything they can NOT to make the field, the Wildcats are winning key games in the final few weeks. Beat Ohio State and the Wildcats would have a sweep of the Buckeyes, seven wins against top 50 teams in the RPI and a 5-1 finish to the regular season.
That's at least something for the committee members to think about as they prepare to be sequestered.
Some other thoughts on Wednesday and this already-wild week:
• The Big East may be down to one bubble team. Sorry, but the conference looks like it could be a seven-bid league unless Providence can beat Villanova and/or make some noise in the Big East tournament.
• The ACC is eating its own. Georgia Tech beat Miami, North Carolina took out Virginia Tech, and now the bubble in the ACC may be down to just Boston College, which lost at NC State and needs to beat Georgia Tech on Saturday, and Maryland, which is still standing if it can win at Virginia with the UNC and Michigan State wins as its bookends on the season.
• The SEC, well, what do you even say anymore after Wednesday? Kentucky simply had to win a home game against the worst team in the SEC (Georgia) to take at least some pressure off Saturday's game at Florida. Instead, the Wildcats gave up 90 points and lost.
So, too, did the Gators at Mississippi State, making it hard to argue against Kentucky-Florida in Gainesville, Fla., being essentially an elimination game -- for just the right to stay on the bubble going into the SEC tournament. There's only so many way you can dress up a resume that lacks much of the body of work the committee is searching for in selecting the teams.
• LSU did lose at home to Vanderbilt in a bit of a stunner. It doesn't affect the Tigers winning the SEC outright, but it still hurts and they may take a hit in seeding.
• Texas A&M is alive for another day and will play host to Missouri on Saturday after winning at Colorado. But the Aggies were down at one point and a loss in Boulder would have been near-doomsday for their cause. Meanwhile, Missouri beat Oklahoma to suddenly put the Sooners' No. 1 seed in serious jeopardy.
It was fine to point out that the Sooners shouldn't get penalized when they lost two games without Blake Griffin for three of the four halves due to a concussion. But Griffin and the Sooners had no excuse Wednesday. They were beaten by a better defensive and more aggressive team in Columbia. Mo.
• Elsewhere in the conference, Kansas was hardly the aggressor as the Jayhawks whiffed on a chance to clinch the Big 12 title outright by losing to Texas Tech by 19. Alan Voskuil and his nine 3-pointers on Senior Night certainly didn't help.
Oklahoma's loss means Memphis, Michigan State and Louisville are in play for a No. 1 seed, along with the expected trio of Pitt, Connecticut and North Carolina. The Big East could end up with three No. 1s by Selection Sunday, yet get only seven overall bids, two or three below preseason predictions.
*This may be too generous, but barring losses by Gonzaga (WCC), Butler (Horizon) or Memphis (C-USA), my projections have -- including automatic qualifiers -- 57 spots taken for the tournament.
1. America East
2. Xavier
3. Dayton
4. North Carolina
5. Duke
6. Wake Forest
7. Clemson
8. Florida State
9. Boston College
10. Atlantic Sun
11. Kansas
12. Oklahoma
13. Missouri
14. Texas
15. Connecticut
16. Louisville
17. Pitt
18. Villanova
19. Marquette
20. Syracuse
21. West Virginia
22. Big Sky
23. Big South
24. Michigan State
25. Illinois
26. Purdue
27. Minnesota
28. Wisconsin
29. Big West
30. CAA
31. Memphis
32. Butler
33. Ivy
34. MAAC
35. MAC
36. MEAC
37. Creighton
38. Utah
39. BYU
40. Northeast
41. Ohio Valley
42. Washington
43. UCLA
44. Arizona State
45. Cal
46. Arizona
47. Patriot
48. South Carolina
49. Tennessee
50. LSU
51. Southern (projecting Davidson)
52. Southland
53. SWAC
54. Summit
55. Sun Belt
56. Gonzaga (projecting WCC winner)
57. WAC (projecting Utah State)

That leaves eight spots left among 19 teams (in no particular order):
1. Maryland
2. Virginia Tech
3. Miami
4. Rhode Island
5. Providence
6. Texas A&M
7. Oklahoma State
8. Kansas State
9. Penn State
10. Ohio State
11. Northwestern
12. Michigan
13. Florida
14. Kentucky
15. Saint Mary's
16. UNLV
17. New Mexico
18. San Diego State
19. Tulsa

Maryland has to beat Virginia. Virginia Tech is at Florida State. Miami hosts NC State. URI hosts UMass. Providence is at Villanova. Texas A&M hosts Missouri. Oklahoma State is at Oklahoma. Kansas State hosts Colorado. Penn State hosts Illinois and is at Iowa. Ohio State hosts Northwestern. Michigan is at Minnesota. Florida hosts Kentucky. Saint Mary's is in the WCC tournament. UNLV is at San Diego State. New Mexico finishes at Wyoming. Tulsa must win at Rice and almost certainly advance to the C-USA title game.
This should all shake out even more by Monday night. But, wow, just let this wild Wednesday settle in, and think about how Northwestern is in play for its first-ever NCAA berth.
My final thought? With the way this season is going, maybe the committee should value who wants to be in the tournament by earning wins in the final weeks as part of a criteria in its body-of-work analysis. Reward the teams that actually look like they want to go dancing.