Commish: Sun Belt teams have to take chances
April, 15, 2009
04/15/09
5:38
PM ET
The Sun Belt Conference has to take chances to change its image as a one-bid league, according to commissioner Wright Waters.
That's one of the reasons schools like Florida Atlantic and Arkansas State went after coaches like Mike Jarvis and John Brady, respectively, after they had been sacked at high-major programs.
And it explains why Florida International stunned the college basketball community Tuesday by tapping NBA Hall of Famer Isiah Thomas to rehabilitate his career and to resuscitate the program.
"You have to take some chances -- and some pay off -- to stay competitive," Waters said. "I'll take the top half of our facilities and compete against any facility in the SEC."
Waters rattled off facilities at Arkansas State and South Alabama as being better than those at the University of Alabama and Mississippi State.
"You've got to hire John Brady or hire Mike Jarvis and now Isiah to compete," Waters said. "FIU got more attention [Tuesday] than in the history of the school."
[+] Enlarge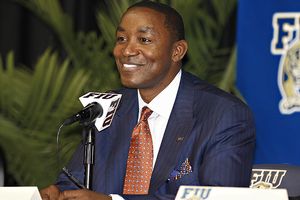 Joel Auerbach/US PresswireAs a player, Isiah Thomas won an NCAA title and multiple NBA titles. He'll now try his hand as a college coach at Florida International.
So now what happens? Thomas was humble during his Wednesday news conference and during an interview with ESPN later in the day. He said there won't be any issues with his knowledge of the game within the four lines, but admitted that he has to get up to speed outside the lines rather quickly.
Waters said he has instructed the compliance staff at the Sun Belt Conference to work with the compliance staff at FIU to ensure Thomas understands the nuances of the NCAA rules. Waters said Thomas can't recruit until he passes the online test. Next Monday through Wednesday is a key period for April recruiting.
"I've got some work to do and studying, and I'll study some more [Tuesday night] and get up to speed as quickly as we can," Thomas said. "I don't know if we'll make a big splash this summer, but we'll get out there and beat the bushes and get in on some of the players that haven't signed or committed. But at the same token we have to take care of the players in-house."
FIU athletic director Pete Garcia didn't hide his expectations. He said at the news conference that Thomas could get "the best players in the world" to come to FIU.
Making Florida International a destination for an elite player will be a chore. FIU does have the attraction of Thomas, and plenty of parents of prospective student-athletes would look fondly upon his time at Indiana and with the Detroit Pistons. South Florida as a destination helps. But television exposure and NCAA tournament access is an issue.
Waters said FIU wasn't in the plans initially for the four ESPN/ESPN2 games, with those for now being dominated by Western Kentucky, which has become the flagship program in the conference after reaching the Sweet 16 under Darrin Horn two seasons ago and the second round last year under first-year coach Ken McDonald before losing at the buzzer to Gonzaga. The breakdown for the four televised Sun Belt games is one conference game, two road nonconference games (like Western Kentucky at Louisville) and the conference championship game, according to ESPN college basketball programmer Nick Dawson.
As of Wednesday, there has been no decision on whether FIU will get an appearance.
The Sun Belt has had multiple bids only once in the last 15 tournaments, and that was when South Alabama and Western Kentucky made the field in 2008.
Thomas said he sought advice from his former college coach, Bob Knight of Indiana, and Duke coach Mike Krzyzewski. Thomas said Knight told him that he and the team have a "tough journey ahead of us. We're capable, and coach Knight talked about the commitment and hard work." Thomas hinted he might spend a few days with Knight.
"We're not going to do it overnight," Thomas said. "We're not going to jump up over night and compete with the more established programs. We have the potential to do that and the way I coach and prepare [the players] for the next level, I know what it will take to get there."
Hiring a staff will be critical for a team that went 13-20 last season and hasn't had a winning record since 2000. Does Thomas make a splash hire like former NBA guard Tim Hardaway? Does he go with a junior college coach who can deliver players? Does he go with established college recruiters?
"I'll sit down and evaluate as I always do and be meticulous and tedious in putting together a staff with the right people," Thomas said. When asked specifically about Hardaway, Thomas said, "I don't have anyone on the staff, so everyone out there is a candidate."
Thomas said he expected to be at FIU when his contract is up in five years. And he summarized his determination to make sure this works by saying that he has had ups and downs in his life and that people shouldn't "expect me to just stay down. That's not happening."
The FIU provost butchered his name in introducing the new coach, calling him "Thompson" instead of Thomas, but the effort was clearly there to pull in the entire community -- it was one of the most significant days in the school's history. There were representatives of mayoral offices and Dade County at the news conference.
Thomas' decision not to take his salary for the first year will make plenty of headlines. But ultimately the only thing that matters will be whether Thomas is relevant in years to come at a program that hasn't been since it joined Division I.
Thomas called FIU a hidden gem. He said he wanted to take FIU to the next level. What that tangibly means is still up for debate. Thomas is now the face of the program and the school. But it won't mean as much if he doesn't have name players to coach to ensure that FIU becomes a signature Sun Belt program and ultimately an NCAA one, too.
Quick hitters:
• Memphis coach Josh Pastner interviewed former Rice head coach Willis Wilson and former Kentucky coach Glynn Cyprien as he begins to fill his first staff. Hiring Wilson would be a home run for Pastner. He needs an older coach who understands how to manage a program, including dealing with the rest of campus, scheduling, and organizing the daily routine.
Cyprien has had a number of assistant-coaching stints, from Kentucky to Oklahoma State to UNLV, and has plenty of connections.
• Pastner could be open to getting out of the series with Gonzaga. Mark Few said the decision on the series is up to Pastner.
• Pastner said the only person who could have kept the Memphis recruiting class intact was John Calipari, something he told athletic director R.C. Johnson. He said that while he was an assistant he sold the recruits on playing for Calipari, so he's not surprised that most of them will be bolting.
• Ole Miss coach Andy Kennedy said freshman Terrico White did investigate declaring for the NBA draft but decided against it after hearing from the NBA's advisory committee.
• Georgetown coach John Thompson III said at the Final Four that he was fairly confident that freshman Greg Monroe would return for his sophomore season. He was right. That news became official Wednesday. That's great news for the Hoyas as they try to get back to the NCAA tournament after a disappointing NIT season. Monroe has a shot to be the top pick in 2010. He would have been in the top 5 if he had declared. He has a chance to pull a Blake Griffin over the summer by getting stronger and becoming a national player of the year candidate.
• Saint Mary's coaches said they still have no update on whether Patty Mills will declare for the draft. The same is true out of Davidson's camp in regard to Stephen Curry. The deadline is April 26.
• Lost amid some of the news this week was the decision by Wake Forest's Al-Farouq Aminu to return for his sophomore season. Aminu could have been drafted high, but he understood he wasn't physically ready to play in the NBA next season.
• Wake Forest sophomore guard Jeff Teague declared, but coach Dino Gaudio is cautiously optimistic that he might return. Teague did fill out the form to participate in the World University Games if he doesn't stay in the draft. The team, coached by Wisconsin's Bo Ryan, will play in Serbia the first week of July and will also meet in Colorado Springs and scrimmage against the World Championship for Young Men's team, unofficially to be coached by Davidson's Bob McKillop. So there is a chance that some of the top college players, from incoming freshmen to rising seniors, will be in Colorado Springs for a week in late June.
• Watching John Wall during the Nike Hoop Summit game in Portland made it easy to see why he's coveted by Kentucky, Duke, North Carolina, NC State and others. Wall is a program-changer for one season. As ESPN.com NBA Insider Chad Ford reported, Wall is investigating whether he could be eligible for the 2009 draft since he's a fifth-year high school senior and will be 19 in the fall. If it is determined that his graduating class is the one that finished in 2008 instead of 2009, he could challenge the draft rule and declare. If he does, expect Wall to be a top-10 pick.