Gators eye 2009, wait on Calathes' decision
May, 4, 2009
05/04/09
9:09
PM ET
If you take a snapshot of Florida on Monday, you still won't know what to make of the Gators next season.
They are talented, with the infusion of former Georgetown forward Vernon Macklin and highly touted guard Kenny Boynton. They didn't lose second-leading scorer Alex Tyus, who flirted with transferring last week but decided he'd be better served staying in Gainesville.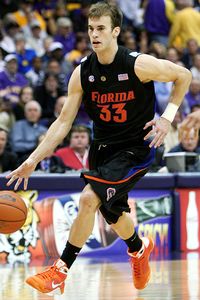 Icon SMIIf Nick Calathes returns to Florida, the Gators could be loaded in '09.
With this roster, they have a shot to be in the NCAA tournament. (Last season's team finished 9-7 in the SEC East and 25-11 overall after an NIT quarterfinal loss to Penn State.)
But there is also potential for the Gators to become a top-10 squad in the next few weeks.
Florida is still waiting out Nick Calathes' decision with the NBA draft. Calathes declared for the draft but didn't sign with an agent. He was the team's leading scorer (17.2 ppg) and was third in rebounding (5.3 rpg) and tops in assists (6.4 apg) last season. Put Calathes on the floor with Boynton, Macklin, Tyus, Chandler Parsons and guard Erving Walker, and the Gators should be an NCAA tournament team at the very least.
"We're not going to know our team until Nick makes a decision in six weeks," Florida coach Billy Donovan said. "He's our best player."
Donovan expects Macklin to excel as a defender and rebounder. But expecting him to be a double-figure scorer is unrealistic, Donovan said. Macklin never settled into a productive role with the Hoyas, averaging 3.4 points in 12.8 minutes per game for Georgetown. He played behind Roy Hibbert, DaJuan Summers and Patrick Ewing Jr. two seasons ago.
"He'll provide size [and] athleticism, and he can run the floor," Donovan said. "We were last in the league in rebounding last season. Vernon can help us better rebound the ball. Boynton and Vernon are two good pieces, and Erik Murphy [a skilled 6-foot-10 forward] helps. And if Nick comes back, we'll be much better. If Nick doesn't come back, we won't have another guard like that. Erving Walker can play, but he's not Nick Calathes."
And then there is John Wall.
Wall is the top remaining point guard in the Class of 2009. (ESPN's Scouts Inc. rated him No. 5 in the class.) But if you chat with NBA scouts and player personnel directors, they don't even think it's close. For them, Wall is the best player in the Class of '09 and the only player who would be a lock for the lottery, if not the top 5, if he were able to declare for the draft.
Wall is considering Florida along with Kentucky, Miami and Duke. There have been other teams mentioned (NC State and Baylor), and when John Calipari was at Memphis, the Tigers were the favorite. Multiple sources say the first four seem to be the most likely destinations.
Wall's recruiting may be muddled this week after Monday's report from WRAL-Raleigh revealed that he was charged with misdemeanor breaking and entering at an unoccupied house with two other teens on April 27.
The Word of God Christian Academy's 6-foot-4 guard from Raleigh visited Kentucky and Duke and went to Miami a week ago. He still hasn't visited Florida. Until he does, it's hard to say where the Gators are in the chase.
It's also hard to project how a possible Wall commitment to Florida would affect Calathes' decision to return to school. Wall is likely to commit to a school sometime this month, maybe even after the end of the early signing period May 20. If he does, it wouldn't be binding, since national letters of intent aren't signed after the monthlong period. Calathes doesn't have to make up his mind about returning to school until June 15, the last date to withdraw from the draft.
If, in a perfect storm, the Gators got Calathes and Wall to go along with Boynton, then they would have one of the best backcourts in the country and be back in the business of competing for a national title.
Florida was a quality win or two away from getting an NCAA bid this past season. A three-game losing streak late in the SEC season at LSU, versus Tennessee at home and at Mississippi State put the Gators on the wrong side of the bubble.
Had they lost Tyus, the Gators would have had a void inside the paint. With Macklin next to him, the plan calls for Tyus to slide to his natural forward position, freeing him from having to play center. He wasn't recruited to play center because the Gators had Marreese Speights.
No one with the Gators thought Speights would leave for the NBA after two seasons. He was a backup to Joakim Noah and Al Horford as a freshman and developed enough as a sophomore that he could make the jump. The Sixers grabbed him at No. 16 in the draft, and he played in 79 games, averaging 16 minutes, averaging 7.7 points and 3.7 boards a game.
"If Speights is around [this past season] with Nick, then our complexion is totally different," said Donovan, whose Gators have missed the last two NCAA tournaments after winning consecutive NCAA titles. "We missed Marreese this year."
Donovan said Speights and Calathes, even though the latter was a McDonald's All-American, weren't recruited with the thought that they were leaving for the NBA after one or two seasons.
"You recruit them thinking they would be anchors, not one [or two] and done," Donovan said. "It's one of those things where you're constantly playing catchup based on what happened two or three years ago."
The Gators were extremely fortunate that Noah, Horford and Corey Brewer didn't even declare for the draft after the 2006 title. That still stands as one of the most unusual moves (or non-moves) in this fast-lane-to-the-NBA-draft culture in college basketball.
The North Carolina trio of Ty Lawson, Danny Green and Wayne Ellington did declare for the draft. Once they were told they wouldn't be in the top 20, they returned to win a title this past season. The Florida players, who unlike the UNC trio, won a title before they declared, never even went through the process.
Speights did and stayed in the draft. Calathes did, and it's still unknown whether he'll stay in the draft as a borderline first-round pick. But he's not really "testing" the process -- yet. Calathes, like most of the 73 other underclassmen who declared, is working out in preparation for possible NBA workouts later this month and into early June. He went to the IMG Academy in nearby Bradenton, Fla. (UCLA freshman Jrue Holiday was also there, among others.)
The current process is yet another reason why Donovan, like many other coaches, is in favor of allowing NCAA coaches to work out players in the offseason. Instead of Donovan and his staff working out Calathes on campus, a third party is doing it. And in many instances it's a representative of an agent, even if the player hasn't technically signed with an agent.
"Nick should be allowed to work out after the season with us," Donovan said.
The way the rules are constituted now sets it up such that a family that wants to "test" the draft has to track the bills to ensure that the player's amateur status isn't violated. If the players stayed on campus, then the agent/workout guy could be eliminated.
"We lose so much without having contact with these guys," Donovan said. "The only communication you have is over the phone."
Donovan is in favor of the new NCAA rule for 2010, which calls for a May 8 withdrawal date after the late April early-entry declaration date.
"We have to do something in college basketball to force the NBA to change the timing," Donovan said of the dates. The NBA's withdrawal date won't change for the next two seasons until the next collective bargaining agreement, if even then, of 10 days prior to the draft."
Donovan added, "We're hoping if we responded, then maybe they will change."