Only consensus in NBA draft is Griffin
May, 5, 2009
05/05/09
9:55
PM ET
Oklahoma sophomore forward
Blake Griffin
will be the unquestioned No. 1 pick in the NBA draft.
Spanish point guard Ricky Rubio, Connecticut junior center Hasheem Thabeet, Arizona State sophomore guard James Harden, Arizona junior forward Jordan Hill and USC freshman guard DeMar DeRozan will all go in the top 10.
ESPN.com asked NBA decision-makers from 10 teams to rate the top 10 prospects in this year's NBA draft. Here is a composite top 10 based on their responses.
Top 10 Players

| | |
| --- | --- |
| Player | Team |
| 1. Blake Griffin | Oklahoma |
| 2. Ricky Rubio | DKV Joventut (Spain) |
| 3. Hasheem Thabeet | Connecticut |
| 4. James Harden | Arizona State |
| 5. Jordan Hill | Arizona |
| 6. DeMar DeRozan | USC |
| 7. Tyreke Evans | Memphis |
| 8. Stephen Curry | Davidson |
| 9. Earl Clark | Louisville |
| 10. Jonny Flynn | Syracuse |
Those opinions stem from a poll of various decision-makers from 10 NBA teams that will make picks throughout the first round. They were asked to give their thoughts on this year's NBA draft, as well as whom they see as the draft's top 10 players. The consensus was that this draft begins with Griffin and, for some, ends there. He's the only player who has the can't-miss label. Every other player seems flawed to the point where a number of the decision-makers surveyed said they are concerned that the expectations of the lottery picks will be skewed. A number of the NBA personnel contacted said they fully expect the lottery picks of this draft to be just role players, maybe not even starters.
Lottery picks usually are expected to be starters or at least have that tag early in their careers. NBA personnel came to a consensus on six players who will go in the top 10: Griffin, Rubio, Thabeet, Harden, Hill and DeRozan. That wasn't difficult. But no one seemed enamored with anyone outside Griffin and, to some extent, Rubio. Harden and Hill were mentioned constantly because the personnel expect them to be selected in the top six, but only because the choices are limited.
"The biggest problem with this draft will be the expectations for players where they're being picked," one NBA personnel source said. "Usually, when you're picking a player in the top 10, you're thinking that you're getting a starter or an impact guy. But you're likely getting a role player. The same kind of role player may be at 7 and 15."
Outside the aforementioned six players, the rest of the top 10 was hardly a consensus. Memphis freshman Tyreke Evans received the seventh-most votes, followed by Davidson junior guard Stephen Curry and Louisville junior forward Earl Clark. In this poll, the 10th spot went to Syracuse sophomore Jonny Flynn, but only by a slight margin. At least one team didn't consider Curry a top-10 pick, showing the wide range of opinions.
Also receiving at least one vote for the final top-10 spot were Wake Forest sophomore James Johnson; Brandon Jennings, a point guard from the United States and a onetime Arizona signee who played in Italy last season; Duke junior guard Gerald Henderson; Ohio State freshman B.J. Mullens; North Carolina junior guard Ty Lawson; Wake Forest sophomore Jeff Teague; and UCLA freshman Jrue Holiday.
Predicting this draft beyond the top seven or eight picks will be difficult.
After asking the NBA decision-makers for lists of their top 10 players, I asked five additional questions:
1. Which early entrant projected to go in the first round is most likely to go back to school?
2. Which legitimate early-entry candidate should go back to school?
3. Who will be the surprise player in the draft who goes higher than he's projected?
4. Who will be a late-first-round, high-value pick?
5. Which second-round pick will stick with a team next season?
Teague, who said he hadn't signed with an agent, was the overwhelming choice as the early entrant most likely to go back to school despite being projected as a first-round pick. A few other names were mentioned, such as Florida sophomore Nick Calathes, Xavier junior Derrick Brown and Kentucky's tandem of junior Jodie Meeks and sophomore Patrick Patterson.
Holiday was the majority choice for the second question: Which legitimate early-entry candidate should go back to school? Yet at least one team listed him as a possible late lottery choice. Holiday worked out at the IMG Academy in Florida this month in preparation for the draft. He is still enrolled at UCLA and according to the staff is working with his professors about doing his schoolwork even though he won't be in class. UCLA's academic schedule follows the quarter system and won't finish the spring quarter until June.
A player who hopes that at least one team plans to select him in the lottery faces a danger. Unless he receives a promise from a team, he easily could slide out of the lottery if another player unexpectedly falls in the draft. For instance, although a player might receive assurances from a team late in the lottery, if another player who's expected to be off the board by, say, the fifth or sixth pick is suddenly available late in the lottery, all bets are off.
Calathes was another player who personnel said should consider returning to school. Other names included Texas junior Damion James, Mississippi State junior Jarvis Varnado and Georgia Tech sophomore Gani Lawal.
[+] Enlarge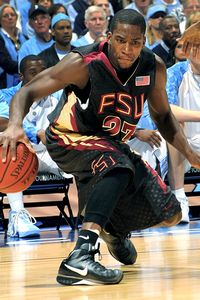 Dale Zanine/US PresswireNBA personnel think Florida State's Toney Douglas could be a steal in this year's NBA draft.
Calathes is in a tough predicament because he's deep on the point guard list at this juncture behind Rubio, Curry, Jennings, Flynn, Lawson, VCU senior Eric Maynor, Holiday, Teague and likely Saint Mary's sophomore Patty Mills. Harden is a combo guard but handles the ball quite often. It's unlikely that 11 or 12 point guards will be picked in the first round, so Calathes likely won't go off the board until Round 2.
NBA decision-makers said Florida State senior guard Toney Douglas could be a surprise draft pick. Douglas had a sensational senior season and was in the chase for ACC Player of the Year honors before losing out to Lawson. He led the Seminoles to the NCAA tournament and is expected to be a hit in workouts.
The most popular answers to the question of which player will be a high-value, late-first-round pick were Louisville senior Terrence Williams and Pitt senior Sam Young. Both players proved to be leaders this past season and could have made a claim to Big East Player of the Year, an honor shared by Young's teammate, sophomore DeJuan Blair, and Thabeet.
There wasn't a consensus choice for which second-round pick would stick with a team. Only one player, Temple senior guard Dionte Christmas, received more than one vote. The other names mentioned were Tennessee junior Tyler Smith, who hasn't signed with an agent yet; Georgia Tech senior Alade Aminu; North Carolina junior guard Wayne Ellington, who might be surprised to learn that at least one team considers him a second-round pick; Washington senior Jon Brockman; USC junior Taj Gibson, another underclassman who hasn't signed with an agent yet; and Connecticut seniors A.J. Price and Jeff Adrien.
• The NBA is still deciding how it will conduct the drills at its combine at the Attack Athletics gym in Chicago from May 27-29.
But NBA teams are taking matters into their own hands. Golden State, Phoenix and the L.A. Clippers once again will organize a workout June 1-2 at the Warriors' practice facility. Commitments are still fluid, but the hope from the teams is that Young, Teague, Calathes, Gibson, Christmas, Arizona junior Chase Budinger, UCLA senior Darren Collison, Gonzaga sophomore Austin Daye, Georgetown junior DaJuan Summers, Sweden's Jonas Jerebko, Arizona State senior Jeff Pendergraph, LSU senior Marcus Thornton and Australia's Joe Ingles all will attend. More are expected to follow.
Houston and Minnesota also have scheduled workouts for seniors on May 15 and 16. Minnesota will host another workout in early June, and New Jersey will host one June 12-13. The group workouts seem to be more popular with the players than the NBA-run combine.
• The NCAA's new rule (which will be implemented starting in 2010) requiring underclassmen to withdraw their names from the draft by May 8 is meant to give the college coaches more time to sign someone to replace a departed player before the end of the signing period. It's also intended to give the players at least a week to work out for NBA teams from the time the NBA officially certifies the early-entry list.
But another rule isn't going away and makes working out nearly impossible for players still in school. NCAA rule 12.2.1.2 says, "After initial full-time collegiate enrollment, an individual who has eligibility remaining may try out with a professional athletics team [or participate in a combine including that team] at any time, provided the individual does not miss class." The rule also allows expenses to be paid by the NBA teams. But if a player is still in class or has final exams, he can't work out until he finishes school for the week. That potentially leaves a window of only the weekend to work out for teams, thus limiting a player's opportunities to be fully evaluated.
Andy Katz is a senior writer for ESPN.com.