John Wall sweepstakes continues
May, 7, 2009
05/07/09
3:20
PM ET
Duke, Miami, Kentucky and Florida all believe they have a legitimate chance to land
John Wall
, the nation's top point guard recruit and arguably one of the top five amateur players in the country.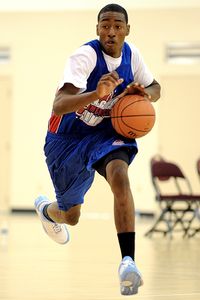 Chris Williams/Icon SMIDuke, Miami, Kentucky and Florida are all in the mix for the services of point guard John Wall.
Had Wall, a 6-foot-4 guard out of Word of God Christian Academy (Raleigh, N.C.), been eligible for the NBA draft, a number of NBA personnel told ESPN.com he would be a lock for the top five, possibly even No. 2 behind Oklahoma sophomore forward Blake Griffin.
Wall's talent and ability would have a season-changing effect on the fortunes of whichever team he signs with. That's why he doesn't have to sign with a school by May 20, the end of the spring signing period. Any of the four aforementioned programs would gladly take Wall in June, July or August, even though he wouldn't be bound by a national letter of intent.
According to multiple sources, none of the schools mentioned has a problem with Wall's citation last week for breaking and entering into a foreclosed home with two friends in the Raleigh area. Whether Wall is eligible to play at all four schools is still up for debate, according to multiple sources. Wall is in his fifth year of high school.
According to multiple sources, if the decision were up to Wall and not his adviser/club team coach Brian Clifton, then Wall would be playing at Kentucky or Miami. It's likely Clifton will ultimately represent Wall when he is in the 2010 NBA draft. Multiple sources said that going to Duke may most benefit Clifton's chances of ensuring there is no interruption of that plan. Heading to Kentucky, Miami or Florida wouldn't totally disrupt that idea, either. But Duke can probably insulate a player more from outside pressures because of the secure way Hall of Famer and Olympic coach Mike Krzyzewski runs his program with limited access to Cameron and the practice facility with a specific pass code.
Duke is also the local option for Wall. His mother has had health problems and there would be no hint of moving for an eight-month period before the NBA draft. With Wall, the Blue Devils would be one of the favorites to win the national title. He would immediately replace the blow-by athleticism that Gerald Henderson gave the Blue Devils the past two seasons. Henderson hasn't signed with an agent yet, maintaining his college eligibility, but multiple sources said he will sign with Arn Tellem's group and stay in the draft, where he could be picked in the 10-14 range in the first round.
Even without Wall, the Blue Devils are stacked. Duke won 10 of its last 12 games with Jon Scheyer at the point. Scheyer also increased his scoring during this stretch as the Devils' playmaker, scoring 18 or more points in five of those games.
As it stands now, Duke can put Nolan Smith next to Scheyer and have Elliot Williams on the floor to give the Devils three ball handlers or rotate either Smith or Williams off the bench. The expectation, according to Duke, is to move Kyle Singler, a potential ACC preseason player of the year candidate, to small forward. That move is made possible by the glut of big men now in place -- led by newcomer Mason Plumlee, who the Blue Devils expect will be a major contributor; fellow freshman Ryan Kelly; and returnees Lance Thomas, Brian Zoubek and Miles Plumlee.
The influx of size means Duke will be much bigger at the 3, 4 and 5 positions. If Wall is on board then the Blue Devils will be able to run even more, and have a deeper rotation on the perimeter that will make them a tough matchup.
But according to sources, Duke isn't Wall's first choice.
He would have likely been at Memphis already had John Calipari not bolted for Kentucky.
Kentucky just signed point guard Eric Bledsoe. He can be on the court with Wall or be Wall's backup if Wall chooses the Cats. If Jodie Meeks were to withdraw from the draft and return to Kentucky then the Wildcats would have quite a trio of ball handlers/guards that would be a hard matchup for anyone in the country. Developing an inside presence is still a work in progress as the Wildcats wait out Patrick Patterson's decision to remain in the draft or return to school.
Even if Patterson were to stay in the draft, Calipari already has incoming freshmen DeMarcus Cousins and Billy Gillispie-signee Daniel Orton on board. In a perfect world for Kentucky fans, Meeks and Patterson would return to school and Wall would sign on to play in Lexington, giving the Wildcats all the pieces in place to challenge for a national championship.
Kentucky has nine possible returnees, two players testing the NBA and now has added five signees. That's a total of 16 players -- 17 if Wall is on board. The NCAA maximum for scholarships is 13. So far only junior guard Michael Porter said he wasn't returning and Jared Carter was a senior on last season's team.
Of Meeks and Patterson, Patterson is more likely to be drafted in the first round and could be convinced to stay in the draft. But even if only Meeks were to return to the Wildcats, and if Wall signed elsewhere, they would still likely be an NCAA team.
Florida's case was documented in this space earlier this week. The Gators are waiting to see if point guard and leading scorer Nick Calathes withdraws from the draft. Wall could play with Calathes or be his replacement. The Gators have Kenny Boynton coming in and Vernon Macklin will be eligible after transferring from Georgetown. They also have Alex Tyus back after he considered transferring.
But Wall hasn't visited Florida yet and according to sources, if Wall doesn't take a campus visit then you can assume he won't go to Gainesville. If Wall does sign on with the Gators and if Calathes returns, then Florida would likely be back in the NCAAs, a favorite in the SEC and a national contender. If Wall comes and Calathes doesn't return, then the Gators still are an NCAA team but would be very young and would need time to mesh before being saddled with high expectations.
Miami could be the compromise choice. According to sources, none of the competitors truly believes Miami can land Wall. But at least one coach who was recruiting Wall but is no longer in the chase told ESPN.com that Miami could very well be the destination. Wall had a quality visit to Miami and would be the missing piece to possibly get the Canes into the NCAA tournament. He would team up with James Dews in the backcourt and have DeQuan Jones, Cyrus McGowan and Dwayne Collins as his running mates in the frontcourt, assuming Collins withdraws from the draft (he's not projected to get selected so that seems likely).
The Canes recruited extremely well heading into this season, with the addition of highly touted newcomers in shooting guard Durand Scott of Rice High in New York (No. 11 on ESPN's Scouts Inc. position breakdown) and top three-position players shooting guard Garrius Adams of Middle Creek High in North Carolina and power forward Donnavan Kirk out of Detroit Country Day.
Wall would replace outgoing senior Jack McClinton's importance on the squad as the leader, top scorer and playmaker.
Wall has some interesting choices and wherever he lands that team's 2009-10 fortunes will elevate to either title contender, conference champ or at least NCAA tournament team.
• NC State coach Sidney Lowe said Wednesday that he was contacted about an assistant coaching position with Flip Saunders and the Washington Wizards, but he declined. Lowe said he would remain at NC State.
• Purdue coach Matt Painter confirmed Thursday that he will be an assistant with his former Southern Illinois assistant (and now head coach) Chris Lowery under Pitt coach Jamie Dixon on the U-19 USA team that will compete in New Zealand in July. The team will conduct trials in Colorado Springs in mid-June.
Andy Katz is a senior writer for ESPN.com.