MSU happy to welcome back Varnado
May, 12, 2009
05/12/09
7:51
PM ET
Sanity has somehow returned to the NBA draft process.
First there were the decisions by underclassmen who declined to declare for the draft despite the consensus that they would have been picked high in the lottery like North Carolina's Ed Davis and Wake Forest's Al-Farouq Aminu.
[+] Enlarge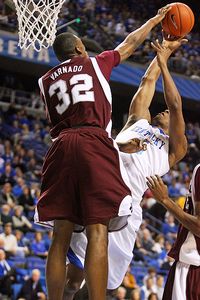 Andy Lyons/Getty ImagesBy returning to Mississippi State for his senior season, Jarvis Varnado has the chance to become the NCAA's all-time leader in blocked shots.
And then came the surprising announcement last week that Kentucky sophomore Patrick Patterson was withdrawing from the draft before he even worked out for a single team. Patterson would have likely been a first-round pick.
Late Monday, his SEC counterpart, Mississippi State junior Jarvis Varnado followed Patterson's lead and returned to Starkville two weeks before the Chicago pre-draft combine and any subsequent team workouts. Varnado was one of the last players to declare for the draft, waiting until the last few hours of the April 26 deadline. Now he's officially the second player to withdraw.
In years past, players like Patterson and Varnado would at least go through the process. They would usually be tempted by agents who could convince them that they would be selected in the first round and receive guaranteed money. But that's not the case so far, and as a result the SEC's prospects next season don't look as bleak. If Kentucky's Jodie Meeks, Florida's Nick Calathes and Tennessee's Tyler Smith all do the same, then the league should be back as a formidable conference after a disappointing season in which there were weeks without an SEC team in the Top 25 and none of the league's three NCAA tournament teams got past the second round.
"We took some hits but there was youth in this league," Mississippi State coach Rick Stansbury said Tuesday morning. "We lost some guys to the NBA early, too, at Florida and here, too."
Varnado's decision completely changes the Bulldogs. They now return their top scorer, rebounder and shot-blocker. Varnado is 18 blocks shy of tying LSU's Shaquille O'Neal's career mark of 412 in the SEC and needs 141 to set the NCAA record, currently held by Louisiana-Monroe's Wojciech Mydra with 535. Varnado blocked 170 last season, giving him 394 for his career.
Varnado wasn't a lock for the first round, but his length and "upside" would have made him a tantalizing pick. NBA teams love to look at big men with potential and Varnado is a prime example.
"It's a credit to him and his family," Stansbury said. "It shows what kind if kid he is and that he can't be lured away with misinformation."
Stansbury, who has had plenty of underclassmen leave early on, like Jamont Gordon, said the NBA's advisory committee, led by vice president Stu Jackson, told him he was a borderline first-round pick.
"He didn't listen to the wrong guys," Stansbury said. "He listened to the right people and not all kids do that. Did he have a chance to be late first-round? Sure, but why roll the dice?"
Stansbury may have a shot to coach one of the more talented frontlines in the nation with Varnado and incoming freshmen Renardo Sidney and John Riek. Sidney's eligibility is in question after USC and UCLA stopped recruiting him, according to the Los Angeles Times. The story details extra benefits for the Sidney family in moving from Mississippi to Los Angeles, where Sidney spent the past few seasons at two different area high schools. Sidney committed to USC, but didn't sign with the Trojans. He signed with Mississippi State.
Mississippi State retained noted sports attorney Michael Glazier, who helps schools deal with NCAA issues. The Sidney family has retained attorney Donald Jackson, who has had a history of defending players who have been alleged to have violated NCAA rules.
Stansbury said Mississippi State has been hit with negative press since Sidney "decided to come home." But he said "we feel good about" Sidney's chances of being eligible in the fall.
NCAA schools are required to investigate any player for whom there are known reported inconsistencies in recruiting or alleged extra benefits. Mississippi State has acknowledged in reports that it is doing that so far.
Riek declared for the NBA draft last year but withdrew after injuring himself. He signed with Cincinnati but wasn't eligible. So he went to the IMG Academy in Florida. The 7-foot-2 Riek, the 6-9 Sidney and the 6-9 Varnado would be quite an intimidating threesome if they all make it on the court in the fall.
Varnado is a lock to start, and while Sidney's eligibility is pursued and Riek's rehab continues, the likelihood that all three will be cleared to play is still unknown. Stansbury is determined he still has a team that can compete for a conference championship. The Bulldogs return Barry Stewart at shooting guard and are fully confident in point guard Dee Bost.
The Bulldogs struggled to find their footing a year ago, losing four nonconference games and finishing 9-7 in the SEC West. But the Bulldogs were the hot team in the SEC tournament, winning four games against Georgia, South Carolina, LSU and then Tennessee to earn an NCAA berth before Washington walloped them in the first round by 13.
"We like our pieces," Stansbury said. "We know what those pieces are heading into the summer and you can't always say that. It's obvious we should be able to compete for a championship."
• Stansbury is still desperately looking for a marquee nonconference home-and-home series and would also like a big-time neutral-site game.
• Former North Carolina guard Ty Lawson said his injured right toe is feeling fine and he's ready to start working out with NBA teams. He said he rested it after the Final Four. Lawson didn't play in the first round of the tournament because of the injury.