Catching up with the fence-sitters in Chicago
May, 28, 2009
05/28/09
11:09
PM ET
CHICAGO --
Jodie Meeks
isn't a lock for the first round, and unless he can get some sort of guarantee in the first 30 picks, he'll probably return to Kentucky for his senior season.
If he does return, Meeks said, he fully expects the Wildcats to contend for the national title.
"If I do come back, with everybody back, we can compete for it," said Meeks at Chicago's Attack Athletics gym after Thursday's first session of drills at the NBA draft combine.
[+] Enlarge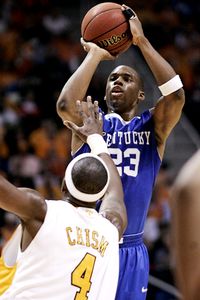 AP Photo/Wade PayneJodie Meeks lit up Tennessee for a UK-record 54 points in January. Will he be back for more?
The junior guard, who torched Tennessee for 54 points in a game last season, said he would love to play next to high-profile point guard John Wall, who signed with Kentucky last week.
"He's an excellent talent, a one-year-and-done," Meeks said. "Everybody is saying he's going to be great for the program."
Having Wall next to him would also take the pressure off Meeks to constantly create with the basketball.
"John Wall could create for himself and for others," he said.
Meeks said he wasn't sure why Patrick Patterson withdrew from the draft before coming to the combine, but said Patterson told him he thought he could improve his stock by playing in college. Meeks said he has nothing to lose by staying in the draft until at least the June 15 deadline.
Meeks said he has workouts scheduled with Oklahoma City, Detroit, Washington and Atlanta.
"If I'm not first round, then I'll go back to school," Meeks said.
Meeks said he hadn't heard about the NCAA's notice of allegations to Memphis until late Wednesday night. But he said he understood that it had nothing to do with Kentucky and just added that coach Calipari "is a good guy," and didn't seem too worried about it for him or the Wildcats.
What about some of the other players still mulling whether to stay in the draft or return to school?
Jrue Holiday, UCLA: The Bruin freshmen is likely going in the lottery and competed against the rest of the top point guards Thursday morning. Holiday said he is paying attention to reports that he could be in the top 10 in the draft. Holiday said that he hopes he has shown he can be a true point even though he didn't play the point at UCLA because of senior guard Darren Collison.
"I'm a point guard and a leader and I'm trying to show it verbally on the court," Holiday said. His workout schedule has included Toronto, New York, New Jersey, Milwaukee, Charlotte and the L.A. Clippers. UCLA assistant Donny Daniels was in the stands, but it seems the staff is resigned to the fact that Holiday is a goner.
Jeff Teague, Wake Forest: Teague is projected to go somewhere in the first round. "Right now, I'm 100 percent in the draft," is how he put it. Teague said the only way he would return to school for his junior season is if "a GM told me I'm not ready and I'm in the second round -- then I would return to school." Teague's workout schedule so far includes Golden State, Minnesota and Toronto.
Patty Mills, Saint Mary's: Mills showed some Ty Lawson- and Darren Collison- like speed during point guard drills Thursday. Mills isn't a lock for the first round. "I'm doing everything to stay in," Mills said. "If the feedback is negative then I may come back." Mills, who broke his right hand during the season but came back for the West Coast conference tournament, said his right wrist is completely healed after an X-ray three weeks ago.
An Australian Olympian, Mills said he is also going to the Reebok Euro camp next week in Treviso, Italy. "I want to expose myself in these workouts to experience playing in games," said Mills. The NBA draft combine is limited to skill work. "Me being an international player allows me the chance to go over there as well." But he said he won't take a guaranteed contract in Europe over returning to Saint Mary's if he is a second-round NBA pick. He wants to play in the NBA, but he also wants to make sure he's in the first round.
Greivis Vasquez, Maryland: Terrapin coach Gary Williams was at the Attack Athletics gym supporting Vasquez. "If he's a legit top-25 pick then I do think that's something he'll look at," Williams said. "If there's any question about that, then I think he'll come back to school to put him in that position (top 25) next year." Vasquez concurred. He was just giddy to be at the combine, working out against other top point guards like Lawson, Mills and Davidson's Stephen Curry.
"I'm a true point guard and this is fun to go against them," Vasquez said. "I love competing. I want to do this to benefit my game." Vasquez was hoping there would be five-on-five games, but that wasn't on the agenda. He also said having Williams in attendance meant a lot to him. "He's a great guy, person and friend," Vasquez said. "It means a lot to me."
Damion James, Texas: James remains on the bubble as to whether he will stay in the draft. He's considered a borderline first-round pick. He said if he can't get a guarantee in the first round, he'll "probably go back to school."
"We can have a great team with Avery Bradley coming in, Dexter Pittman, Justin Mason, Jai Lucas as a transfer and everyone else," James said. "We can have a great team next year." But in the same breath, James said he is ready for the NBA because "I think I can take my game to another level."
Tyler Smith, Tennessee: Smith said he is experiencing a dream come true at the NBA draft combine. But he's still on the fence about his decision. He said if he returns to Tennessee, "with everybody coming back but two players, and a great coaching staff, we have a chance to be really good next season."
Austin Daye, Gonzaga: The sophomore forward went to Phoenix for a workout Sunday and said he felt like he showed his skills and was tough during the workout. He said he went against Wake Forest's James Johnson, who probably is twice as thick as the slender Daye. Daye said he is continuing to get feedback and isn't close to making a decision on whether he will stay in the draft.
• USC finally got good news from the NCAA when the school announced that Marcus Johnson earned a fifth-year of eligibility. Johnson, who transferred from Connecticut, played in 16 games for the Trojans last season, beginning after the first semester. He averaged 12.3 minutes a game, starting once, and USC was 13-4 in games he played in. He missed seven games with an injured shoulder and the Trojans were 1-6 in that span.
Johnson will be a senior next season -- again -- but the waiver said he has to miss the first two games of the 2009-10 season. Johnson played in only one exhibition game in the 2007-08 season at UConn before transferring. The Trojans have already lost freshman DeMar DeRozan and juniors Daniel Hackett and Taj Gibson to the NBA draft (although Gibson technically hasn't said he's staying in yet). USC is also dealing with a swirling NCAA controversy as to whether coach Tim Floyd paid a handler of former player O.J. Mayo $1,000, which was reported by Yahoo! Sports.