Spurs feel fortunate to draft Blair in second
June, 26, 2009
06/26/09
9:31
AM ET
NEW YORK -- Pitt coach Jamie Dixon got off a plane from Denver to San Francisco, where he had a layover before heading to New Zealand to coach a United States junior national team, and couldn't believe what he saw on a television screen.
Pitt's DeJuan Blair and Sam Young were still on the draft board after the first round.
"I'm stunned,'' Dixon said by phone as he was preparing to fly with the Under-19 national team for the World Championships that start next week in Auckland. "I don't have an explanation."
[+] Enlarge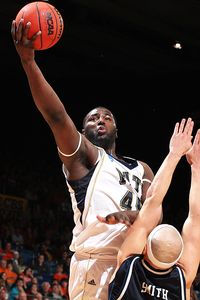 Matthew Emmons/US PresswireDeJuan Blair should compete for starter's minutes in San Antonio.
The word coming in from NBA executives was that Blair had knee troubles and Young's defense wasn't the best. That doesn't make much sense.
Blair had ACL surgery on each knee in high school. He doesn't have an ACL in either knee, according to reports. But on Thursday night Dixon said Blair never missed a single practice or game in two seasons at Pitt, and the coach has reiterated this fact to every team in the league.
Blair was a co-Big East Player of the Year this past season. He dominated every player in the conference and was projected to go as high as No. 13 to Indiana.
But he continued to drop Thursday night, falling into the second round. Blair could only watch as players whom he toyed with, like Connecticut's Hasheem Thabeet (No. 2 overall), and others whom he beat for the conference's top award -- Louisville's Terrence Williams (11) and Earl Clark (14), Villanova's Dante Cunningham (33) and Georgetown's DaJuan Summers (35) -- all went in front of him.
Finally, after his teammate Young, who was said to have been one of the top workout performers throughout the spring, went ahead of him at 36, San Antonio selected Blair at No. 37.
There is a reason the Spurs have consistently been a title contender. They don't listen to anyone else but themselves, and their track record has usually proven to be right. "Our guys did our work,'' Spurs general manager R.C. Buford said by phone late Thursday night. "[Blair] fills a huge need for us. He was our target, but we never dreamed he would be there at No. 37."
In the days leading up to the draft, the Spurs were trying to get into the first round with the goal of landing Blair. They had already started draft week on a high note, securing Richard Jefferson from Milwaukee for essentially three players -- Bruce Bowen, Kurt Thomas and Fabricio Oberto (whom the Bucks later moved to Detroit for Amir Johnson) -- who weren't going to help the Spurs anymore.
San Antonio needed a small forward, a power player and a scoring guard. In addition to Jefferson and Blair, the Spurs got the third piece in the second round, when they landed Miami scoring guard Jack McClinton, whom Buford said he thought the Knicks were targeting when New York acquired the Lakers' No. 29 pick.
The Knicks took Florida State guard Toney Douglas, a comparable scorer to McClinton. The Knicks were probably surprised that Douglas was still available late in the first.
The Spurs' selection of Blair was an ingenious move. Even though Dixon was upset over Blair's precipitous drop, landing in San Antonio is a great fit. He will play immediately, and the Spurs are the right team to go to for managing a potential injury.
Buford said his team has the ideal coach to handle the lengthy season and massage minutes for players (see how Gregg Popovich has managed Manu Ginobili, Tony Parker and Tim Duncan in recent seasons).
Blair should compete for starter's minutes. The situation couldn't have worked out any better for him, even though it appeared dire at one point. Not getting guaranteed money as a first-round pick will make it that much more difficult for Blair. However, he has dealt with obstacles before, and the Spurs clearly want to make this work.
[+] Enlarge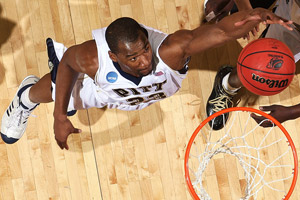 Joe Robbins/Getty ImagesSam Young, whom Memphis picked at No. 36, might be one of the steals of the draft.
Expect Young to have a great shot to stick with Memphis, too. He was a steal for the Grizzlies at No. 36, considering he was deemed one of the highest-value picks wherever he landed.
Dixon said it wouldn't have mattered if Blair had waited until June 15 to make his decision about whether to return to Pitt for his final two seasons: The deadline to withdraw wouldn't have made it any easier on Blair because no one in the NBA had projected he would drop to the second round. There were questions about his knees, but not to the extent that he would still be around for a title contender like San Antonio in the second round.
Young and Blair were two of the most vivid examples of players who didn't deserve to drop out of the first round. They should have been rewarded like some of their brethren in this draft.
• Blake Griffin (Los Angeles Clippers -- No. 1): Griffin stayed two years at Oklahoma, won the Naismith Award as the national player of the year, worked his tail off and earned the top pick.
• Hasheem Thabeet (Memphis -- No. 2): It's a joke that Thabeet thought about coming out last year. His offensive game is still light years behind his defense and shot-blocking, but he made himself into a legitimate NBA defender by staying three seasons at Connecticut.
• Stephen Curry (Golden State -- No. 7): Curry should have gone a few spots higher than No. 7. But he did the right thing by returning to school for his junior season after his breakout performance in the 2008 NCAA tournament, because he's more ready to contribute next season in the NBA than he would have been a year ago.
• Terrence Williams (New Jersey -- No. 11): He didn't get in the lottery as a junior. He did as a senior. Sure, the draft wasn't as strong, but Williams' game can transfer more readily after four seasons in college.
• Tyler Hansbrough (Indiana -- No. 13): It's almost comical that there was actual chatter that Hansbrough hurt himself by returning for his senior season. Forget for a minute he left as North Carolina's top scorer and won a national title. Hansbrough went where he should: in the lottery at No. 13.
• Austin Daye (Detroit -- No. 15): Daye took a gamble by staying in the draft. But he did get assurances he wouldn't drop out of the top 20. He was right. Now he has to prove he can stick in Detroit and shed the skilled-only tag that applies to him.
• James Johnson (Chicago -- No. 16) and Jeff Teague (Atlanta -- No. 19): The Wake Forest tandem left after their sophomore season. They went 16 and 19, respectively, and I'm not sure they would have gone much higher next season. Johnson and Teague went to the right teams, and that may be more important. Johnson can find a niche in Chicago, and Teague will be welcomed as a backup point in Atlanta after the Hawks dealt Speedy Claxton and Acie Law to Golden State.
• Taj Gibson (Chicago -- No. 26): He had no reason to go back to USC after Tim Floyd resigned. Gibson got into the first round and landed with the Bulls, a team that has loved lanky bigs.
• Toney Douglas (Knicks -- No. 29): Douglas had a superb senior season at Florida State. He carried the Seminoles to the NCAA tournament and was rewarded with a first-round, guaranteed contract in New York.
• Taylor Griffin (Phoenix -- No. 48): Griffin's work ethic matches that of his brother, Blake. Taylor doesn't have the same talent, but he was honored by being a second-round pick to Phoenix at No. 48. The current shakeup with the Suns may give him a chance to make the squad.
Was it worth it?
•
Chase Budinger
(Houston -- No. 44): He played for three coaches in three seasons. He probably thought he was going in the first round. He went No. 44 to Detroit and was traded to Houston.
• Patty Mills (Portland -- No. 55): There's no way Mills thought he would go No. 55 to Portland when he decided to stay in the draft. The glut of point guards pushed him down further. Saint Mary's could have used him next season. Maybe Mills needed the Gaels as well, to show he can dominate his position.
• Chinemelu Elonu (Lakers -- No. 59): He decided not to go back to Texas A&M even though he potentially could have been a first-round pick in 2010. Instead, he went No. 59 to the Los Angeles Lakers, leaving the Aggies with a major void in the middle.
• The undrafted: Paul Harris and Eric Devendorf, Syracuse; Dar Tucker, DePaul; Shawn Taggart, Memphis; Daniel Hackett, USC; and Brandon Costner, NC State.
Harris and Devendorf may not have had a choice to return to Syracuse. Tucker did have the chance to return to DePaul, but apparently didn't want to go back to the worst team in the league. Taggart was done with Memphis when John Calipari bolted for Kentucky. Now he has to figure out a road map to make money professionally. Hackett may get a deal in Italy since he has duel citizenship. Costner wasn't a factor and chose not to return to the Wolf Pack.
No reason to be a college basketball shill here, but it's painfully obvious that Syracuse, DePaul, Memphis, USC and NC State would have been better off had these players opted to return to school.