It's been an emotional roller coaster for Rose
July, 6, 2009
07/06/09
2:05
PM ET
Cheryl Rose caught herself in the moment at Disneyland, looking around at her extended family and wondering if she had reached that point in life when everything seemed perfect. Not only were her grandkids there with her, but also her husband, BYU head men's basketball coach Dave Rose.
A promise made by Rose at Christmas to take a break from his crazed life as a major Division I basketball coach had been kept. The family was together, just as the coach's wife had envisioned, without interruptions from recruiting, or any other coaching matter.
"I looked around and said to myself, 'I am the luckiest woman on earth. My life is so good,"' Cheryl Rose said. "Two days later, I'm in a hospital room in Las Vegas, wondering how this man, so healthy, someone who hadn't been to a doctor in years, is fighting for his life."
[+] Enlarge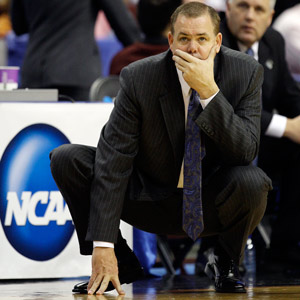 AP Photo/Carolyn KasterA few months after his team competed in the NCAA tournament, Dave Rose's life was turned upside down.
Cheryl and Dave Rose's hell began exactly one month ago, on June 6, when his life nearly ended.
"I would have never thought that three or four weeks later, at the end of June, and the beginning of July, that I would be here now," said Dave Rose by phone from his BYU office. "I'm just incredibly thankful."
To hear how Rose's illness spun nearly out of control and then to talk to him less than a month later is almost inconceivable. There is a sense that he shouldn't be in his current state, with a 14-inch scar on his abdomen, recuperating from having his spleen and part of his pancreas removed as he sends out his three assistants on the road to evaluate during college basketball's July recruiting period.
To think that Rose is even considering pestering his doctors at the Huntsman Cancer Institute in Salt Lake City, where he was transferred by a hospital air ambulance from Las Vegas, to go on the road for the final few days of the recruiting period this month is even more far-fetched. To hear that he fully intends to coach next season -- assuming he gets through what should be the most anxious time of his life in September, when he will go for a scan to see if any cancer cells have spread -- is even more amazing.
"Dave is so excited for the season to start," Cheryl Rose said. "Normally at this time of the year I want nothing to do with basketball. Now we can't wait. It's as if he's been reborn. He's doing everything the doctors tell him. He's lost 25 pounds. We had to buy him all new clothes. He may have more gray hair, but he looks amazing. Sure, he gets tired. But he's trusting his staff and letting them do his job."
A month ago, even delegating his duties seemed uncertain.
"The numbers for how fortunate I am that I had a different type of cancer are astounding," said the 51-year-old Dave Rose. "Maybe five in a million get what I had."
What he had was a pancreatic neuroendocrine tumor. But his tumor went from the pancreas to the spleen, not the liver or another vital organ that makes life difficult to live without. His surgeon got the entire tumor, "the size of a small grapefruit," Rose said. They took the spleen, the tumor, "hard tissues from the pancreas and the tail of the pancreas off and then some lymph nodes, too."
He was told he had a tumor that didn't respond to chemotherapy because it was a slow-growing, non-aggressive tumor. So the plan called for surgery, perhaps some sort of radiation and frequent scans to see if it appears again.
"I knew as soon as it was announced that it was scary for everyone," Rose said. "You say 'cancer' and that's scary enough. You add pancreatic cancer and everyone counts your days -- maybe three years or three weeks. But I knew that it was the neuroendocrine tumor."
As comforting as that is to Rose and his family now, that weekend in early June was filled with anxiety that is hard for both Rose and his wife to describe.
The words kept coming at the Rose family, the awful sounds of each one worse than the next.
At first, the reason Dave Rose was unable to stand properly on a flight from the Disneyland trip to Las Vegas for Cheryl's family reunion was thought by a paramedic to be the flu.
Then, upon entering a Las Vegas hospital, the internal bleeding that was discovered was thought to be possibly a bleeding ulcer. Then the diagnosis was perhaps a hematoma from a previous injury. Then the words became even more disturbing:
Tumor.
Cancer.
Pancreatic cancer.
Malignant.
Blood clot.
"Every day it got worse," Cheryl Rose said. "It was the scariest thing I've ever done, and the most devastating news I had received."
Dave Rose had been on the plane, unable to stand or even sit comfortably. Cheryl knew something was terribly wrong, despite Dave telling her he was OK. He had a speaking engagement Sunday night. BYU camp was starting the following Monday. But she knew he wasn't right. A flight attendant was needed for assistance. Strangers on the plane gave him a jacket to lean on, moved seats so he could spread out across three of them.
When the plane landed, and it was clear he had to go by ambulance to the hospital, Dave's condition got worse. He had a scope done to see what was going on and while the Roses were awaiting the results, the blood that had emptied into Rose's stomach had nowhere to go.
"He started throwing up blood. There was so much blood -- he was lying in pools of blood," said Cheryl, trying not to break up as she retold the story. "That's when I'm thinking, 'He's dying.' I kept saying that he can't leave us, that he has to fight. I kept screaming to everyone, 'You have to save him. He means everything to me: a husband, a grandfather, a friend; people need this man. You have to help him.'"
On Tuesday, when Cheryl was told by Dr. Bernadine Hanna at Las Vegas' Spring Valley Hospital that Rose had pancreatic cancer, her world collapsed.
"I started to lose it, I started to cry, I told [the doctor] 'I can't do this,'" Cheryl Rose said. "But he told me that I could. He had lost his wife four months earlier to a brain tumor."
But despite a major hiccup -- Rose had a post-surgery blood clot that Wednesday and "almost died," according to Cheryl -- things started to turn in his favor.
"Dr. Hanna is our hero -- he saved his life," Cheryl said.
After Hanna's team rushed Rose into surgery, once they had seen the severity of the tumor, they came out of it like coaches after a big win.
"It was as if they were coming from behind and didn't think they could win," Cheryl Rose said. "They were high-fiving, hugging me with the looks on their faces. It was as if they were saying, 'That's a win.' They pulled out a win."
That was June 6. The surgery to remove the tumor was a success. Determining the extent of the cancer was next.
"To watch Dave fight was unbelievable," Cheryl said. "He used every ounce of strength. People have no idea."
After spending seven days at the hospital in Las Vegas, Dave Rose spent five more at the Huntsman Cancer Institute on the campus of rival Utah, trying to regain some strength and learning more about the disease.
It's a process. Dave Rose said he went to the basketball camp last week for a few hours each day. He would tire in the afternoon. He's trying to be disciplined about not pushing himself too much. He drove himself to school, headed home for lunch to have a more nutritious meal, instead of what he termed a dysfunctional coaching diet of eating on the run.
"I have had good days," he said. "I'm confident they will turn me loose."
Throughout the Fourth of July holiday weekend, Rose met with his BYU staff and went over the recruiting weeks ahead.
"He's so optimistic," said BYU associate head coach Dave Rice as he arrived Sunday night for a recruiting event in Cincinnati. "He's a big texter, so we'll be in touch with everything that is going on. I know he's getting stronger and he's still firmly in charge."
[+] Enlarge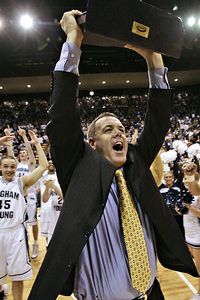 AP Photo/Douglas C. PizacRose has won 97 games in only four seasons in Provo.
Rice said Cheryl kept the Cougars staff fully engaged with Rose's fight. The extended BYU family has been a part of their life since Rose came with Steve Cleveland to resurrect the program in 1997. When Cleveland left for Fresno State, Rose was the obvious choice. A former member of Phi Slama Jama at Houston, Rose had been at various levels of basketball from the highs of a Houston team that competed for the national title in 1983 to being a junior college coach at Dixie State College in St. George, Utah.
Rose has coached Brigham Young for four seasons, been to the NCAAs three straight times and hasn't finished lower than second in the Mountain West. He's a two-time MWC Coach of the Year. He and Cheryl are actively involved with the Children with Cancer Christmas Foundation, a charity that helps local families deal with a child that has cancer.
Even as the chairperson, Cheryl said she could never imagine what the families were going through. Dealing with her husband is still different than a child, but she at least now has a connection with those that she has helped -- and she said she's as committed as ever to the foundation.
As for basketball, the Cougars are expected to challenge for the MWC title again next season. Rose fully expects to coach the team.
"I know in September when I go for that MRI, that's going to be a real nervous time for me," Dave Rose said. "They're going to do that scan and I'll sit around for a day or two waiting and hoping that it's clean."
Rose calls his situation almost a perfect storm. He had a surgeon who was at the top of his game. Had a tumor that didn't go to the liver but rather to the spleen "so I could have a somewhat normal life. They removed it and now I'm hoping I can move on."
"I don't know what will happen with the next scan over the next three months," Cheryl Rose said. "I'm so lucky. I've been married to him the past 29 years. I know now that once the cancer has spread from its original source that it can be considered treatable, not curable. I know now that once it spread from that source you can't say you're cancer-free. I know this is something that we might not be able to fix.
"It's going to be an ongoing challenge for Dave, but he's up for it and we'll take it one step at a time. We'll take each scan as they come, and whatever he needs to do, we'll do. Right now things are good and I'm grateful for that."