Vandy coach contributes hefty sum for program
August, 11, 2009
08/11/09
2:16
PM ET
Kevin Stallings made the commitment to his Vanderbilt team that it would take a trip this summer to Australia -- and man, did he mean it.
The timing was perfect. Teams are allowed to go overseas for an offseason trip once every four years. Coaches always make sure the trips are done when it makes the most sense. Incoming freshmen can't go since the trips are supposed to occur when school is out of session, so having a veteran team coming back can maximize the experience.
The Commodores return 14 of 15 players from last season's roster, including a likely first-round draft pick in Australian center A.J. Ogilvy. Vandy, which finished 19-12 last season (8-8 in the SEC), is primed for a breakout season that will lead it to the NCAA tournament for the third time in four seasons.
Then a few months ago, reality hit. David Williams, Vanderbilt's vice chancellor for student affairs and athletics, met with Stallings in early spring and told him the money wasn't available for the trip.
"We had waited an extra two years, since it had been six years since we'd gone on a trip,'' said Stallings, whose program traveled to Italy, Spain and the Canary Islands in 2003. "I knew the university was facing a tough time just like the rest of the country. There were people losing jobs. There was so much distress economically for the university to shell out $100,000 for us to make the trip."
[+] Enlarge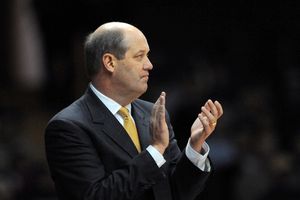 Jim Brown/US PresswireEntering his 11th season at Vanderbilt, Stallings was determined to take his team to Australia.
The majority of coaches would have likely just left the decision alone. But not Stallings, not with this team, not at a school that he has been so committed to the past decade -- a school that has as sterling a reputation for its ethical behavior as Stallings has within the college basketball community.
"I was convinced it was the right time for the program; it was a hard thing to let die,'' Stallings said. "So I went back to him and proposed the idea of me paying for it, and he agreed to that.''
Nevertheless, Stallings still had to convince his wife, Lisa. Foregoing $100,000 that the university would otherwise owe him as part of his salary is no joke. But this was the ultimate investment in his team, his program, and his future at Vanderbilt. If the trip is a success, it could ultimately be the impetus to catapult the Dores toward a banner season.
"I went home and was convinced the trip had to be made,'' said Stallings by phone from Melbourne, Australia. "I felt our players earned it, deserved it. And my wife said to me, as she usually does, to make sure I've thought it through. I gave it some thought and said it did [make sense]. Our players deserve this and it is an investment in my program.''
Williams, who is traveling with the team on the trip, wrote in an e-mail to ESPN.com that Stallings "did not want the story told, but I am glad you are writing it so all can see that while he is a great ballcoach, he also cares about what's happening around him."
"He understood why we could not pay for the trip at this time and stepped up to help the team and the school," Williams continued. "We are truly lucky and proud that Kevin Stallings is Vanderbilt's basketball coach. I am sure his generous and commitment will pay back a hundred times over."
Stallings said he didn't promise Ogilvy a trip to Australia. But he did tell the rising junior that he would try. Ogilvy, who could have declared and been a first-round pick in June, was thrilled with the decision, according to Stallings. So, too, were the rest of his teammates. Stallings said as soon as the decision was made, he received text messages from the team thanking him for his generosity.
"This wasn't a difficult decision to make,'' Stallings said. "It wasn't something I had to labor over. The players are having a terrific time. We demand a lot in this program, but our guys work hard, play hard and conduct themselves with a tremendous amount of class, and that's important to me. Under normal circumstances, the university would step up and do what it is appropriate.''
Stallings covered the trip for 16 players, the five-person coaching staff, trainer, manager, strength coach and a few administrators. A few coaches who took family members had to cover that on their own. Stallings couldn't take his family due to summer scheduling events with his children back in Nashville (while his son, Jacob, is playing Cape Cod League baseball before he returns to North Carolina).
In addition to attending an Australian Rules Football game and touring the highest point in the country, the Commodores have already played two games on the trip.
In the second game, against the Kilsyth Cobras of the South East Australian Basketball League, guard Jermaine Beal was stellar, scoring 23 points and grabbing seven boards. Ogilvy, as expected, poured in nearly a double-double with 19 and eight and the Dores had five players in double figures in their win. Vandy also took its opener with the Dandenong Rangers, led by Ogilvy's 23 points and 16 boards. Beal added 10 points, six assists and four steals and Brad Tinsley had nine points and seven assists.
The 10-day trip will almost certainly prove useful when the Dores get to the Maui Invitational in November and open up against Cincinnati, one of the best first-round games in early-season tourney play. Prior to that game, Vanderbilt plays at Saint Mary's (which is also on a tour of Australia this week). The Commodores will also host Missouri, travel to Illinois and play Western Kentucky in Nashville.
• Duke is awaiting the final class for Andre Dawkins as he gets set to graduate early from Virginia's Atlantic Shores Christian School so he can be admissible a year early. Dawkins, who would have been in the class of 2009 had he not transferred high schools, is attempting to enter with his original class for the fall semester instead of going for a post-graduate year. According to a source, the Blue Devils are confident there won't be a hiccup in Dawkins' graduation. Rated the No. 2 shooting guard in ESPNU's Top 100 for 2010, Dawkins would fill the void left by the departure of Elliot Williams, who transferred to Memphis to be closer to an ailing relative.
• Butler has played three games on its tour of Italy, dropping the first two to the Swiss National team. Butler beat Prima Veroli on Monday, but without three players who were hurt, including star junior Matt Howard (Grant Leiendecker and Ronald Nored also didn't play). Gordon Hayward, who was a key contributor to the gold-medal-winning U.S. Under-19 team this summer, scored 27 points in a loss to the Swiss on Friday.
• Pitt's pickup of Centenary guard Chase Adams was essentially a freebie. Centenary, which recently announced it is moving to Division III in the next few years, is barred from the 2010 postseason, thus allowing players to transfer immediately. Pitt already has a stellar recruiting class working for 2010, with Isaiah Epps and Cameron Wright verbally committed. But the Panthers needed another guard for this season. Adams is a senior and will offer up experience next to rising sophomore Ashton Gibbs. Redshirt Travon Woodall will log minutes in the rotation, as will Jermaine Dixon and Brad Wanamaker, two significant role players from last season.
• Xavier always plays a challenging schedule, regardless of who is the head coach. So the transition from Sean Miller to Chris Mack didn't matter -- the Musketeers go after power-rating games in November and December and this year is no different. XU released its nonconference schedule Tuesday. The Musketeers play Marquette in the Old Spice Classic in Orlando, Fla., and then either Creighton or Michigan in the second game, with a third against Alabama, Baylor, Florida State or Iona. From Dec. 8-19, they go to Big 12 sleeper Kansas State, host crosstown enemy Cincinnati and then travel to Butler, a likely top-15 team. Hosting rival Miami (Ohio) and then Tasmin Mitchell and LSU will hardly be a walk before a road game at Wake Forest on Jan. 3. Xavier squeezed in a February nonconference game at Florida as well. Welcome to the show, Chris Mack.
• Possible Summit League favorite Oakland has loaded up on marquee nonconference games to improve its power rating. The Golden Grizzlies probably wouldn't get an at-large berth if they didn't win the Summit, but playing this type of schedule could help it in the long run in terms of getting a better seed (14 to 13) in March. Oakland is playing Kansas, Memphis, Michigan State, Wisconsin, Syracuse and Oregon all on the road. If the Golden Grizzlies can pull off one upset, maybe two, they would be putting themselves in position to make some noise in March. Oakland should be led inside by 6-foot-11 Keith Benson, who averaged 14.3 points a game last season for the 23-13 Grizzlies.
• Credit West Virginia sophomore Devin Ebanks for sticking with school and now trying to prove he made the right decision by speaking out a bit. Ebanks went to Kansas City this week to speak about recruiting to 65 12th-grade basketball players from across the country. The Long Island native was part of an NCAA conference on "Making the Decision, Making the Transition.'' The assumption on Ebanks was that he was a one-and-done when he got to West Virginia. But that was hardly the case. Ebanks, who was originally slated to go to Indiana before Kelvin Sampson stepped down, was third on the team in scoring at 10.5 points a game. With Alex Ruoff gone and Darryl Bryant and Joe Mazzulla suspended for now, the onus will be on Ebanks to produce even more. He should be expected to be the second-leading scorer behind returning wing Da'Sean Butler (17.1 ppg).
"I guess people thought I'd play well down the stretch and thought I'd go,'' Ebanks said of the assumption he was declaring. "But I had it in my mind that I wasn't ready and I needed to come back for another year.''
Ebanks said he has been told to improve his strength and added that he has put on 10 pounds since the summer started and is up to 215. He said he expects he'll have the ball in his hands more often next season. He also said that in pickup games he and Butler have gone against one another, with each handling the ball in a playmaking role in the absence of Bryant and Mazzulla.
Ebanks said he compares Butler to Paul Pierce and said teams will struggle to match up against them because of their versatility. But he also didn't seem worried about the status of the team's regular point guards.
"We'll get those guys back,'' Ebanks said confidently.