Bzdelik's work cut out for him at Colorado
August, 28, 2009
08/28/09
8:12
PM ET
Jeff Bzdelik likely would have gone to Minnesota had the offer come earlier in the summer.
He met with Timberwolves executive David Kahn in Las Vegas. The discussion was about making Bzdelik a top assistant coach to be the nuts and bolts inside, while whomever Kahn selected to be the head coach would be the face of the team. But the head-coaching search dragged for weeks and into August before Kahn selected Lakers assistant Kurt Rambis for the gig.
Bzdelik didn't wait for Kahn or Rambis or anyone else from the Timberwolves organization to make a play, if they were going to do so after the hire was official. He knew he had to renew his commitment to Colorado. He had invested too much the past two seasons with the Buffaloes, suffering through a 9-22 season last year (1-15 in the Big 12) while losing eight games by five points or fewer and one game in overtime (by nine points) to Texas. Colorado went 12-20 in 2007-08.
[+] Enlarge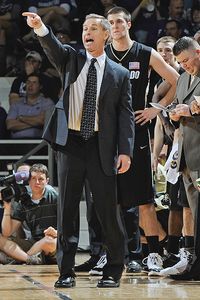 Peter G. Aiken/Getty ImagesJeff Bzdelik knows turning around Colorado hoops won't be easy.
If Colorado was ever going to get out of the dungeon of a conference in which Kansas, Texas, Oklahoma, Missouri, Oklahoma State, Kansas State and Texas A&M hold a firm grip on the talented top half of the league, Bzdelik had to stay. The school couldn't afford another coaching turnover, even if it may have gone to well-respected associate head coach Steve McClain, who had done a decent job at Wyoming.
"This school has been through some bad situations," Bzdelik said Thursday as he prepared for a team workout. "The football program has gone through some things. We had to build back up the academic integrity, the APR, the competitive spirit. We had to create a culture that would be rock-solid.
"Yeah, last year, we won only one game, but we did that with only one senior and one junior," Bzdelik said. "Most of the time, we had three freshmen and a sophomore on the court. We weren't mature enough or experienced enough, and that's the truth."
Bzdelik didn't suddenly lose his ability to win games at CU. He led Air Force to a No. 11 ranking in the country after taking over a program that had been on quite a run from the Joe Scott-Chris Mooney Princeton-style revival. He was 50-16 in two seasons at the Academy, leading it to the NCAA tournament in 2006 and the NIT in 2007. Bzdelik, 56, coached for 31 years prior to CU, including taking the Denver Nuggets to the NBA playoffs. His two-year win total of 50-plus wins at Air Force was the best two-year period in Air Force basketball history, and he guided the Falcons to a 31-1 home record.
Bzdelik is coveted in the NBA. But he has been able to bridge the NBA and college game because of his wealth of knowledge and spending quality time early in his career at Davidson with Eddie Biedenbach (now at UNC Asheville), Bob McKillop (now the head coach at Davidson) and Rick Barnes (now the head coach at Texas). That was before he went to work for Wes Unseld and Pat Riley in the NBA.
"I've learned to coach at every level from great people who teach the game," Bzdelik said. "There's a balance there. And then I did inherit a junior- and senior-laden Air Force team."
The Air Force run appears over in the Mountain West, as the Falcons have won 16 and 10 games, respectively, in the two years since Bzdelik left and Jeff Reynolds took over.
But even Air Force in the Mountain West isn't comparable to Colorado in the Big 12. No one would argue that taking Air Force to the top of the MWC is harder. The MWC doesn't have national title contenders in the league, while the Big 12 does. The state of Colorado, home to both schools, doesn't produce elite talent. The most notable of late is senior Matt Bouldin at Gonzaga and sophomore Reggie Jackson at Boston College. Neither player is deemed a lock to be a pro.
The facilities at Colorado pale in comparison to those of the rest of the conference. The Buffaloes don't receive special treatment like other members of the league.
The abyss from which Colorado retreated included Bzdelik's flirtation with the NBA and rumors that Cory Higgins, who averaged 17 points per game, wasn't going to return for his junior season. Rumors were hot in the summer that Higgins would bolt. Bzdelik heard them and had to investigate.
"There were some coaches who approached him," Bzdelik said. "But he's rock-solid. He's a heckuva player."
The Buffaloes will need point guard Shannon Sharpe and Australian center Shane Harris-Tunks to contribute, and the expectations are low outside of Boulder. But there is certainly hope inside the basketball office. That's why Bzdelik said he called up Dick and Tony Bennett, formerly of Washington State, and Herb Sendek at Arizona State to see how they were able to resuscitate their programs. The Washington State example is probably more akin to Colorado, with a recruiting base that is hardly fertile.
Bzdelik said he has in his contract that by Year 3 a practice facility would break ground. It hasn't yet as Year 3 begins. But Bzdelik is committed to staying at CU.
"I realized last year, when the Chicago Bulls called me and when Minnesota called me, that I know I can do better here," Bzdelik said. "I can't say I've taken a team to the Final Four, but I've been to the NBA playoffs nine times [as an assistant or head coach]. A lot of people can't say that, including some of the big names in college. I have an opportunity here. I'm committed to the players. We dug ourselves a big hole, and now we're peeking out over the horizon to see what we can do. If it doesn't work, somebody else will be coaching here."
But to make it work in the near future, Bzdelik has to stay. A turnover every few years won't work at a place like Colorado. Bzdelik made the commitment to stay. We'll see if it pans out with a commitment from the school and, more important, players who can help turn around a program that hasn't been relevant for some time.
• Kentucky held its first individual workout this week, and the overall opinion of coach John Calipari is this: "What I saw is that we don't have any bad players; every guy can play," Calipari said late Thursday night. "Even Mark Krebs, who we just gave a scholarship to, can play. He can shoot. He's not bad. I don't know what all this means because we are still inexperienced."
Calipari didn't break down every player but added a few quips, saying that freshmen DeMarcus Cousins and Eric Bledsoe need to pick up their conditioning; that Darnell Dodson can score but has to be stronger; that Daniel Orton still isn't 100 percent in both legs after dealing with a knee injury last year; and that he was impressed with Ramon Harris' shooting, the activity of Perry Stevenson and the overall skill development of Patrick Patterson.
As for that other guard, the one who is hyped as the top pick in 2010 -- John Wall. Well, Calipari said he's more verbal than his last elite guard, Derrick Rose (at Memphis), but is just as much a leader. "Neither one would reprimand a teammate. They'll defer to their teammates to make sure they get better," Calipari said.
• The Memphis case brought up Duke's 1999 Final Four appearance in a valid way. The case, presented by a few columnists at CBS Sports, was made that if Derrick Rose was ruled ineligible after the season once he was already cleared by the NCAA to play for the Tigers, and Memphis still had its season vacated, then why shouldn't Duke's 1999 season suffer the same fate after reports emerged of Corey Maggette receiving funds from his former AAU coach, Myron Piggie?
[+] Enlarge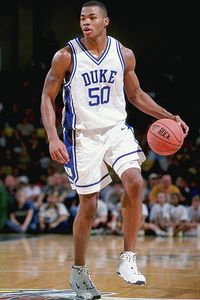 Todd Warshaw /Allsport Does the Corey Maggette-Duke case deserve the same ruling as the recent Memphis case?
The charge of favoritism is certainly felt among a number of other programs. But there is a distinct difference in the cases. Whether you believe there was special treatment or not, the basic fact is this: Rose was ruled ineligible after the season when his test score was invalidated in May 2008. Maggette, according to Duke, was never ruled ineligible. You may believe that he should have been ruled ineligible. But he wasn't, and that remains the main difference between the two cases.
At the 2004 Final Four, an event in which Duke participated, NCAA vice president of enforcement David Price said at the time that the NCAA and Duke "conducted a fairly lengthy joint investigation" into the allegations that Maggette received illegal payments from his summer-league coach (Piggie) from 1997 to 1999. Maggette spent one season at Duke (1998-99) before declaring for the NBA draft.
"Our executive regulations specify that if an individual plays while ineligible in the NCAA championships, we can either vacate the team's participation in the championship and/or assess a fine for the money that they received." Price said in an April 2, 2004, Boston Globe article. "The standard for that is whether either the institution knew or should have known that Maggette was ineligible or if Maggette himself knew that -- or should have known that he was ineligible."
Price went on to say that the NCAA came to the conclusion that there was "insufficient evidence to determine that Maggette knew or should have known, and we believe firmly that the institution did not know and should not have known. Consequently, we have notified the institution that there will be no action taken by the NCAA."
The NCAA eligibility center was clear in stating earlier this year that regardless of when a player becomes ineligible, he's ineligible and that the center has the right to review new information when it comes to light. The same standard is likely going to be applied to O.J. Mayo if the allegations of agent-related payments prove correct. Mayo was cleared to play for USC, yet he might be deemed ineligible after the fact, and the Trojans may end up vacating wins from his one season in L.A.
Duke contended this week that it didn't know about the payments to Maggette, since it didn't start recruiting him until the fall of his senior season.
Had Maggette deemed ineligible by the NCAA -- even years after his one season at Duke -- then the Blue Devils would have had to vacate the Final Four season. If Maggette had been deemed ineligible after he completed his one season and the NCAA didn't vacate Duke's season, a charge of favoritism would have rung from every other Division I institution.