Summer trips abroad should be left alone
August, 31, 2009
08/31/09
1:44
PM ET
The Pac-10 was looking at ways to contain costs and somehow decided that foreign tours ought to be trimmed across the whole NCAA.
The NCAA had already passed legislation that prevents Labor Day trips outside the United States beginning this fall (unless a team already had a signed contract for a trip). But to cut out all travel over the summer -- even after summer school -- for all sports?
The Pac-10 office said former commissioner Tom Hansen and former Oregon athletic director Pat Kilkenny were the two officials who were pushing the bill. But both are now retired, meaning that the amendment -- 13.11.1.3 -- is going through the legislative cycle without a lobbying effort. Still, legislation with a rationale that "saving the costs of such tours seems to be logical in difficult economic times'' might catch the eye of administrators looking to trim any possible fat.
That's the danger here. These trips aren't an elite opportunity. IUPUI and Bethune Cookman went to Costa Rica this summer. Vanderbilt went to Australia, after Commodores coach Kevin Stallings filled the financial void by paying for the trip when the university could not afford the bill. Butler went to Italy. Pitt is planning to go to Ireland next summer. A year ago, Notre Dame went back to its roots with a tour of Ireland.
As you can see, there is a broad spectrum of schools here with varying budgets. Raising the money for these trips shouldn't be legislated. Foreign trips can only be taken once every four years, so it's not like this is a yearly budget issue. And since newcomers can't go on the summer trip, a lot of coaches choose to stay home even when they have the opportunity to go overseas.
The rationale starts off with, "While visiting foreign nations is a part of the learning experience, foreign tours are viewed by many institutions as an additional opportunity to get a head start on the ensuing season." Is this true? Yes. A team gets 10 practices to use before a trip. But let's be honest here. Did Notre Dame get an advantage in going to Ireland that it benefited from in March? No. The Irish flamed out and didn't make the tournament. So it's hard to make some argument that by going on a trip overseas, suddenly that school will be light-years ahead of the rest.
That argument of the practice and head start might fly with squeezing in a three-day jaunt to Canada or the Bahamas over Labor Day. But the trips for 10 to 14 days overseas in August aren't the same. Vanderbilt assistant Brad Frederick said the trips overseas are the first time a number of the players have been out of the country. Frederick said he has talked to a number of coaches both in men's basketball and other sports who said they raise the money.
[+] Enlarge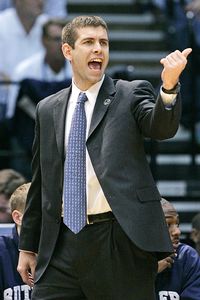 AP Photo/Wilfredo LeeThree of our experts think Brad Stevens' Butler squad might still be playing in hometown Indy in April.
To think these are just junkets is short-sighted. Butler coach Brad Stevens offered even more insight into the overall experience.
"Travel abroad is a terrific educational experience,'' said Stevens, who played at DePauw and went to Europe during his freshman season. "I remember being in awe of Paris. To this day, one of my goals is to take my family over there when my kids are older, so that they can get the privilege of seeing firsthand the architecture, the history, the language and the culture.''
Going overseas during college, most of the time for a semester, is commonplace for the mainstream student body. It doesn't matter the level of institution. There are opportunities for students to go all over the globe.
"If I wasn't a basketball player, I would have loved to do a semester abroad,'' Stevens said. "However, because the season spans both semesters, that isn't an option, so the summer tour at least gives our players a chance to briefly experience a new country."
Going overseas for a few games and sight-seeing can be beneficial if they want to play professionally but aren't NBA-level. Familiarizing them with the foreign game, albeit for only a few games, is also worthwhile.
This summer, IUPUI's Ron Hunter took his team to Costa Rica at the same time as Bethune Cookman and Bowling Green. Hunter gave away 2,000 shoes in his continued effort to put shoes on shoeless children around the globe.
"I just came back from the NABC board and we decided to be against this legislation,'' Hunter said. "I don't care what happens in the games. The experience they had being in another country and delivering shoes. We don't have to mandate to do that, but there should be an educational and humanitarian aspect."
Hunter isn't worried about it because he doesn't think the legislation has legs.
"I don't think it's going anywhere, but now that we've drawn attention to it, let's not just have just 10 days of practice and play. Let's do something to make the country better. If you want to give away shoes then do it -- find something to do."
Hunter said his players enjoyed the distribution of the shoes more than the games.
"I would have been devastated if something like that happens,'' Hunter said of the legislation. "None of my kids could afford that trip, and none of the kids at Bethune Cookman could afford to do that. Let's leave these countries with them thinking that American student-athletes are terrific and made [their] country better."
The legislation will work its way through the membership and come up for a vote sometime during the 2009-10 legislative calendar. Voting out foreign tours without an exception over the summer would make no sense. The cost-cutting is minimal and isn't across the board for every school. There are plenty of other areas where fat can be trimmed out of a budget that each individual school can address.
Legislating budget control when all budgets aren't equal doesn't equate. And judging by the names of the schools going on the trips, it's obvious that some schools value taking the trip, even if they are in a lower level of Division I.
• Coaches usually don't like to float out injury updates until the final diagnosis is known. That's why it was a bit surprising that Clemson's Oliver Purnell tweeted about Trevor Booker's right foot injury before an official diagnosis. Purnell tweeted Aug. 28: "Waiting to hear the results of Trevor Booker's MRI on his foot. The Doc's suspect a Stress reaction injury or a fracture. Shoot!" Obviously that sounded ominous. Two hours later, Purnell tweeted: "The results just came in. Book has a low grade stress fracture and a bone bruise. It could have been worse." There was a third update Sunday that said: "I spoke to Doc Bowman about Trevor's foot. He thinks Book will be out for a very short period of time in the preseason."
"I'm still trying to figure out how to use it,'' Purnell said on the phone. "You try to show your personality, and I know that Clemson people and people in the ACC would be the ones following it. So I try to give them a little bit of what I'm like and feel. So when I said, 'shoot,' people who know me, know that I'm a little bit concerned, but not a lot. I knew I was going to come back and hear a little bit later from the trainer."
Booker is the top returning scorer and rebounder for the Tigers. He's likely an all-ACC first-team player. He was an enforcer for the World University Games squad that won bronze in Serbia. A broken foot would have crushed the Tigers.
The question going forward will be, how would coaches like Purnell handle injuries during the season? Will there be updates after a tweaked ankle in shootaround? Indiana coach Tom Crean was quick to tweet Monday that Maurice Creek was cleared by the NCAA Eligibility Center. That's good news. But will Crean and other coaches tweet when a player is injured? Suspended?
• The NCAA tournament selection committee should use Western Kentucky's Ken McDonald as someone who understands how to schedule into the NCAA tournament out of a non-"big six" conference. McDonald's Hilltoppers will be the favorite to win the Sun Belt, but he has positioned himself to get a possible at-large berth. WKU is in the NIT Season Tip-Off with a legitimate chance to get to New York since it's in a bracket at rebuilding LSU. Western Kentucky also plays at South Carolina and Southern Illinois; hosts Tulane, Evansville and Houston (in February); and goes to Louisville, plays Vanderbilt in Nashville and hosts Mississippi State. Tulane and Evansville are solid home games for a team out of the Sun Belt. The other games are all against teams that could be in the postseason with South Carolina, Louisville, Vandy and Mississippi State projected to be in the NCAA tournament.
"It's aggressive,'' McDonald said on the first day of school Monday in Bowling Green. "A year ago we rolled the dice and we weren't supposed to be very good [losing to Gonzaga on a buzzer-beater in the second round of the NCAA tournament]. We've got good young talent coming in and we're going to test them early.''
The beauty of this schedule is that none of the games is a one-shot deal. The Vanderbilt game in Nashville is part of the Sun Belt Classic and is likely going to be a rotating scenario with Tennessee and Middle Tennessee State. The hope is that the four teams will switch in 2010 with Tennessee playing Western Kentucky and Middle playing Vandy.
The Louisville game is the second of a four-year deal. Western Kentucky beat Louisville last season in Nashville. This year's game is at Freedom Hall, the game in 2010 is in Bowling Green, and the final game of the contract is at Louisville's new arena. The Mississippi State game is the end of a two-year deal with the Bulldogs.
The contest with South Carolina is the first of a four-year deal that Darrin Horn has to own up to after leaving WKU for South Carolina. Horn's exit contract called for a four-year deal with Western if he left for a BCS-level school. It's the same thing that happened to Dennis Felton when he went from Western to Georgia. Horn is entering his second season at South Carolina. The contract was pushed off for a season after the two teams couldn't agree on a date in 2009. McDonald also hopes he can continue the SIU series. A year ago, Western Kentucky lost to Houston and Mississippi State but beat Southern Illinois, Louisville, Georgia and Tulane in key nonconference games.
• Former Sacramento Kings and New Mexico State coach Reggie Theus was finishing up the negotiation of his assistant contract with the Minnesota Timberwolves over the weekend. Theus was frustrated this offseason by the way the job searches ended at Arizona, Memphis and USC. He was certainly qualified for all of them, but USC was the only one that granted him a formal interview. Coaching under Kurt Rambis with the T-Wolves should help Theus rehab quickly for a head-coaching job in either the NBA or college.