Red Storm hopes trip is start of something big
September, 3, 2009
09/03/09
10:28
AM ET
The attempt by St. John's to climb back to relevance and respect begins this weekend in Canada.
If the Red Storm can find itself becoming an aggressive, trapping defensive team, as sixth-year coach Norm Roberts wishes, the quest to finish in the single digits in the Big East standings might not be so far-fetched. Since he arrived to pick over the pieces left behind in the post-Mike Jarvis era, Roberts has never been this effusive with praise of his team.
The shadow of NCAA probation and a dearth of big-time talent plagued Roberts early in his tenure. The Red Storm finished under .500 in all but one of the five seasons, although they did earn a postseason berth last season, losing to Richmond in the first round of the College Basketball Invitational despite having a 16-17 record when the invite arrived.
[+] Enlarge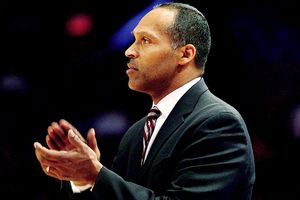 Jim O'Connor/US PresswireIn five seasons under Norm Roberts, the Red Storm is just 26-58 in Big East play.
But the pessimism about the productivity of this program has subsided. There is a sense from the administration down through the staff to the players that the Johnnies legitimately can be a factor in the Big East chase to finish in the top 10 and finally -- yes, finally -- make Madison Square Garden a destination for Red Storm fans in the metropolitan area, not just for fans of other Big East teams that might play on the hallowed court.
"We're going to be a real good team, top 10 in the Big East this year, if not higher," said senior Anthony Mason Jr., who missed 31 of 34 games last season with a torn peroneal tendon in his right foot. "It all starts this weekend."
The Red Storm have been practicing the past week in preparation for the four-game, three-day sojourn to Quebec, where they will play McGill and the University of Quebec on Saturday in Montreal and then Carleton University and the University of Ottawa on Sunday in a pair of back-to-back doubleheaders in Ottawa.
The NCAA membership recently changed the rule regarding Labor Day trips. They are now banned beginning this fall unless a school (such as SJU) had already signed a contract for a tour. St. John's was supposed to go to on a Labor Day trip last year, but the excursion to Cancun was canceled due to Hurricane Gustav.
"The timing of getting the extra practice time and the games couldn't be better," said St. John's athletic director Chris Monasch. "A lot of things are falling in line. We had young teams in the past, but now we've got a veteran team with the parts in place. There are high expectations for this year."
Yes, St. John's expects to finish in the top 10 in the Big East -- and that's not a crazy concept. The 16-team league isn't as top-seed-loaded as it was a year ago with Connecticut, Louisville and Pitt. But the depth remains strong from 1 to 14, so if St. John's is to move up from finishing in the bottom six (6-12 for 13th last season), someone will have to fall.
That means a team out of the group of Villanova, Georgetown, West Virginia, Syracuse, Louisville, Connecticut, Pitt, Notre Dame, Cincinnati, Seton Hall and Marquette isn't finishing in the top nine if St. John's is sliding into that spot. Projecting Providence, South Florida, Rutgers and DePaul in the bottom four, meanwhile, isn't a reach.
"It's been a hard climb," Roberts said. "Nobody knows how hard. And every time we felt like we could climb, we've had some things we've had to recover from."
The reason there is measured optimism? The Red Storm brought in four newcomers, which include two junior transfers who give Roberts his most experienced team since he arrived in Queens. The team has six returnees with significant starting experience, as 97.2 percent of the scoring and 95.1 percent of the rebounding return to a team that won 16 games and registered the school's first Big East tournament victory since 2003.
Also back and healthy are Mason Jr., Malik Boothe (out nine games with a torn tendon in his thumb) and Justin Burrell (played with a face mask after breaking a facial bone in December).
If the Red Storm were to finish in the top nine -- or, gulp, seventh or eighth -- that presumably means they would automatically be in the NCAA tournament discussion out of the Big East. It's a little early for that kind of talk, though. Roberts knows it. Mason knows it. Everyone knows it.
Still, the approach to this weekend has remained intense.
"I really want to get out of this trip to play aggressive defensively, to trap ball screens, to rotate and press all over the place," Roberts said. "I haven't been able to do that in the past because we haven't been as athletic or deep. We've got a great opportunity to do those things now."
Roberts said the Big East window is open for the Red Storm. The league was gutted of a number of its star players by the NBA draft. There is actual hope that a team from the bottom six can climb this season.
"It's our turn to step up," Roberts said. "No game will be easy, but with our depth and experience, this is the year we've been pointing to. We want to make something happen."
[+] Enlarge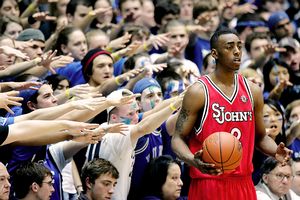 Kevin C. Cox/Getty ImagesAn early-season trip to Duke will be a huge test for Anthony Mason Jr. and the Johnnies.
No one is pressing for a renaissance in Queens more than Mason Jr., who scored 24 points in his second game of last season against Cornell and 12 against BC before the season-ending injury. The Memphis, Tenn., native won an appeal to get a fourth year of eligibility back in his fifth year in school.
"I can't wait," said Mason Jr., whose father Anthony Mason was a high school teammate of Roberts, and later a New York Knicks fan favorite. "I haven't played in a year. I love practice now. That's how much I've missed it. This is my last year. I think I want it more than a lot of people. I want [Madison Square Garden] to be rocking and for everyone to say St. John's this and St. John's that. This is our city. It ain't been seeming like our city, but we can make noise and bring it back."
Monasch is a bit more realistic with the Garden. He wants MSG to be a house teams fear, but when it's near capacity. St. John's has averaged under 6,000 fans at home the past two seasons and in three of the past four.
The first indication the program had drifted from relevance in the Big Apple came last year, when the New York-centric NIT Season Tip-Off (even under NCAA control) sent St. John's to Boston College for opening-round games instead of hosting the games in Queens. SJU lost to the Eagles and didn't qualify for the Thanksgiving week semifinals.
The next slap came in the promotion of the SEC-Big East Invitational. On Dec. 9, St. John's will host Georgia; the game will be the clear undercard on the Red Storm's own home court. Following that game will be a showdown between Kentucky and Connecticut.
"Yeah, we got downgraded," Mason Jr. said. "It's all about Cal [Kentucky head coach John Calipari], Kentucky and Connecticut. People want them. They're not talking about the St. John's game."
The school will once again play a limited number of games at MSG this season. According to Monasch, the Red Storm plays Georgia, the two-game Holiday Festival just before Christmas and likely six of nine Big East home games there. The school played nine regular-season games at MSG last season, and it appears it'll be the same amount this season.
"Our goal is to play as many games at the Garden as possible, but with some non-league games and a game or two in the Big East on campus for those fans and because we made a financial commitment to our arena," said Monasch, referring to the ongoing renovation of the on-campus Carnesecca Arena.
"It makes sense to have some of those games in Queens. But at the end of the day, once we get the program back to the level with the ability to generate revenue [at MSG], then there is more upside for the whole athletic department. The TV people like us playing there, and so does the Big East. But it has been a business decision to play on campus."
But the interest has to exceed Carnesecca, driving the demand to MSG.
How can the Red Storm make itself matter to New Yorkers when the Big East tournament arrives in March? Winning early-season games would help. Roberts said a Dec. 5 game at Duke and the Georgia game at home four days later could be the indicators of what is to come.
"That will be a huge situation for us," Roberts said, "to see if we can win those games and get some notoriety and get everybody excited."
The scores from Canada won't matter. How the Red Storm plays, whether or not they have issues scoring (see: 10 games last season scoring 60 or fewer points) and if they can be a crazed defensive team that is a pest to play will be the real measuring sticks for Roberts over the next six weeks.
"A lot of people are going to look at this tournament to see how this season will go," Mason Jr. said of the four games in Canada. "People may want to know, 'What are they doing up there and how did they handle their business?' Well, defense is going to be our key. We've got length, tall guys, quick guys, athletic guys where we can get into the passing lanes. We'll be very defensive-minded. People won't want to play us because of our defense."
The junior class should dominate this squad and this weekend with classmates Paris Horne, D.J. Kennedy, Dwight Hardy, Sean Evans, Rob Thomas, Dele Coker, Justin Burrell and Justin Brownlee all having plenty of experience.
Monasch said Roberts could have gone for a quick fix with four-year transfers and junior college transfers when he arrived. But, he said, "We wanted Norm to do it the right way, and he's done it that way." Roberts has a five-year contract that has a rollover every year, which means every year is essentially the start of a new five-year deal. That doesn't mean there won't be some pressure this season if the Red Storm struggle.
Monasch said the games like Duke, Georgia and the Philly Hoop Group Classic are all critical, but how the Storm performs over an 18-game Big East schedule will ultimately be the barometer for how this team is perceived and whether it gets an NCAA bid.
"We hope to create excitement, but how we do in the Big East will determine that," Monasch said.
"[Roberts] has held up good with a straight face," Mason Jr. said. "He doesn't hold his head down. He keeps it positive and keeps us confident. He keeps pushing us. He's held up, especially after a lot of [job security] stuff was said about him and this team. We've all handled it good, and that's why we're doing it for him, too."