Fourth season will be a crucial one for Gonzalez
September, 9, 2009
09/09/09
11:20
AM ET
Seton Hall coach Bobby Gonzalez expects his team to challenge for an NCAA berth. He anticipates the Pirates will finish between sixth to 10th in the Big East, a usual qualifier for being in the conversation for a possible postseason bid.
But to do that, Seton Hall will have to lean heavily on a rugged Big East schedule after failing to secure a number of high-profile nonconference games.
Seton Hall, like every other Big East team, will release its schedule Thursday when the conference office unveils the league slate. What you'll see is a SHU schedule that has road blocks -- like at Ivy League champ Cornell and possible sleeper games against rebuilding Temple and UMass at home -- but mostly games the Pirates should win without much power-rating pop: at Monmouth, St. Peter's, Long Island, New Jersey Institute of Technology, Hartford, Navy and VMI.
There is one more game the school finalized just last week to finish the schedule, against a possible postseason team in Virginia Tech. Strangely enough, the game will be played in Cancun, Mexico, on Jan. 2. It'll be televised by ESPN2.
[+] Enlarge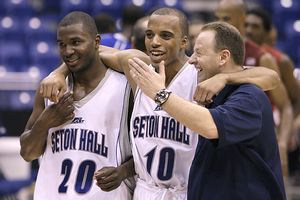 AP Photo/Andres LeightonThe Pirates faced a solid field at last year's Puerto Rico Tip-Off. There won't be many nonconference opportunities this season.
While the opponent may not do wonders for the Pirates' NCAA chances, the timing of the game will give the program a week of something they can either whiff on or embrace -- national attention. On Dec. 26, Seton Hall opens the Big East season at home against West Virginia on CBS. Ohio State was the original WVU opponent for that date but the game with the Buckeyes was moved to Jan. 23.
On consecutive weekends, Seton Hall will be a featured team when most of the attention is focused on football. But for those that will want their hoop fix, the Pirates will be in your view. Sure, on Jan. 2 there is a monster game at Rupp Arena between Louisville and Kentucky that will dominate the day in college basketball. But the Pirates have a chance to be recognized with the two national TV contests around the holidays -- and that means something.
"There's no question that this could give us early notoriety and exposure,'' Gonzalez said. "We've got to do something with this opportunity. We've won 17 games two years in a row and we feel like we're definitely better. We've got some BMWs, a Benz now on our roster and that means more pressure on myself and more expectations -- and that's a compliment to our players and this program because this is where we want to be.''
Like Cincinnati, which added hyped newcomer Lance Stephenson to an already surging squad led by Deonta Vaughn and Yancy Gates, the Pirates are one of the more intriguing teams in the Big East. Gonzalez has added transfers Keon Lawrence from Missouri, Herb Pope from New Mexico State and will have Jeff Robinson from Memphis available in December. Those are additions to a roster that returns its top four scorers: Jeremy Hazell (22.7 ppg), Robert Mitchell (14.7 ppg), Eugene Harvey (12.5 ppg) and John Garcia (8.0 ppg). So the Pirates should be in the thick of the race for an NCAA bid out of the Big East.
Seton Hall was 7-11 in the conference last season, three games behind West Virginia and Providence for seventh, one game behind Notre Dame and Cincinnati.
"I definitely feel like we're one of those teams,'' Gonzalez said. "Everybody has been talking about Cincinnati, and I can see that. I can see St. John's, with all of their juniors coming back and Anthony Mason Jr. Maybe we don't belong in one through six, but we do in six through 10. We could be in there somewhere. If we can get these guys to play together and have the chemistry going well, I think we can be right there.''
As far as the weak nonconference schedule is concerned, Gonzalez said it wasn't for lack of effort. He made a run at playing Siena but the dates didn't align. According to Gonzalez, no one else was enthusiastic about signing up for Seton Hall.
"I know this sounds like I'm crying the blues but no one would play us,'' he said. "We were willing to go on the road. Maybe people were afraid. We won 17 games, return four starters, and with Herb Pope, Keon Lawrence and Jeff Robinson, people said, 'Screw them, we're not playing them.' We had a hard time getting games.''
The road game against Cornell and standout Ryan Wittman is certainly dicey, but the Pirates may need to be undefeated going into the marquee Big East opener against a league title contender like West Virginia.
"That's huge for us -- to open the Big East season after Christmas," Gonzalez said. "Here's my philosophy: We didn't get a nonconference schedule we needed to get. If we're good enough in the Big East we'll be good enough to get in the NCAA. We'll have to play our way in, get into the top six or seven and prove that we're good enough.''
That's true. But what everyone has learned recently with unbalanced conference scheduling is who you play, where you play and who you beat determines a bid. Despite a 10-8 league mark, Providence didn't get a bid last season out of the Big East. Yet 10-8 West Virginia did.
Why? Providence's only quality conference wins came over then-No. 1 Pitt at home and Syracuse at home -- the only two wins out of 10 that were against teams above the Friars in the standings. Providence didn't beat an NCAA team in nonconference play. Meanwhile, West Virginia beat Pitt and Villanova (and Providence) for quality wins in the Big East and in the nonconference took out Ohio State on the road by 28 points. Ultimately, that was enough to push the Mountaineers in the field.
For what it's worth, Gonzalez said the Pirates will play in the Paradise Jam in St. Thomas during the 2010-11 season, in addition to a spot in the SEC-Big East Invitational and likely games against Minnesota and Dayton.
"It should be an unbelievable schedule,'' Gonzalez said.
But the focus for now is on making the 2010 NCAA tournament and not securing marquee games could bite the Pirates. As usual, the Big East schedule isn't kind. Seton Hall plays West Virginia and Pitt twice and goes to Georgetown, Villanova and Connecticut without a return. But getting Notre Dame, Louisville, Cincinnati, Syracuse and Marquette at home without having to go on the road to those courts should balance out the schedule. Winning those home games could be critical to any kind of bid come March.
Gonzalez is entering his fourth season, which means the Pirates need to start winning more than 17 games. The previous SHU coach, Louis Orr, was fired a week after his fifth season ended with a second NCAA tournament appearance (his third postseason bid).
Gonzalez is 47-46 since arriving -- 18-34 in Big East play -- and has yet to crack the postseason. So this is the year the Hall needs to be at least on the NCAA bubble, if not make the tournament, especially with the plan to add four-year transfers like Pope, Lawrence and Robinson. Gonzalez also took a chance on Melvyn Oliver, a 6-foot-11, 340-pounder that Gonzalez said is "Shaq or Eddy Curry-like in the middle."
"He's clogs it up and will take the pressure off Garcia,'' Gonzalez said. "He's a big dude. But we've got to get him in shape. If we can kick his ass the first six weeks of practice and then in the 11 nonconference games and get him ready for the Big East to have a wide body, that will help. We were getting killed last year in there.''
Adding Robinson after Dec. 19 (in time for the Temple, Navy, West Virginia and Virginia Tech games) should help get the team ready for the Big East. So far in individual workouts, Gonzalez has seen the transfers score and score and score. If former starter Robert Mitchell can adhere to a sixth-man role as the newcomers sponge up the minutes, there is hope the team will mesh early and often. If Oliver and Pope can board, something the Pirates were adverse to last season, the team has got a shot to contend with anyone in the league on a given night.
The NCAA tournament selection committee focuses on games that a coach can control. No one wants to hear the excuse that the coach couldn't schedule quality games. Too often "Power Six" schools will go easy in November and December because they anticipate they will have a monster few months in the conference. Seton Hall fits that description. But the Pirates' rare chance to be on the national stage around the holidays could offset that perception -- if they win.
"Look, I'm not trying to say something about Rutgers, but there were 55,000 people watching Rutgers play Cincinnati on Labor Day and they got beat 47-15,'' Gonzalez said. "We're not Louisville. We're not Connecticut. When we have those types of games, big games, we've got to do something with them -- plain and simple.''
• Virginia Tech coach Seth Greenberg said he agreed to play the Seton Hall game in Cancun because the Hokies aren't playing in a tournament at some other exotic locale. Tech will make a long weekend out of the excursion to Cancun.
Meanwhile, Greenberg is experimenting with some new techniques to get the team to bond earlier this season. The Hokies did a ropes-course trip last week, with the team and coaches climbing trees and dealing with other problem-solving.
"It was out in the wilderness and it was good for them to see the coaches taking risks like the players,'' Greenberg said. "It was challenging and fun. We're trying to do things differently.''
Greenberg said the Hokies are also looking at doing a paintball experience, too.
"We're trying to find out things where we can develop a trust and a bond and have fun doing it,'' Greenberg said. "In this league, it's all about winning close games. We're trying to help gain a trust with each other.''
• Andre Dawkins was cleared by the NCAA Eligibility Center and is ready to be an integral part of Duke's perimeter a year earlier than expected. Dawkins, who finished his high school requirements over the summer at Atlantic Shores Christian School (Va.), is expected to rotate in with Jon Scheyer, Nolan Smith and Kyle Singler along the perimeter. Dawkins replaces Elliot Williams, who transferred to Memphis to be with a sick relative. Williams was granted a waiver to play immediately for Josh Pastner's Tigers.
"He can really shoot the ball,'' Duke assistant coach Chris Collins said of Dawkins. "He's a 3-point threat. He's a really good athlete, too.''
Duke isn't counting on Dawkins to be a savior, but he will be rotating in for significant minutes. Last season, Williams wasn't used as much until the last third of the season. Dawkins will be leaned on earlier but his major contributions might not be felt until the heart of ACC play.
The Blue Devils are anticipating being a bigger, longer team this season with Singler moving to small forward and the Blue Devils rotating in big men Lance Thomas, Brian Zoubek, Mason and Miles Plumlee and Ryan Kelly.
• Individual workouts are just starting around the country, but this is college hoops' version of spring training. And in spring training every team has hope. If a few workouts are any indication, the national perception of Miami may need to change. Jack McClinton is gone, but the Hurricanes are hardly devoid of big-time talent.
The Hurricanes, who finished 19-13 last season and advanced to the NIT's second round, return most of their team from last season, with Dwayne Collins anchoring the middle. He has a chance to be an all-ACC forward.
And coach Frank Haith is giddy about the prospect of his newcomer class of guards, Durand Scott, Antoine Allen and Garrius Adams, as well as power forward Donnavan Kirk.
"It's the best recruiting class we've had here,'' Haith said. "They can all score. They're talented, long and athletic. Durand and Garrius are big-time shooters and Antoine is like a junkyard-dog type of guard. Donnavan Kirk is long, athletic and runs the floor like a deer. This freshmen class is really good.''