Pelphrey deals with latest Arkansas drama
September, 10, 2009
09/10/09
10:00
AM ET
Arkansas head coach John Pelphrey was on the road recruiting Wednesday as his world seemed to be spinning out of control.
Even though University of Arkansas officials were hopeful that the three unnamed basketball players would not be charged after being accused of rape by a female student at a fraternity, there was naturally anxiety that the program had taken a body blow. The first news early in the afternoon was that an investigation was being conducted into rape allegations involving the players at the Phi Gamma Delta fraternity house Aug. 27. That story was all over the Internet and on local television news in the state. Hours later, local prosecutor John Threet would tell The Associated Press that no charges would be filed because the statements from the woman didn't prove she was unaware a sex act had occurred or that she was unable to say no. Both distinctions were important aspects of the case that could have led to a sexual assault charge, the prosecutor said.
"There was a lot of damage control, communicating to a lot of people about the information," Pelphrey said. "It's been a very, very unfortunate situation. We're trying to get to a number of spots [in recruiting] and we're trying to communicate."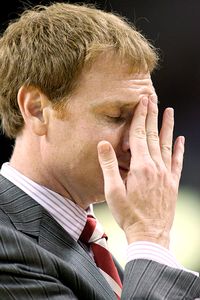 Nelson Chenault/US PresswireOff-court issues and a 2-14 SEC record don't add up to pleasant times for John Pelphrey.
What Pelphrey had to do was squash any rumblings about a program gone wild. How he and the university handle the situation going forward might tell a lot about the future of this season and this program.
The prosecutor's statement cleared the players of any charges. Late Wednesday, Arkansas vice chancellor and director of athletics Jeff Long issued a telling statement. After saying no charges were filed against the students, Long added that the school cooperated in the investigation and that these were "very serious allegations and we treated them as such." He made sure everyone knew the matter is hardly closed.
"Now that the criminal legal process has been completed, we will review the available information to determine if any athletic department rules or policies have been violated. Following that review, we will take appropriate action."
Pelphrey can't afford for his players to act in a questionable manner, even if it's not criminal. Long will make an attempt to determine if further action will be taken against the three players. Pelphrey has no choice but to support any decision Long makes.
In Pelphrey's brief two seasons, the list of issues he has had to deal with is more than the SEC wins he picked up last season (two).
This spring, fifth-leading scorer Jason Henry was suspended before the SEC tournament for a violation of team rules. He is no longer on the squad.
Star freshman point guard Courtney Fortson was suspended for his malcontent behavior last season. He missed one game -- a home game against Kentucky -- before he was reinstated.
"We still feel like he has the potential to do more," Pelphrey said. "For him to achieve more, he's got to be the hardest worker every day and be able to handle adversity."
Sophomore Marcus Britt, who averaged 18.9 minutes a game last season, was was suspended after being charged with driving while intoxicated in May.
Freshmen Andre Clark and Brandon Moore played sparingly last season and then transferred.
Last season, Montrell McDonald quit the team in December and senior Marcus Monk was declared ineligible in late January, ending his basketball career. In addition, Moore and McDonald joined Fortson and Henry as players that sat through in-season suspensions.
This doesn't even include the mess with Patrick Beverley, whom Pelphrey didn't recruit but did coach for one season. Beverley was suspended in August 2008 and later left the university to pursue professional opportunities. He later said someone wrote a paper for him.
Clark, Moore, Henry and McDonald were a part of the 2008 recruiting class.
In a move to help the school's standing in the Academic Progress Report, Henry stayed on until he finished the semester. Moore stayed through the summer and left eligible. He is going to Florida International and was there the first part of the summer, but returned the second part of the summer to help the APR. McDonald's departure was a playing-time issue. Clark apparently didn't fit in to Arkansas' plans and now attends a junior college in Illinois.
Remaining are Fortson (14.8 ppg, 5.9 apg), a possible all-SEC guard, and sharpshooter Rotnei Clarke (12.2 ppg, 39.3 percent on 3-pointers). They are now sophomores, joined by returning forward Michael Washington, who withdrew from the NBA draft despite averaging 15.5 points and 9.8 rebounds a game as a junior.
The Hogs also return Stefan Welsh, who averaged 11.5 points a game. So they do have four double-digit scorers returning. And staff expects the players coming in to be better than the ones that left.
Much is expected of 6-7 incoming freshman Marshawn Powell. He is termed a "beast" for his frontcourt ability and expected to be a future NBA player. The staff has looked at Powell as someone who will "shock a lot of folks."
Newcomers Delvon Johnson, a long shot-blocker, and athletic wing Jemal Farmer are expected to contribute immediately. Defensive-minded forward Glenn Bryant may not be ready to step into a role yet, and point Julysses Nobles will back up Fortson.
Those newcomers will need to be effective in the SEC this season, with Mississippi State and Ole Miss expected to challenge for an NCAA berth out of the SEC West. Five of the six teams in the East -- Kentucky, Florida, Tennessee, Vanderbilt and South Carolina -- should be in contention for a tourney bid.
But last season, after igniting enthusiasm by beating Oklahoma and Texas in nonconference play, the Hogs finished a disappointing 2-14 in the SEC, 14-16 overall. And then the off-the-court issues continued to pile up.
"We'd all like to live in a world where we don't have to deal with this, but as a coach you'll probably have to deal with something like this," Pelphrey said. "We'd love to have smooth sailing but when something comes our way we deal with it. We have enough checks and balances in place to handle it."
Pelphrey said the offseason of workouts has gone well and reiterated there have been good things happening for the program.
But there now need to be results during the season to move beyond the negativity that can permeate a program when off-court issues arise. Beating Texas and OU last season raised expectations for the program, only to see them fall flat in SEC competition.
"I understand the excitement in the program and the passion that we have here," said Pelphrey, who has seen that level of pride in a program as a player at Kentucky and then as an assistant at the beginning of the basketball renaissance at Florida under Billy Donovan.
"We knew the situation when we took over and the challenges that lie ahead of us. We're so excited about the opportunity to build it back up and to do something to repeat the success of the past, since our history here is tremendous."