Memphis may have company atop C-USA
September, 14, 2009
09/14/09
11:09
AM ET
Angel Garcia hasn't played a minute for Memphis since he arrived a year ago.
Yet, the news that he tore his ACL made headlines across the country, including on the front page of ESPN.com.
"I had never heard of the kid, I wasn't aware he was on the roster," Houston coach Tom Penders said. "[Former Memphis coach John Calipari] is a good friend of mine and he had never talked about him."
[+] Enlarge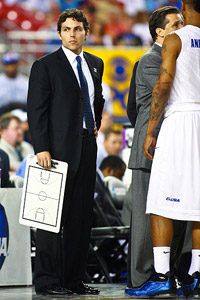 Chris Morrison/US PresswireNew Memphis coach Josh Pastner won't have to look far to see the rest of C-USA trying to catch him.
Meanwhile, the Tigers received two high-profile commitments for 2010-11 over the past few months -- one earlier in the summer from the top shooting guard on the ESPNU Top 100, Will Barton (Brewster Academy, Baltimore, Md.), and one last week on the same day as the Garcia injury, from the No. 5 point guard in the class, Joe Jackson (White Station High School, Memphis). And with each commitment the Tigers were the only headline from Conference USA.
"We don't announce commitments until they're signed," said Penders. Memphis didn't announce the commitments but the news, like many items about top players, tends to leak out.
The Calipari-less Tigers, now led by Josh Pastner in his first head-coaching gig, still are the team of record in Conference USA. It doesn't matter what they do, the news follows them. And nothing done by Houston, Tulsa or UTEP -- arguably the three schools that could make a strong case to be tabbed as favorites this season instead of Memphis -- seems to matter.
Tulsa was ranked No. 21 in my latest preseason top 25. Memphis was not ranked.
"They've done it, they've got stuff UTEP, Tulsa and Houston don't have and that doesn't bother me at all," Tulsa coach Doug Wojcik said of the Tigers' national recognition, NCAA tournament appearances, NBA arena and passionate fan base that does top the league.
"Nothing is going to change until something happens on the court," UTEP coach Tony Barbee said. "All of the news and the offseason articles [about Memphis], well none of that will change. Wins and losses change the perception."
Wojcik disagrees a bit. He said the publicity Tulsa received in the offseason has changed the perception of the Golden Hurricane. The word is out that Tulsa will likely be tabbed as the conference favorite.
"There's no doubt it has shifted for me a bit," Wojcik said. "But we've all got to go out and win some games in the nonconference. Memphis did play for the national title. You can't forget that."
Conference USA has had a serious image problem for the past few seasons. Memphis has dominated the conference the past three seasons, winning 58 straight league games. C-USA hasn't had multiple bids to the NCAA tournament since 2006, when UAB got in with Memphis, one year after the league lost marquee members Louisville, Cincinnati and Marquette to the Big East.
The conference could have done a better job of lobbying for its most marketable player in Tulsa senior center Jerome Jordan, a lock for the NBA first round. Jordan wasn't named one of the top 50 preseason Wooden Award candidates, something that befuddled Wojcik.
The change in thinking about Conference USA won't occur in the preseason. It might not happen until March. But it could happen in February if Tulsa can pull off an upset at Duke. Barbee said he likes the Duke game for Tulsa and Conference USA, but only if Tulsa wins.
Wojcik jumped at the chance to play at Cameron Indoor on Feb. 25 on ESPN. Wojcik, who was an assistant to Matt Doherty at North Carolina, knows the importance of playing in Durham late in the season. He said he wanted the experience for his seniors Jordan and Ben Uzoh.
"I love it, why not play that game in November, December, January or February?" Wojcik said. "It will give them a lifetime memory. That will be a huge RPI game for us, on national TV, and will prepare us for the tournament. I love that game."
He's right. Rarely do teams that are possibly on the bubble get a game like Tulsa's at Duke in late February. The BracketBusters event doesn't produce a matchup like that. Tulsa plays host to Oklahoma State, a likely NCAA team out of the Big 12 on Dec. 2, and based on the rest of the nonconference schedule the Cowboys might be the only NCAA-bound team the Golden Hurricane play prior to the Duke game.
Wojcik added the last piece to a team that won 25 games last season when Donte Medder joined the team. Through individual workouts Medder has been everything Wojcik hoped for with his "old-style game" and his strength at the point that allow Uzoh to move to shooting guard. Jordan Clarkson, a 6-foot-4 shooting guard out of San Antonio, the No. 63-ranked guard on ESPNU's list, is Wojcik's Joe Jackson-like recruit -- a potential game changer even though few outside of the region have noticed the commitment.
"[The changing perception] is not going to happen until someone else steps up on the national stage," Barbee said. "This is a high-level league and Tulsa and Houston have been a few wins away from getting over the hump. Someone else has to prove it. If you look at Memphis' roster they still have the talent to win the league."
While Pastner did add Duke guard Elliot Williams for this season after he was granted a waiver to play immediately due to an ailing relative in his hometown of Memphis, Pastner is quick to point out not everything has been going smoothly. The Tigers did lose expected frontcourt contributor Latavious Williams to an overseas contract. The Tigers will lean on Willie Kemp, Doneal Mack and Roburt Sallie, all returnees but none of them stars yet, to lead a depleted roster (eight scholarship players) this season.
Memphis' season isn't affected by the ruling by the NCAA's committee on infractions that its wins in the 2007-08 season, including the national finals appearance, had to be vacated for the use of an ineligible player (Derrick Rose). Of course that was a headline for weeks and deservedly so. But the Tigers are the team of record in Conference USA, regardless of what is occurring on the other contenders' campuses.
"All of this is a credit to what Coach Cal built at Memphis, making this an elite program," said Pastner, who worked one season for Calipari as an assistant. "We don't want there to be a drop-off. Our assistants are doing a super job in recruiting so far. We know this is a really good league and we want to be right there."
The Tigers do have four high-profile nonconference games that are leftovers from the Calipari era. Memphis will play Kansas in St. Louis on Nov. 17 in a rematch of the 2008 title game; play Tennessee on Dec. 31; are at Syracuse on Jan. 6; and host Gonzaga on Feb. 6.
"Josh has the toughest job in the country," Penders said. "There's no question he does. But he had to take the job [when Calipari went to Kentucky]. People forget about the Tic Price or Larry Finch stuff before Calipari. Memphis has had good players, but there is no Tyreke Evans or Derrick Rose. But I hope they are still good for all of us. We need them to be."
Putting Houston near the top of C-USA wouldn't be a reach, either. The backcourt of Aubrey Coleman and Kelvin Lewis averaged a combined 37 points a game last season. Sophomore point Desmond Wade was just the sixth freshman to reach triple digits in assists (113).
And Penders, never shy promoting his squad, said even Coleman and Lewis are being pushed for playing time by "the new guys." Penders was referring to JC transfers Adam Brown and Maurice McNeil. He said two freshmen, power forward Kirk Van Slyke and guard Nick Haywood, are impact players, too.
"We've got a lot of good pieces," Penders said. "I know how good we are. It's the best team we've had."
If that's the case then Houston needs to win games like its matchups against Oklahoma in the first round of the Great Alaska Shootout Nov. 26, against top-25 team Mississippi State at Hofheinz Pavilion on Dec. 19, and versus Sun Belt favorite Western Kentucky in Bowling Green, Ky., on Feb. 9.
The league finally moved the tournament out of Memphis and shifted it to Tulsa. The advantage is now for the Golden Hurricane.
"The chances are greater for getting more than one team in the tournament if someone else wins the league and Tulsa wins the playoffs," Penders said.
But if Conference USA is going to shake the news blackout outside of Memphis the change may come from UTEP. No player entering the league this season has had more written about him during his college career than Derrick Caracter, the much-maligned former Louisville center. Caracter will be eligible in mid-December. Caracter is now listed at 6-9, 275. Barbee said he arrived last January at 300 pounds.
"He's been the most impressive player I've ever seen skillwise in individual workouts," said Barbee, who was a Calipari assistant prior to getting the UTEP job in 2006. "He's been great the last two weeks."
Louisville coach Rick Pitino had issues with Caracter's conditioning. Barbee said that hasn't been a problem for him.
"Whether he's looking at this as a second chance or last chance, he's highly motivated right now," Barbee said.
Once Caracter is eligible, it will be hard to find a more imposing tandem of big men in the league than Caracter and 6-11, 240-pound Arnett Moultrie. Moultrie was a key big man for the gold medal-winning U.S. under-19 world championship team in New Zealand last July.
"[Moultrie] came back with the confidence I thought he would return with," Barbee said. "He's put on [nearly] 20 pounds. He knows he belongs."
Arizona State transfer wing Christian Polk, who Barbee said is playing with a bit of a chip, and the return of one of the more maligned backcourts in the country in Randy Culpepper and Julyan Stone give the Miners a possible C-USA championship lineup. The Miners did lose 24-point scorer Stefon Jackson off a 23-win team last season. But the newcomers and the returnees make the Miners a formidable option atop the league.
UTEP's schedule has the potential to produce power-rating points if Ole Miss (in Southhaven, Miss., on Dec. 16), Oklahoma (in Oklahoma City on Dec. 21) and BYU (Jan. 9) live up to expectations of being NCAA-bound teams.
Clearly, the rest of the league -- UAB, Southern Miss, Central Florida, Tulane, SMU, Rice, Marshall and East Carolina -- can't be in power-rating purgatory if the image is going to change this season.
The window is open for UTEP, Houston and Tulsa to grab the league from Memphis and make this a multiple-bid conference in March and ensure that there are headlines from the members other than the Tigers from January to March. If it doesn't happen this season, if these squads can't make themselves relevant now, then the league will have an even harder time convincing television executives that there is more to see here. The NCAA tournament selection committee will have the final say in March. But there are no gifts. The opportunity is now to earn the bids and make the news themselves.