For Nov. 17 marathon, it'll be all hoops all the time
September, 16, 2009
09/16/09
7:38
PM ET
If you want to familiarize yourself with a number of this season's top storylines, don't leave your house on Nov. 17.
If you can stay awake, there will be plenty to peruse during ESPN's second-annual 24-hour hoops marathon. Let's take a look at the lineup …
(NOTE: All of the following games on ESPN/ESPN2 can also be seen on ESPN360.com.)
Cal State Fullerton at UCLA, midnight ET (ESPN): This is a chance to see how the Bruins respond without Alfred Aboya, Josh Shipp and Darren Collison for the first time in three years. And you can determine if UCLA's Malcolm Lee is really the star that so many have made him out to be.
San Diego State at Saint Mary's, 2 a.m. (ESPN): SMC coach Randy Bennett is trying to downplay the potential impact of Australian freshman Matthew Dellavedova, but he is on the Australian national team and has a shot to play alongside former Gael Patty Mills in 2012. He clearly has some talent. As for the Aztecs, they might be the sleeper pick to win the Mountain West Conference with the addition of JC transfer Malcolm Thomas and incoming freshman Kawhi Leonard.
Following the Aztecs-Gaels matchup will be Northern Colorado at Hawaii at 4 a.m. (ESPN). The Warriors are playing host to the 4 a.m. game for the second straight season, having defeated Idaho State in a tight 67-64 contest in 2008.
After that comes two games in two time slots that ESPN has literally never filled with live college hoops: Monmouth at St. Peter's at 6 a.m. (ESPN) and Drexel at Niagara at 8 a.m. (ESPN). Over the past 30 years, ESPN has broadcast more than 8,200 live college basketball games. These matchups will be the first two at those hours.
You'll especially want to keep an eye on the 8 o'clock game. Niagara, which quietly won 26 games last season, is expected to challenge Siena for the MAAC title. If that's the case, then playing Bruiser Flint's game Drexel squad this early should be a quality test for the Purple Eagles.
[+] Enlarge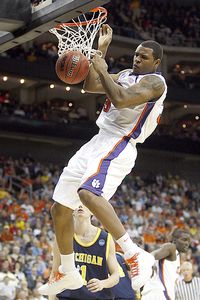 Jamie Squire/Getty ImagesWhere else but the marathon can you see a tourney team from the ACC get a road challenge at Liberty on a Tuesday morning?
Clemson at Liberty, 10 a.m. (ESPN): After you're done trying to figure out why Clemson is playing at Liberty, you'll see how imposing Trevor Booker can be in the post and you'll see the impact former USC signee Noel Johnson makes on the perimeter. So why is Clemson playing this game? Last year the Tigers were desperate for a home game on Sunday, Dec. 7. But the Flames had a conference game against Gardner-Webb on Dec. 6. Former Liberty coach Ritchie McKay, now an assistant at Virginia, said the Tigers agreed to not only charter the Flames to Clemson for the Sunday game but also travel to Lynchburg, Va., the following season in return for Liberty's help. McKay said Clemson coach Oliver Purnell has never been afraid to go on the road for a nonconference game, even to a lower-level program.
Northeastern at Siena, noon (ESPN): The Huskies should be in the thick of the race for the Colonial title and the Saints are the new NCAA darling after consecutive first-round tournament wins over Vanderbilt and Ohio State. Those inside the Siena program believe the Saints may even be better than a season ago.
Arkansas-Little Rock at Tulsa, 2 p.m. (ESPN): OK, so you're not tuning in to see UALR. But the Golden Hurricane could be the team that unseats Memphis from its Conference USA perch. And this is the first shot to see one of the top centers in the country. The Wooden Award committee didn't put Jerome Jordan on the preseason top 50 list, but it should have. Tulsa originally talked to San Diego State about playing on this date, but the two sides couldn't agree on the series, thus the insertion of UALR and the inclusion of the already-scheduled San Diego State-Saint Mary's game into this event.
Temple at Georgetown, 4 p.m. (ESPN): The Owls lost Dionte Christmas, so they will likely struggle to return to the NCAA tournament. But the Hoyas may be the sleeper to win the Big East with the return of Greg Monroe and an improved Chris Wright and Austin Freeman on the perimeter.
Binghamton at Pitt, 5:30 p.m. (ESPN2): The Panthers lost Levance Fields, Sam Young, DeJuan Blair and Tyrell Biggs. The debut of Ashton Gibbs as the true point, going against Binghamton's big-time scorer D.J. Rivera, should be one to watch -- along with the arrival of McDonald's All-American Dante Taylor in the middle.
NIT Season Tip-Off game at Duke, 6 p.m., (ESPN): The matchup will be determined based on the previous day's Charlotte-Elon game, but regardless of the opponent, this will be the first chance to see a Duke lineup that is bigger and longer than in the past. The Blue Devils may move Kyle Singler to more of a wing with a glut of bigs that need minutes.
Starting at 7 p.m, there will be a women's doubleheader in San Antonio involving four traditional powers. The first game will be Tennessee versus Texas Tech (ESPNU) and the second will be defending national champ Connecticut versus Texas (ESPN2).
Arkansas vs. Louisville in St. Louis, 7:30 p.m. (ESPN2): The Hogs have one of the more impressive point guards in Courtney Fortson, and according to the Arkansas staff, stud freshman Marshawn Powell could be one of the top forwards in the SEC. Oh, and it's Rick Pitino's season debut on national television after a tumultuous summer. Whether the trial in this case will have been concluded by the time the game occurs is anyone's guess.
Gonzaga at Michigan State, 8 p.m. (ESPN): The Spartans are the pick to win the Big Ten and get back to the Final Four with a healthy Delvon Roe, a big-time leader in Kalin Lucas and a determined Raymar Morgan. The Zags continue their annual brutal nonconference slate with what should be another perimeter-based team with Matt Bouldin, Steven Gray and Demetri Goodson. The Zags' staff is also banking on major contributions from German Elias Harris and Canadian Bol Kong.
The next two games are Northern Illinois at Illinois at 8 p.m. (ESPN360.com) and Duquesne at Iowa at 9 p.m. (ESPNU). The Dukes are a sleeper in the Atlantic 10 and will be quite a challenge for a Hawkeyes team that has been hit with graduation and defections in the offseason.
Memphis vs. Kansas in St. Louis, 10 p.m. (ESPN): The top-ranked Jayhawks get to unveil heralded recruit Xavier Henry, who was supposed to go to Memphis before John Calipari jettisoned himself to Kentucky. KU's Cole Aldrich and Sherron Collins are national player of the year candidates and will make their initial case on this night. Meanwhile, Josh Pastner makes his nationally televised debut as a head coach. The Tigers still have talent, especially with the addition of Duke transfer Elliot Williams and the return of Roburt Sallie, Doneal Mack and Willie Kemp. But the lack of depth inside game will be trouble against Aldrich.
The evening concludes, like it started, with a Pac-10 game as Arizona State hosts an opponent to be determined in the NIT Season Tip-Off, at 11:30 p.m. (ESPN2). Life without James Harden begins for Herb Sendek and the Sun Devils, who will face either TCU or Cal State Northridge in this matchup.
• The Wooden Tradition, which in previous years has been a single-day doubleheader at Conseco Fieldhouse, is in a desperate situation. Purdue is signed up for the Indianapolis event, but there is no opponent. The game is scheduled for Dec. 19, but the organizers at Pantheon International, a company based in Guilford, Conn., are scrambling to find three more teams.
Purdue coach Matt Painter said he has no idea who the Boilermakers will play in the game, but there has to be a game, according to Pantheon's Jim Sperry. The odds of landing a high-profile team at this juncture seem remote. Sperry said there were three potential teams looking at playing Purdue but all have since backed out of the game.
"I don't think these teams wanted to play Purdue,'' Sperry said.
He said the projections that have the Boilermakers contending for a Big Ten title and a spot in Indianapolis for the Final Four may have scared away a few teams. The Boilers are in the Paradise Jam in St. Thomas and have the potential to play Boston College in a semifinal and Tennessee in the final. The ACC-Big Ten Challenge game against Wake Forest on Dec. 1 is certainly a quality game and will produce high power-rating points. A road game at Alabama (Dec. 12) shouldn't be as much of a scare since the Tide is rebuilding, but it's still a true road game. And a game against West Virginia on Jan. 5, one of three possible Big East title contenders, improves the nonconference schedule even more.
So if the Boilermakers have to play a lower-profile team in the Wooden Tradition, it won't crush their nonconference power rating (although it'll be interesting to see what it does to ticket sales). The previous Wooden games have been good gets for them, however. Purdue played Davidson in the event a year ago, Louisville in 2007, Butler in 2006, Xavier in 2005, Cincinnati in 2004, Louisville in 2002, Stanford in 2001 and Arizona in the inaugural event in 2000.
The event has been a doubleheader every season (including Duke-UCLA, Purdue-Louisville in 2002), but likely won't be this time, with the chances of Sperry landing three teams in late September highly unlikely. Saint Mary's played Southern Illinois in the undercard a year ago.
Pantheon did hit a home run with this season's Wooden Classic in Anaheim, Calif., which it also runs. On Dec. 12, UCLA takes on Mississippi State and Washington tussles with Georgetown. Last year's event wasn't a headline day with UCLA playing DePaul and Saint Mary's-San Diego State as the undercard. Just one of those teams made the Big Dance. But this year's field could and should have four NCAA tournament teams.