Five freshmen whose impact needs to be felt
September, 18, 2009
09/18/09
5:55
PM ET
College basketball practice officially starts in a little less than a month, but all across the country, coaches are quietly working with their teams on campus within the two-hour-a-week limit for each player.
Wide-eyed freshmen are among those players. This year's class of newcomers isn't loaded with as many one-and-done players as the one two seasons ago. It's more likely to produce only a handful of players who could and should bolt if they're ready.
Kentucky's John Wall certainly heads this list and is the current favorite to be the top pick in 2010 NBA draft if he lives up to the hype. While the Wildcats have a potential SEC player of the year in junior forward Patrick Patterson, the strength of this squad will be with its newcomers, led by Wall, DeMarcus Cousins, Eric Bledsoe, Daniel Orton and Darnell Dodson.
If you were to pick five freshmen and examine what they must do over the next six to eight weeks to ensure success, you could stop with Kentucky. But there will be plenty of time to dissect the Wildcats this season.
So let's take a look at five other freshmen whose play is crucial to their teams' success this season. When judging potential impact on their respective teams, you could pick out countless others, such as Washington's Abdul Gaddy or Oregon State's Roberto Nelson or Texas' Avery Bradley, just to name a few.
But for now, here are five fresh faces who will be fascinating to track:
Noel Johnson, 6-6 wing, Clemson
Johnson signed to play at USC, but the allegations against Tim Floyd in the spring that he had paid $1,000 to O.J. Mayo's handler scared away Johnson from the commitment. When Floyd resigned, it was an opportunity for the Georgia native to look elsewhere and remain in the South. And the Tigers were desperate for another player on the perimeter after suddenly losing Terrence Oglesby in the spring to a European professional contract.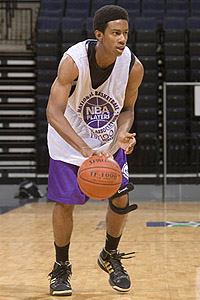 Jason Watson for ESPN.comAfter opting out of USC, Johnson chose the Clemson Tigers over the LSU Tigers.
"He's already showing he can have an impact," Clemson coach Oliver Purnell said. "The biggest thing for us is to have our freshmen fit our pressing style. Can they mentally do what we need on the defensive end of the floor? He's got the body, but will he put the energy in there defensively as much as he will on the offensive end for us?"
Purnell doesn't doubt Johnson's ability to answer that challenge. But when it comes to defense, high school to college is quite a leap.
The Tigers will be driven by Trevor Booker's power game in the post, but plenty of pieces in the freshman class will have to produce -- the highly touted Milton Jennings, for one. But how Johnson handles his role of providing a scoring pop next to returning players Andre Young, Demontez Stitt and Tanner Smith may determine whether this is an NCAA or NIT team. The Tigers lost not only Oglesby, but also 3-point threat K.C. Rivers.
"The 3-point shot won't be as much of a weapon for us," Purnell said. "There will be more of an emphasis on the speed and running game and high-percentage baskets. We'll get Booker more touches."
That's all fine and well. But they'll also need Johnson to produce from day one if they're going to find a way to emerge from a muddled middle pack in the ACC.
D.J. Richardson, 6-3 SG, Illinois
The Illini leaned heavily on Chester Frazier on the perimeter a season ago. Trent Meacham and Calvin Brock were also staples on the perimeter in helping the Illini get back to the NCAA tournament after a one-year hiatus.
But had sophomore forward Mike Davis and junior center Mike Tisdale not emerged as scoring threats, it wouldn't have mattered what happened on the perimeter. Illinois needed those two to produce, and they did. There's no reason why they won't again, with Davis back from a broken foot that kept him out of the USA basketball trials this spring. Tisdale tried out for the World University Games but didn't make the team. He did gain oodles of confidence, however.
Still, if the Illini are going to get out of the middle of the Big Ten, the onus isn't as much on Tisdale and Davis as it is on a freshman like Richardson. His toughness has already caught Illini coach Bruce Weber's eye in the pre-preseason.
"He's as good a defender as I've ever watched," Weber said -- quite a compliment, since Dee Brown did wonders for the Illini in the middle of this decade. "He can guard."
Weber said he was fearful of losing Frazier because he did a slew of "little things" that were hard to replace. But he said Richardson will become the stopper, the player who will push the basketball and become the energy player the Illini need to get the orange-clad faithful pumped up at Assembly Hall. This isn't to diminish the potential impact of fellow freshman Brandon Paul, who could be a better scorer. Richardson is expected to be the grinder that Weber covets and may have more of an overall impact.
Paul has proven at times to be one of the best players on the court during individual workouts, but the defensive end might not be his forte. He can take over games offensively but doesn't match Richardson's toughness and consistency.
Lance Stephenson, 6-6 SG, Cincinnati
The Bearcats were one of the surprise teams in the Big East last season. In Deonta Vaughn, they had a scorer who didn't get the necessary pub in a star-quality league -- not to mention a big man on the rise in Yancy Gates.
Cincy was playing the season without projected starting point guard Cashmere Wright, who tore his ACL in the preseason. Wright is back to lead the backcourt. Had the Bearcats stopped right there with Wright's return, they still would be on the edge of the NCAA tournament, likely with enough pop to sneak into the field.
But Cincinnati coach Mick Cronin and assistant Tony Stubblefield were quietly recruiting Stephenson while the New York prep legend was getting through the NCAA's amateur checklist and awaiting the outcome of an assault case from his senior year at Brooklyn's Lincoln High. Stephenson avoided any jail time with a plea deal and is on target to be an impact player with the Bearcats.
He got to Cincinnati in early July, allowing him to get six weeks of training in with the team and begin adjusting to the physicality of college basketball. His conditioning and weight lifting might make him look as though he's ready for graduation rather than matriculation.
"His adjustment was smooth because he's such a good athlete," Cronin said. "He goes so hard with everything he does. He'll bypass the normal physical adjustment. He's such a big, strong guard."
Stevenson simply needs to pick up Cronin's defensive demands and ensure that he meshes with the team. So far, that hasn't been a problem. What the Bearcats were lacking was a player who could take someone off the dribble on the perimeter and get to the hole. Stevenson can deliver in that aspect.
"He can help us in creating offense and take pressure of Deonta and Cashmere," Cronin said. "He'll make us harder to defend."
If he does, the Bearcats can make that steady climb into the top 6 in the Big East and earn an NCAA bid.
Dante Taylor, 6-9 PF, Pittsburgh
Panthers coach Jamie Dixon knew DeJuan Blair was likely headed to the NBA after his sophomore season.
[+] Enlarge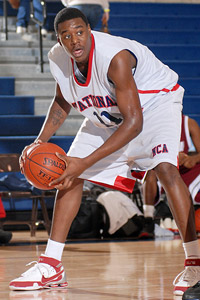 Chris Williams/Icon SMITaylor is the first McDonald's All-American to pick Pitt since 1987.
Sure, there could have been a meltdown, an injury, something that would have kept him in Pittsburgh. But Dixon went hard after Taylor, and Taylor committed, knowing full well he could come in and make an impact. The difference between Blair and the new guy is this: No one expected Blair to be a star and off to the NBA in two seasons. Taylor? He comes in as a McDonald's All-American with a lot of hype.
"Nobody was writing about DeJuan as an impact freshman," Dixon said.
The Panthers will likely pump up Taylor in the preseason, and they should, but Dixon isn't going to put too much pressure on him. He arrived at the USA Basketball trials in Colorado Springs last June for the team that Dixon ultimately coached to the gold medal at the Under-19 World Championships in New Zealand. Playing a few days there was a good experience, but Taylor wasn't ready to make the squad and was not in the best shape possible.
"He was a little heavy then at 250, but he's lost about 15 pounds," Dixon said.
The Panthers did receive some bad news this week when their one returning starter, senior guard Jermaine Dixon, broke his right foot again; he will be out for the next eight weeks. Pitt was already down a wing after Gilbert Brown was deemed academically ineligible by the school for the first semester. Still, the experience Ashton Gibbs had on the gold-medal team this summer and the return of scorer Brad Wanamaker still make the Panthers a threat on the perimeter. But if they're going to make it back to the NCAA tournament for a ninth straight year, Taylor will have to produce in the post.
"He needs to rebound," Dixon said of his prized recruit.
If Taylor rebounds, he'll score. This is a good year to come into the Big East as a freshman big man. The league suffered a big-man vacuum in the offseason as forwards Hasheem Thabeet and Jeff Adrien of Connecticut, Dante Cunningham of Villanova, Blair and Sam Young of Pitt, and Earl Clark and Terrence Williams of Louisville all left for the pros. There are still plenty to deal with, such as Gates, Georgetown's Greg Monroe, Notre Dame's Luke Harangody, Marquette's Lazar Hayward, St. John's Anthony Mason Jr., and Syracuse's Arinze Onuaku and Rick Jackson. But Taylor has the body to compete with all of them.
"He's got good hands, he runs well, his post-moves are developing, and he's a great kid," Dixon said.
If he can handle the hype and board -- score on plenty of putbacks -- he'll be even more celebrated by March.
Derrick Favors, 6-10 PF/C, Georgia Tech
If you're looking for a lock on this list to leave after one season, it's not Stephenson. It's Favors. That is, if he lives up to his billing of being one of the top 3 players in this class.
Favors spent the summer around the program, and his conditioning and weight lifting is already a major plus. He has gone up from 234 to 246 pounds and should be a beast next to Gani Lawal, who declared for the NBA draft but returned to school once it was clear he wasn't a top-20 lock.
Georgia Tech coach Paul Hewitt, who has had success handling elite players who might be on campus for only one season, said Favors has a tremendous work ethic and is picking things up quickly.
The Yellow Jackets will look to pound the ball inside to Lawal and Favors throughout the season. While Hewitt said the inside game wasn't a concern last season with Lawal and Alade Aminu, adding Favors makes them even more daunting.
Tech won only two ACC games in 2009 but was consistently one of the toughest outs throughout the conference season and had the talent to be at the very least a .500 team. The Jackets are the sleeper pick to contend near the top of the league, be a regular in the Top 25 and get back to the NCAA tournament after missing out the last two seasons.
The leadership in the backcourt with the return of Iman Shumpert and Moe Miller means Lawal and Favors should get the ball at the right times within the offense.
Injuries to D'Andre Bell (who is back) and Miller left the Yellow Jackets leaning on the perimeter last season. That added to the team's inability to close out games. With a full backcourt and two studs inside, Tech should be much more of an offensive team this season.
Having a star attraction in Favors means the attention will be on him, which should open up more opportunities for everyone else. So far he has done everything Hewitt has wanted. If everyone stays healthy and Favors produces the double figures he's capable of, there's no reason why this team shouldn't be in the NCAA tournament.