Single issue pushed Army AD to fire Crews
September, 24, 2009
09/24/09
10:01
PM ET
Army athletic director Kevin Anderson extended Jim Crews' contract for three years with a two-year option over the summer, but an issue came to his attention that he couldn't ignore and pushed him to terminate Crews' contract this week, Anderson told ESPN.com on Thursday.
"There was this one thing that came to my attention that I definitely couldn't overlook," Anderson said. "There were things, and there was one thing in particular that came to me that was overarching that led me to my conclusion."
Multiple sources close to the situation told ESPN.com that Crews yelled at a cadet. Anderson said that incident wasn't "the tipping point but contributed."
Anderson said Crews had a typical coach's contract, with clauses in it that could allow for termination. Anderson said negotiations with Crews are ongoing and that he would "do what's best for all parties." He also said there isn't a settlement as of now, but he didn't say whether there would be one in the future. He said he wasn't at liberty to say anything more because it was a personnel issue.
[+] Enlarge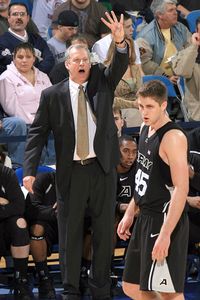 Matt Cashore/US PresswireJim Crews was fired Thursday after seven seasons coaching Army.
Calls to Crews weren't returned. But a source close to Crews who spoke with him this week said Crews was still trying to figure out why he was terminated. The source said Crews was aware of a cadet claiming he had disrespected him in the locker room but said that Crews had always modeled himself to be a man of honor and wasn't an "angry coach." The source said the disagreement in the dismissal would be whether he was fired for cause, which could mean Crews wouldn't get paid.
The source said Crews was disappointed over his relationship with Anderson having gone sour. Anderson didn't hire Crews; he was hired seven seasons ago by former Army athletic director Rick Greenspan, who in 2008 ultimately lost his job as AD at Indiana after NCAA sanctions arose against Kelvin Sampson, whom Greenspan hired, and the IU program. Crews, who played on Indiana's 1976 undefeated team coached by Bob Knight, coached for 17 seasons at Evansville before going 60-139 with the Black Knights.
The source said Anderson called Crews to a meeting a few days ago to inform him that a change was occurring.
"If there was something egregious that occurred with Jim, that would absolutely shock me because it's not him," said the source, who had worked with Crews before in Division I. "He can push kids, he can be intense, but I would put Jim Crews down as one of the great guys in the business."
Crews went with a number of present and former college basketball coaches to Iraq in August to coach soldiers in a basketball tournament.
Anderson is attempting to move swiftly to replace Crews and met in Chicago on Thursday with Tulsa associate head coach Dave Cason, according to multiple sources. Anderson wouldn't confirm the meeting Thursday.
Anderson has also reached out to St. John's assistant coach Fred Quartlebaum, who coached at the Naval Academy, Arizona State associate head coach Dedrique Taylor and former Army player and Duke director of basketball operations Chris Spatola, the son-in-law of Army grad and Duke head coach Mike Krzyzewski. According to a source, Anderson met with Wake Forest director of basketball operations Walt Corbean, a former Army assistant under current Wake coach Dino Gaudio when Gaudio was the head coach of the Black Knights, on Wednesday in Greensboro, N.C.
Another person Anderson could talk to is Ohio State video coordinator Kevin Kuwik, who served two missions in Iraq with the Indiana National Guard. He was also an assistant at Ohio and last season was the director of basketball operations at Butler.
Anderson appointed his deputy athletic director Gene Marshall to be the interim coach overseeing workouts while a head coach is found. Marshall played for UConn coach Jim Calhoun while Calhoun was the head coach at Northeastern in the late 1970s and early '80s.
Anderson said he informed assistants Jeff and Jim Platt and Kendrick Saunders and director of basketball operations Sean O'Keefe that he would honor their contracts for this season. He said they would have the option to stay under a new head coach, with practice beginning Oct. 16.
"I'm aware this wasn't the best time to go through this, and I'm not going to be hasty in my decision," Anderson said. "If we find the right person, we'll move forward. If we don't, then I'm not going to hire somebody to hire somebody. I'm not going to set somebody up to fail."
Anderson said Marshall may not be the interim coach for the season if a permanent head coach can't be found, leaving it open for one of the assistants to possibly take that tag.
Anderson, who is African-American, said he was irate over the insinuation in a published report that he was going to hire only a minority coach.
"I'm going to hire the best person for the job," Anderson said. "I'm offended by that."
Anderson said he has been leaning on a number of resources in the business, including Krzyzewski and Pitt coach Jamie Dixon. Dixon and Anderson are extremely close since the passing of Dixon's sister, Maggie, who led the Black Knights women's team to an improbable NCAA tournament appearance in 2006 before she died of a heart ailment on April 6, 2006 at 28.
Multiple sources told ESPN.com that whoever takes the Army head-coaching job has to understand he can't complain about the job when the cadets are going off to war in either Iraq or Afghanistan. One coaching source with experience at one of the military academies said, "the next coach has to understand the quality of life there and can't bitch about it. He has to embrace the mission of the school is far greater than the mission of the basketball program and deal with it."
Anderson said that this is true but added losing isn't acceptable, either, when in the global theater a loss means the end of life.
"Losing in Iraq and Afghanistan isn't an option, so we have to establish the importance of winning," Anderson said. "Our three pillars we're trying to develop here are the academics, the military and the leadership. If we accept losing, then we go off [to war] weak. We've got to develop effective and great leaders."
Anderson said he doesn't want a coach who can't win, or would shortchange the men on the team.
But that's why Anderson said he's not married to hiring a coach who has worked at one of the military academies. Maggie Dixon didn't.
"If I focus on that [previous military academy experience], then I won't find Maggie Dixon," Anderson said. "It's still a deep, deep pain in my heart. When I first hired her [when Dixon was an assistant at DePaul], everybody thought I was crazy. But she had that innate leadership quality. People were shocked to see how she had us playing, but she brought out the best in those women and they're doing great things in the Army today."
Anderson said he's not using a consulting firm for the impromptu search because he wants to be proactive if he's going to do this search quickly.
The Black Knights return four seniors and should be one of the upper-echelon teams in the Patriot League this season after losing at American in the conference semifinals last season.
"I do believe, regardless of this change, that we have tremendous leadership in our upper class," Anderson said of the Black Knights, who won 15 games in 2006-07, 14 in 2007-08 and 11 in 2008-09. "My expectations are that we can keep everybody together and they will continue to be competitive. We've seen progress the last three seasons but it hasn't been where I've exactly wanted it to be."