Rebuilding is not a word Utah fans like to use
September, 30, 2009
09/30/09
7:55
PM ET
SALT LAKE CITY -- What made Arizona and USC send out back-channel inquiries to Utah's Jim Boylen for their open head-coaching jobs this offseason?
Boylen was courted by Arizona as the fallback candidate to Sean Miller, then signed a new five-year deal with Utah in May -- and yet USC showed interest when its job suddenly became open in June. Clearly, the third-year coach has found a niche that is working well for him in Salt Lake.
He's got a football fetish. He's obsessed with having a tough-minded, defensive team. He's aggressively scheduling in nonconference play. And he's a disciple of Michigan State's Tom Izzo and former Houston Rockets coach Rudy Tomjanovich.
Boylen was a fallback candidate at Arizona had then-Xavier coach Sean Miller turned the job down, according to multiple sources. USC was poking around about Boylen before it went harder after longtime NBA assistant and college head coach Kevin O'Neill to replace Tim Floyd. All of this occurred even though Boylen got a new five-year deal that pushes his salary up to potentially $1 million with incentives from his $850,000 guaranteed annual deal. That deal came after a 42-25 record in just two seasons on the job.
Spend an evening with this man and it's hard not to see how Boylen sells himself and his program.
[+] Enlarge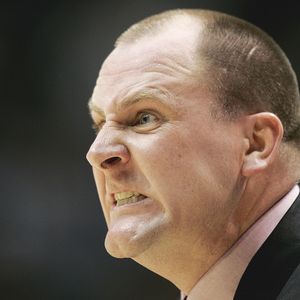 AP Photo/Douglas C. PizacJim Boylen doesn't try to disguise his intensity.
The Boylen you get when you see him is a piston full of energy. First off, if the weather cooperates, Boylen arrives in a top-down, red Jeep, with Utah magnets that he can slap on the side doors when he's in friendly territory (i.e. not in BYU-loving Provo).
Boylen's energy is hard to cap. He has been known to be a bit overzealous at times after games and doesn't mind challenging an opposing coach if he's not pleased with something that occurred (see: getting a reprimand in 2008 for getting in the grill of Wyoming's Heath Schroyer after a last-second dunk during an eight-point Cowboys win). Boylen has also grabbed the microphone and cheered on the crowd over the PA system after a home game.
The rah-rah energy stems from his football background that permeates his way of thinking.
Boylen grew up in East Grand Rapids, Mich., and played football at East Grand Rapids College Education High. He went on to play football at the University of Maine, but his heart was in hoops.
"I bet few Division I coaches were all-state in football,'' Boylen said. "I was higher in all-state [football] than I was in basketball. Maine was my only Division I offer. But I love the game, I love to hoop.''
Boylen's passion for the football mentality of coaching was even more enhanced while working with Izzo on Jud Heathcote's staff in the late 1980s and then as an assistant coach under Izzo from 2005 to '07. In between he spent time as a video coordinator and assistant coach with the Houston Rockets from 1992 to 2003 before single seasons with the Warriors and Bucks.
While the football mentality might not work in the NBA, he can use the props he loves without hesitation in college ball. Throughout his tenure at Utah, he has positioned shoulder pads, a helmet and boxing gloves on the practice floor. They have been present during individual workouts the past few weeks and will continue to be out on the floor when practice officially starts on Oct. 16.
Boylen wants his players to play with a rugged sense, so much that he says he will have the players put the pads on and encourage them to set a screen pad to pad. He said he would put an X on the chest of one set of pads so the player can see where to make contact.
The boxing gloves are present as a means to get the players to own up to their own challenges within practice. He said his late father was a boxer and if there was a disagreement, the gloves would be where it was settled.
"If someone wants to fight then you should put the gloves on,'' Boylen said. "If someone wants to fight the system, then put the gloves on.''
He said one set of gloves says right, and the other says wrong.
"I tell them all the time if they think they're right, then go put the gloves on,'' Boylen said. "They never do. It's a visual. It works though. I'm big on visual things. That's how we built the culture here so fast.''
Utah's culture, though, didn't need an overhaul. It's not as if the Utes were suffering through some sort of downturn. Under Rick Majerus, they were a regional -- and at times national -- power. The Utes went to the NCAA tournament 10 times under Majerus, including an Elite Eight in 1997 and a national title game in 1998 in which they were five minutes away from knocking off Kentucky and winning it all. Then Kerry Rupp took the Utes to the NCAA tournament in 2004 after Majerus left.
Utah athletic director Chris Hill hired Ray Giacoletti for the 2004-05 season after he had successfully coached Eastern Washington to its first-ever NCAA tournament berth. Giacoletti convinced Andrew Bogut to stay in Salt Lake and the Utes ended up in the Sweet 16. A few months later, Bogut was the No. 1 overall pick in the 2005 draft, selected by the Milwaukee Bucks, where Boylen had just finished his one season as an assistant with the Bucks.
Giacoletti struggled the next two seasons, going 14-15 in 2006 and then 11-19 in 2007. Only three years into his tenure, and two removed from a Sweet 16, he was sacked by Hill.
Replacing Majerus was a no-win situation long-term. Rarely does the coach who immediately succeeds a legend survive for long. There are exceptions. Bill Self has kept Kansas as a premier program like Roy Williams did during his tenure. Williams has won two national titles at North Carolina, but didn't have to replace Dean Smith. Bill Guthridge and Matt Doherty served as buffers.
Boylen has had the buffer between himself and Majerus. He is careful not to criticize Giacoletti, but was clearly trying to emphasize that the culture has changed at the U.
"We're in Year 3 and some of my hopes have been realized,'' Boylen said. "But my dreams haven't. I had hoped to become a defensive team. I hoped that we could have over a 3.0 GPA and my guys would be men off campus and around town. But my dreams haven't been realized. We haven't won an NCAA tournament game.''
Boylen went 18-15 in Year 1, losing to Tulsa in the CBI. The Utes finished 24-10 last season and garnered a 5-seed after winning the Mountain West tournament title. However, they were bounced from the NCAA tourney quickly, falling to 12th-seeded Arizona.
"That still stings,'' Boylen said. "We had 14 turnovers in the first half [19 for the game] and we missed 14 wide-open 3s [8-of-32 on the game]. I tell my wife and my staff every day how much that game hurts. They kicked our butts. We played a schedule to win a game in the NCAA tournament and we didn't do it.''
Like Izzo, Boylen has used the pads in practice. He also took from Izzo a method of accountability by having each player write down his goals for the season.
"Once you've got that piece of paper, you've got them,'' Boylen said. "[Izzo] is the best in the world at holding them accountable.''
Izzo has also been a master at scheduling up during nonconference play to challenge his players. Izzo often talks about the schedule being too daunting, but he's at Michigan State, which has won a national title and appeared in five Final Fours over the past decade and is a program that television loves. Utah doesn't have the same luxury in scheduling.
Yet the Utes continue to get games. In the past few years, they've played home-and-home series with Gonzaga, Oregon, Cal, Oklahoma and LSU, all quality opponents.
It's no different with this season's schedule. Utah plays Illinois and then either Bradley or Oklahoma State in the Las Vegas Invitational in late November. Even more impressive, Utah has Michigan and Oklahoma coming to Salt Lake City for games Dec. 9 and 12. Playing Illinois State in the MWC-Missouri Valley Challenge could prove to be a quality game since the Redbirds are a possible MVC title contender, and then going to LSU in a return game on Jan. 2 is another challenge.
[+] Enlarge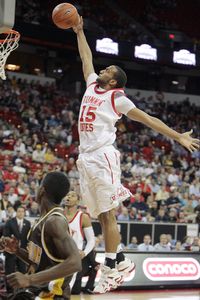 AP Photo/Jae C. HongThe departure of Utah's four leading scorers means Carlon Brown (9.3 ppg) is the team's top returning player.
Boylen has to get the toughness quotient out of this squad with the departure of the team's top four scorers: Luke Nevill, Lawrence Borha, Shaun Green and Tyler Kepkay.
BYU, which is 3-1 against Utah in Boylen's two seasons, is the favorite to win the Mountain West. UNLV and San Diego State will be picked ahead of the Utes, too. Maybe New Mexico as well. With the consensus in the league that TCU and Wyoming will be improved, the Utes will need an edge to ensure they're staying near the top of the conference.
Boylen says he's got the formula.
"If you play six or eight real good opponents, win two or three and then win your league, you're in,'' Boylen said of a Mountain West path to a bid. The Utes won the MWC automatic berth last season by winning the conference tournament in Las Vegas after tying with BYU and UNM for the regular-season title at 12-4.
Boylen said he professes his Izzo-like approach to be close to his players, keeping his office door open but at the same time expecting them to put the pads on and run into a wall. And if there is a disagreement, head to the gloves and at least make the attempt to box -- although that hasn't happened yet.
The pressure on Boylen is immense since this is a program that expects to be in the NCAA tournament. Football's success last season added even more self-imposed heat.
"I knew we had to follow that up,'' Boylen said of the football team's 31-17 win over Alabama in the Sugar Bowl that capped a perfect 13-0 season for the Utes. "Nobody knew about us [basketball] until February. There's a lot of pressure on this program. This is one of the toughest jobs in the country because of the expectations."
The Jazz take some of the pressure off within the city, but on the campus where Majerus built a power, the expectations are high. If Boylen is going to pull this off, he has to follow up an NCAA tournament berth with another one soon after.
The symbols Boylen employs are important to him. But the symbolism of wins in the NCAAs and of course in the MWC will ultimately be what he is judged on by the alumni and the administration.
Still, the manner in which the Utes win is what Boylen is after now and creating this tough-guy mentality is starting anew with a younger roster that includes three freshmen and two junior college transfers.
"I want us to be tough, tough, tough,'' Boylen said. "They used to say, 'That Boylen wasn't a good player.' But they said, 'That's a tough dude.' Tom Izzo wasn't the fastest, but they would say, 'That's a tough guy.'"
So far the props are working, turning out to be much more than just talk. But in a transition season, the props have to do more than be symbols of toughness.
They also have to help this team win.