Clemente, Rosario share Puerto Rican pride
October, 1, 2009
10/01/09
10:38
AM ET
Kansas State's
Denis Clemente
has held the burden of his name his whole life.
He knows the pride the people of Puerto Rico have in his last name. The Bayamon, Puerto Rico, native understands the pressure to produce in any sport in which he is a featured performer.
Being the second cousin of the late baseball legend Roberto Clemente carries with it an immense burden, but one that he embraces by wearing Roberto's No. 21.
[+] Enlarge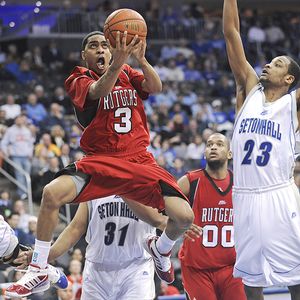 AP Photo/Bill KostrounRosario honored his mother and grandmother by playing for Puerto Rico this summer.
On the other hand, Rutgers' Mike Rosario was born in the United States and played at the famed St. Anthony High in Jersey City, N.J. But his mother was born in Puerto Rico, and playing in honor of his late grandmother was something he felt he needed to do this past summer.
So he played for the Puerto Rico senior national team in August at the Marchand Continental Cup in San Juan -- he was the youngest player in the four-nation tournament. Earlier in the summer, Rosario was on Puerto Rico's FIBA Under-19 World Championship team that competed in New Zealand; he averaged a tournament-best 24 points a game and scored 54 in a win over France.
Clemente has always felt Puerto Rican pride. Rosario, however, never knew he had that passion inside him.
"I have so much pride playing for that country, I feel it inside my body," Rosario said. "It was a great experience. I learned a lot playing for Puerto Rico. I showed I cared about the country and want to have Mike Rosario be the next superstar."
Rosario, who led the Scarlet Knights with 16.2 points per game last season, had never been to Puerto Rico before his experience this summer. He doesn't sound like someone who wants to wait any longer to return.
"It has changed the way I carry things now," he said. "I was part of an adult team [in the August tournament] with a coach letting people be responsible for their actions and to be responsible to be at the right place at the right time.
Puerto Rico's basketball history is rich. The national team has name players like Carlos Arroyo and Daniel Santiago, who have seen their share of time in the NBA. Guillermo Dias, Filiberto Rivera, Peter John Ramos, Larry Ayuso and A.D. Vassallo are all pros, and all except Ramos had successful college careers.
Even though he's from New Jersey, isn't a native Spanish speaker and was linked to the team only because of his relatives, Rosario immediately felt a kinship in playing for Puerto Rico -- and the bond doesn't appear to be cracking. He wants to continue to be a member of the national team.
"I want to be a role model for a lot of New York Ricans in the States," Rosario said. "I want to learn the language. It was a life-changing experience for me."
Clemente said he's felt as if he's been playing for something larger than himself while in the United States. He played high school basketball in Miami and spent two seasons at the University of Miami before transferring to KSU. He averaged 15.4 points per game for Kansas State last season.
But it didn't hit him until he made headlines in two countries by putting up 44 points in an overtime win at Texas last season.
"I had a lot of people on Facebook from Puerto Rico saying, 'I like what you're doing.' It means a lot."
In November, Clemente will get a chance to play in the Puerto Rico Tip-Off in San Juan, which is the birthplace of K-State teammate Luis Colon. Clemente, Colon and the Wildcats will open the tournament against Boston University and then play either Indiana or Ole Miss in their next game.
[+] Enlarge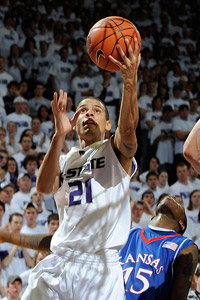 Peter G. Aiken/Getty ImagesDenis Clemente's popularity and game have grown at Kansas State.
"My grandma has never seen me play basketball in real life, so this will be an opportunity to see me for the first time," Clemente said.
His last name meant he had to try baseball before basketball. He lasted a few years as a shortstop but got too bored waiting for the action. He wanted to be a part of it for as long as he was competing.
Clemente said that he didn't have the freedom he wanted at Miami and that Kansas State coach Frank Martin is giving him it now. He became an Internet hit with his YouTube shot off the video board and down into the basket during a workout -- a video that has been viewed nearly 300,000 times as of this writing.
"My friend told me to do it and I did, but I wasn't think it would blow up like that," Clemente said. "It's been crazy. I was doing it for fun, and now it's everywhere."
Getting the national and international recognition is what Clemente craves.
But unlike Rosario, who is thirsting to connect with his Hispanic heritage, Clemente has had to assimilate into a Manhattan, Kan., culture that lacks Spanish speakers.
"Nobody speaks Spanish here, so it is difficult to communicate," Clemente said. "I got used to it and started learning this language when I got here, and now when I'm around people I speak English."
Rutgers won't be an NCAA tournament team and may struggle to be in the postseason. Rosario will have to carry the team to respectability in the rugged Big East. But the expectations are high on Clemente to deliver an NCAA berth, especially with the additions of highly touted newcomers Wally Judge, Curtis Kelly, Jordan Henriquez-Roberts and Rodney McGruder. Clemente said he feels good about the Wildcats, who he says are more athletic and should be even tougher to defend.
Regardless of expectations, though, the pride in being a Puerto Rican college player is something that Rosario and Clemente expect to wear well and promote throughout the season.
"I feel like I owe them something in Puerto Rico," Clemente said. "When they see my number and where I'm from and my name -- it's something. I have to do it for them. I do it for my family and for my Island. I'm proud that I have the same number and [last] name [of Roberto Clemente]."
• Carlos Morales, an ESPN Deportes commentator and a former coach of the Puerto Rican National Team, offers up a mini-history lesson of Puerto Rico's unique influence on basketball in the United States:
The national basketball team of Puerto Rico has always counted on players who are descendants of Puerto Ricans but who were born or developed, in sporting terms, in the United States. The states of New York and New Jersey have been particularly prolific as sources of high-quality Puerto Rican players, including the current star of Rutgers, Mike Rosario.
This is due to two powerful reasons: the great number of people who emigrate to and settle in those areas every year (about two million people of Puerto Rican descent are estimated to live in New York alone) and the huge popularity of this sport among Hispanics who live in New York, Newark, Teaneck, Elizabeth, North Bergen and Jersey City, among others.
At the end of the 1960s and the beginning of the '70s, the teams that participated in the Liga de Baloncesto Superior of Puerto Rico started traveling regularly to New York and New Jersey in order to recruit talented players of Puerto Rican origin. This new method spread so much that it became necessary for the Liga to step in and try to prevent the fact that the players who were developed in the island would be totally ruled out. That's how a new term was coined: A "newyorican" was a player of Puerto Rican origin who developed abroad.
According to the new rules, every team was entitled to have up to two newyoricans at the same time, but after three years of playing in the Liga Superior, the foreign players were considered natives. So after that period of time, the team was able to recruit more players to fill the newyoricans' posts.
If the players had a father, a mother or grandparents from Puerto Rico, they were presented before FIBA as national players, so they were candidates to represent the territory immediately. In this way, the Puerto Rican national team started to strengthen.
During the early years, great names such as Mariano "Tito" Ortiz, Raymond Dalmau, Neftali Rivera, Hector Blondet and Earl Brown joined the team. Recently the team has had the contribution of men like Frankie Torruellas, Edwin Pellot, Jimmy Carter, Shariff Fajardo, Larry Ayuso, Daniel Santiago, Rick Apodaca, Angelo Reyes and Carmelo Lee.