Venezuelan pair hopes to spread sport back home
October, 2, 2009
10/02/09
12:43
PM ET
Greivis Vasquez
didn't gravitate to baseball. The expectation was that he should.
But those who knew Vasquez when he was growing up in what he termed a middle-class neighborhood in Caracas, Venezuela, understood the passivity of the sport wasn't for him.
He was too hyper. He needed to be in action.
"I couldn't stay in one place,'' said Vasquez, who has been known to be a bit wound-up -- maybe even too much -- during heated ACC games while playing for Maryland.
"I was a shortstop, a center fielder, but it was so rare, in center field when the ball was hit to me,'' Vasquez said. "It was like I was waiting for an hour for the ball. I loved baseball, but it never attracted me to become a baseball player.''
Vasquez's father, Gregorio, took note of Greivis' lack of interest in baseball and started taking him to professional basketball games. Greivis saw a pro player, an American named Sam Shepherd, who would later become the oldest Olympic participant for Venezuela when he played at the 1992 Summer Olympics at the age of 39.
[+] Enlarge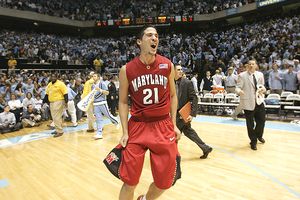 AP Photo/Gerry BroomeWith the help of Greivis Vasquez, Maryland has upset UNC in each of the past two seasons.
"He had stayed so long in Venezuela that he became Venezuelan,'' Vasquez said. "He was legendary to me. He was a great point guard with great vision. He was an offensive scoring point guard at the same time. That's who I wanted to be when I grew up."
Vasquez played at the junior level and at a tournament in Brazil, where he was noticed. There were offers to go overseas, to be part of a club system in Europe and start a pro timeline. But Vasquez's family was middle-class and education was a priority, so he went to the States.
Through various connections, Vasquez ended up at Montrose Christian in Maryland, playing for well-connected coach Stu Vetter. The move to College Park, Md., almost seemed natural two years later.
Vasquez has steadily made his imprint on the college game -- North Carolina fans surely remember his 35-point performance in last season's upset of the Tar Heels -- and should be a first-round pick in 2010 after flirting with the NBA draft last spring.
His averages have steadily climbed from 9.8 points to 17 in each of the past two seasons. He also averaged a team-best 5.4 assists a game last season (and his turnovers went down dramatically from 149 as a sophomore to 98 as a junior). In 2008-09, Vasquez became just the sixth player in ACC history to lead his team in points, rebounds and assists.
The emotion that Vasquez displays has been reined in at times, but it is what defines him. And being a Venezuelan is something that he cherishes. If he can make the NBA, his goal is to ensure basketball is not just some fleeting sport in his home country -- that there are more facilities where children can play and get involved in a sport that he discovered somewhat on his own after growing bored of baseball.
"We have to do a better job of access to gyms at home,'' Vasquez said. "There's a lot of talent at home, but somebody needs to get all the talent going. I thank God that I am so lucky and thankful for this opportunity, because so many kids back home don't have it.
"I want to help basketball at home, to increase the number of kids interested in the game,'' Vasquez said. "So they can go to high school and a Division I school."
Vasquez and Rutgers' Gregory Echenique share a similar path. They are both Venezuelans who jumped into the American educational system as a pathway to playing professionally.
Echenique, who is from Guatire, Venezuela, said he grew up watching his father, Jose, play for Venezuela's Liga Nacional de Baloncesto. Echenique dabbled in baseball for two months, but ultimately being 6-9 was not conducive for that sport. So like Vasquez, he came to the States and attended a private school, suiting up for St. Benedict's Prep in New Jersey.
Echenique said he and Vasquez, both members of the Venezuelan national team, have a shared responsibility.
"Somehow we have to, as the younger players on the national team, help get the sport more publicity,'' Echenique said. "Basketball is a great sport and we have to do something for them to believe in us.''
Vasquez said the influence of Spanish-speaking players in the NBA like Spain's Pau Gasol and Argentina's Manu Ginobili helps players of all nationalities in South America. It helps prove anyone from anywhere can show no fear and play with the Americans and in the NBA.
"That motivates me to work even harder, to have a huge influence for Spanish-speaking kids that look at the NBA,'' Vasquez said.
Echenique said there is a following -- through the Internet since fans can't watch games -- of him playing basketball in the United States. Vasquez certainly has more opportunity to draw attention to himself by playing for a higher-profile school and one that was in the NCAA tournament, is on national television more often, and could be a team that makes an NCAA run for a round or two again in March.
"I'm really passionate about this game, I love this game,'' Vasquez said. "Some people are judgmental about me being so passionate, but I work hard and have so much confidence every time that I'm going to win the game. I'm not disrespecting the other team or the other fans or anybody. It's just me being passionate about the best game in the world."