Griffin won't soon be forgotten at Samford
October, 7, 2009
10/07/09
7:21
PM ET
They were an unlikely pair to become best friends.
Trey Montgomery was from Destrehan, La., just outside of New Orleans. Jim Griffin was from Chicago. Five years ago, within a day of each other, they signed to play at Samford, a Southern Conference school in Birmingham, Ala.
They redshirted in 2005-06 and each played the past three seasons, their minutes increasing with each season. Montgomery was a scorer, Griffin a hustler. They shared a dorm room every year.
"Basically we were like brothers,'' Montgomery said. "I knew his parents and sister, and he knew my family. We were from two different worlds. He was a big-city guy and I was a small-town kid. But if you look at our team, we're like a melting pot from all different backgrounds. We had so many similarities, it was like me and Jim were the same person because we did a lot of the stuff the same way.''
[+] Enlarge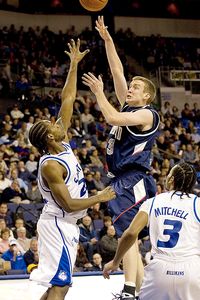 Scott Rovak/US PresswireThe 23-year-old Jim Griffin (shooting) was set to enter his senior season at Samford.
Late night on Sept. 7, Montgomery and Griffin got back to their room at the Beeson Woods residential village on campus. They didn't fall asleep until around 1 or 1:30 a.m. in the early morning of Sept. 8. A few minutes after they lied down in their respective beds, Montgomery popped back up to use the bathroom.
"I heard him snoring and didn't pay any attention to it,'' Montgomery said. "I assumed he was OK.''
Montgomery had no idea at the time, but sometime between 2 and 2:30 a.m., the 23-year-old Griffin's heart stopped.
"I think my alarm went off at 8:30 a.m. and I pressed snooze,'' Montgomery said. "We had a mandatory breakfast that ended at 9:30 a.m. Jim's alarm went off at 8:45 a.m. I told him to turn it off, but he didn't say anything. I turned it off and I thought he was joking with me.''
Montgomery and Griffin used to play pranks on each other all the time. One wouldn't talk to the other, pretending to be asleep, only to be roused by the one who was awake and ready to go.
But this time, Montgomery looked at Griffin and saw that he wasn't moving or breathing.
"He was in a still position. I couldn't see his face, but I went over to touch him and his body was stiff and cold,'' said Montgomery, trying to recount the horrible event. "His eyes were closed. His mouth was open and he wasn't breathing. I tried to slap him, wake him up, but he didn't wake up.''
Montgomery called 911 and the operator told him to attempt CPR. He did. But it didn't work. He called his team's trainer.
"I was hysterical, trying to find anyone who could help,'' Montgomery said.
The paramedics arrived within 10 minutes, "but he had already passed, it was too late,'' said Montgomery, his voice trailing off.
Samford coach Jimmy Tillette was conducting a workout -- a workout that Montgomery and Griffin were not scheduled to participate in -- when Michelle Johnson, the team's head athletic trainer, ran into the gym.
"I thought, 'What is she doing?''' Tillette said. "And then she blurted out, just loud enough for me to hear, 'Campus security just found Jim Griffin dead,''' Tillette said.
The 13th-year head coach sat down on the court. Shocked and numb, he told the few players and coaches gathered that the workout was over and to go to the locker room.
By the time he arrived, they already knew, through text messaging from friends and teammates.
"Everybody was crying,'' Tillette said. "I told them don't go to class if you don't want to.''
Tillette, assistant coaches, Samford president Andrew Westmoreland and athletic director Bob Roller convened in Griffin and Montgomery's room. Tillette called Griffin's father, John.
Less than 48 hours later, Tillette took John Griffin and a few other relatives to the mortuary to view Jim's body. Tillette said it was simply too overwhelming for Griffin's mother, Marge, to come to Birmingham.
Tillette said the mortuary visit "was tough, tough on everybody.''
[+] Enlarge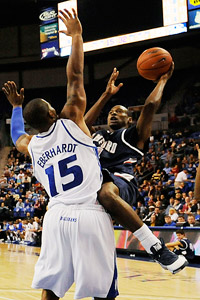 Scott Rovak/US PresswireTrey Montgomery signed with Samford the same week as Griffin. The two immediately struck up a friendship.
Unsolicited, students at Samford put sticky notes all over Jim's car in front of his dorm, 200 to 300 Tillette estimated, saying how much they missed and loved him.
The memorial service at the university's Reid Chapel had an overflow crowd on Sept. 10. Westmoreland asked the audience to stand to honor Griffin. The Samford flag had been lowered to half-staff after Griffin had died, but Westmoreland said to the crowd, "We have something in this room that is more than just symbolism. We have flesh and blood.''
Montgomery spoke at the memorial service. He spoke again at the funeral at St. Bede the Venerable Catholic Church in Chicago on Sept. 15.
"The church was completely full, the caravan went for a while to the burial,'' Tillette said. "Trey loved Jim. He spoke from the heart.''
Tillette said there were more than 3,000 mourners at the wake the previous night. The line stretched five city blocks.
It's still uncertain how Griffin died. Griffin had played basketball the previous night, worked out and then went back to his room. Tillette said a toxicology report ruled out drugs, but the Jefferson County medical examiner's office said it has yet to determine a cause of death.
The Bulldogs took a week off from basketball. And then, slowly, everyone started to filter back to the gym, where they leaned on each other during such a tragic time.
"We had a good week of grieving and crying,'' Tillette said. "Nothing positive will come out of this. We lost a really fine young man. I just hope we're strong enough to pull together -- and so far they have -- to make it through the year. Jim will be with us through the year.''
Montgomery moved out of the dorm room. He couldn't stay there, not with what he witnessed. The school didn't want him to, either. He said he hasn't sought counseling, but has found comfort in leaning on his teammates and staff.
Montgomery averaged 11.6 points a game last season, second-best for the 16-16 Bulldogs. Griffin's numbers were more modest, but he was invaluable for his hustle. He was the fire for this squad, pumping them up in huddles, diving on the floor for loose balls, encouraging everyone. He was this team's leader.
Workouts since the tragedy have been quieter, Tillette said. Not only is there still a somber cloud hanging over the program, but Griffin's voice isn't resonating over the sound of sneakers squeaking on the floor or the bark from a coach sending out encouragement or criticism.
"Jim did things for us all the time, the hustle play, tying up the ball, diving on the floor to call a timeout,'' Tillette said. "He was a vocal guy, a tough south side of Chicago, Irish Catholic kid. He didn't wow you with stats. He was all about the hustle plays.''
[+] Enlarge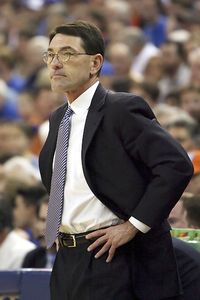 Doug Benc/Getty ImagesJimmy Tillette now faces the task of leading a group still shaken by the loss of a teammate.
Tillette has run a strong, proud program since taking over for John Brady in 1997. He reached the NCAA tournament in 1999 and 2000 and is the school's all-time winningest coach, the only one to lead the program to back-to-back 20-plus win seasons. He is a fixture among the 2,860 undergraduates.
But this is easily the toughest time of his career. Tillette has sought counsel from friends like former Mississippi State coach Richard Williams. But more than anything he is leaning on the strength of his Samford community, players and staff.
"There isn't a blueprint for this,'' Tillette said. "There are occasional tears and anger. We're going to keep Jim's locker, not a shrine, but keep his locker open for him with his jersey on the wall. We will retire his jersey and have his parents back for senior night.''
Montgomery believes that once practice starts on Oct. 16, some sense of normalcy will settle in for the team. Still, he said, it will never be the same.
The team breaks their huddles now with a chant of "JG,'' instead of "team." Every player has some sort of JG reference or a No. 3 (Griffin's number) on them.
"Everybody is doing something in their own way,'' Montgomery said. "We're trying to pull through this as best we can. We want to play as hard as we can. That's the way Jim played.
"Once practice starts, we'll probably feel more energy. It's going to happen. But right now, we're just taking a few steps. We all know we still have a basketball season to go through. We do have tremendous motivation. But we want to do this for Jim.''