At 64, Jarvis enjoying laid-back life in Boca Raton
October, 13, 2009
10/13/09
6:48
PM ET
Mike Jarvis is down to one car, which his wife drives. So rather than get a rental while he waits to get another, he has his son, Mike Jarvis II, pick him up every morning to take him to work at Florida Atlantic University.
"It's allowing me to feel big time," the elder Jarvis said by phone from his Boca Raton, Fla., home. "I have a chauffer."
The 64-year-old Jarvis paused for a moment, reflecting on where his career has taken him at this later stage in his coaching life.
"How many guys can say they live, No. 1, in Boca Raton, Florida, one of the nicest cities in the world? How many guys can go outside and it's 70s and 80s and sunny? How many guys can have their son come by, pick up the newspaper, drive them to work and then work side-by-side. I've got great kids on the team. It's almost like I'm back at Cambridge Rindge and Latin [High School in Massachusetts], coaching Patrick Ewing again."
Jarvis' decision to pursue the Florida Atlantic coaching opening in the spring of 2008 should be an example to all fired coaches from major conferences. Jarvis found a spot where he wanted to live, a school that welcomed him with open arms and had only expectations to one day be competitive for a conference title, no small feat in a league like the Sun Belt, where Western Kentucky regularly claims NCAA tournament wins.
Sure, Bobby Cremins found a similar type of formula for himself by landing at the College of Charleston. But Cremins' exit at Georgia Tech was celebrated, not soured.
John Brady found his own space at Arkansas State after being fired at LSU in the middle of the team's SEC schedule of the 2007-08 season.
There are homes for coaches who have had a taste of the big time. You just have to find the right one. Jarvis has.
"You try to find a good job in a place that your family would be happy and you'll be happy," Jarvis said. "It's more about finding the right fit. You have to think about the other people who have suffered with you a lot that deserve consideration. You can't just take any job."
[+] Enlarge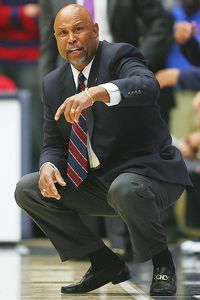 Chris Morrison/US PresswireThe competitive fire still burns for Jarvis, who is working his fourth Division I head-coaching job.
Jarvis began coaching in Division I in 1985, finding success at Boston University and George Washington before landing at St. John's. He went to the NCAA tournament twice with the Terriers and four times at GW, including a Sweet 16 appearance in 1993.
He took over at St. John's when the Red Storm were loaded and coached them to the Elite Eight in 1999 in his first season at the school. Jarvis would go to two more NCAA tournaments, in 2000 and 2002, and win the postseason NIT in 2003 before the program collapsed the following season. Jarvis was out after six games into the 2003-04 season amid an NCAA investigation that would ultimately lead to a vacation of games from the 2000-01 to 2003-04 seasons.
Jarvis settled in as an TV analyst for a few years while pursuing head coaching gigs. But there were no significant bites at a high level. It was the reality that hits so many fired coaches.
"It's about the five-minute, the 10-minute or the 20-minute press conference -- especially in this day and age," Jarvis said. "A lot of athletic directors aren't guys who have coached or played. The search committees have more of a say of who gets hired than anybody. It's about the press conference and the perception after you get fired."
Jarvis coached the Owls to a 6-26 record last season, 2-16 in the Sun Belt. If he was looking to bolt as soon as possible, he would be searching for high-risk talent and junior college players.
That's not the case.
FAU has 12 freshmen and sophomores on its 14-player roster.
"I don't know if he's not going anywhere else, but he's committed to making this as good a program as he can, somewhat like George Washington," Mike Jarvis II said. "He's doing it the right way. He's more energized and excited. It's fun. He's coaching. It's not as big time, but we can make it something and make a mark again."
Jarvis II said going to the high-risk route, like Binghamton did, is risky business these days.
"If anything goes wrong, it's out there so fast, there's no damage control," Jarvis II. "You can't hide anything. You have to recruit really good kids that can help you win some games or else it will backfire if you go the other way."
Jarvis II drew the parallels to George Washington. When his father was at GW, he had a player named Shawnta Rogers. He was just 5-foot-4, but could dominate the game with his scoring ability. Jarvis is convinced that he has found another Rogers in 5-6 freshman point guard Raymond Taylor.
Taylor played at Plantation (Fla.) High alongside Florida freshman guard Kenny Boynton. He played on an AAU team, Team Breakdown, with Boynton and 2010's No. 4 ranked senior, Brandon Knight.
"When I coached Shawnta Rogers, I never thought I'd coach another one like him," Jarvis said. "But every time I watch Ray play I get flashbacks. He's worth the price of admission. He's the real deal."
Jarvis said Taylor is "impossible to defend because he's so quick." He said Taylor doesn't need a lot of space to get open.
"He's one of those great little players who can get all over the court," Jarvis said. "He doesn't need space. I haven't seen anybody yet who can defend him from hitting his shot."
Jarvis said Taylor can hit the deep 3-pointer, drive to the hoop, dish and finish on the fast break.
While Isiah Thomas is searching for elite-level talent at nearby rival Florida International, Jarvis is looking to find the hidden gems. If Taylor is as good as Jarvis says, then the attention could shift to FAU this season as Thomas attempts to load up for the 2010-11 season, which is also when FAU expects to be a realistic contender in the Sun Belt.
The schedule is daunting with games at Georgia, at Maryland and against Miami in Sunrise, Fla. But Boca Raton is an attractive site to host as the Owls do play seven nonconference home games, a decent number for a fledgling program.
• Kentucky coach John Calipari has already seen freshman guard John Wall being tabbed as a possible national player of the year. But he's not certain Wall will put up the numbers on a balanced team to command that honor. Obviously, Wall could fail to win national player of the year and still be the top pick in the 2010 draft.
When was the last time that happened? Two years ago, when Calipari's most recent elite point guard, Derrick Rose, was the top pick in the draft but wasn't the player of the year.
The comparison to Calipari's past two freshmen lead guards is hard to ignore. Calipari coached Rose and Tyreke Evans for one season at Memphis before they both became lottery picks. Rose led the Tigers to the national title game while Evans led them to another Conference USA title and a berth in the Sweet 16.
"He's way beyond both Tyreke and Derrick in being outgoing," Calipari said of Wall. Calipari said Evans practically lived in the practice facility, watching television, doing school work and lounging in the offices before spending time making free throws.
Calipari said Wall will do some of the same things, like shooting at 11 p.m., but will also hang with the players in social settings. With that, he can already feel comfortable enough to tell a player to do the right thing on the court without any hesitation. The respect is already in place for Wall among his teammates.
"He has a chance to be like the other two and may be a little further ahead with the dribble-drive," Calipari said. "We need to see if he'll be where they were at the end of the season. We won't know that yet."