Huggins has Mountaineers primed for big season
October, 23, 2009
10/23/09
6:44
PM ET
NEW YORK -- Bob Huggins has made West Virginia an elite team in three seasons.
That's what was expected once he arrived at his alma mater after a one-year stint at Kansas State.
Just like John Calipari at Kentucky, there is an expectation when Huggins arrives: The program will be elevated to another level.
Sure, West Virginia under John Beilein was one of the better success stories in the Big East. But the run from 2004 to '06 wasn't projected. In 2005, the Mountaineers barely made the field of 65 with an 8-8 Big East record before Mike Gansey and Kevin Pittsnogle led the improbable run to the Elite Eight. More was expected from the veteran group a year later, but it was still a West Virginia team with little room for error. The Mountaineers went 11-5 in the league the ensuing season, finishing with 22 wins and a Sweet 16 appearance.
Huggs is expecting more from the outset this season. So, too, is everyone else in the Big East. The Mountaineers were projected to finish second behind Villanova in the preseason coaches' poll.
But really, second place behind Nova? Does Villanova really have more talent than West Virginia or are the Wildcats just feeding off the Final Four run? Villanova lost key players Dante Cunningham, Dwayne Anderson and Shane Clark. West Virginia lost just Alex Ruoff.
[+] Enlarge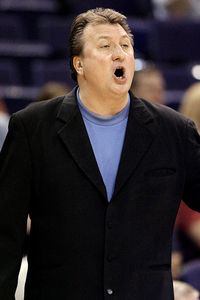 AP Photo/Chris CarlsonBob Huggins hasn't coached in a Final Four since 1992. Could this be the season he returns?
"I told our guys and told the state of West Virginia that if you're one of the best teams in the Big East then you're one of the best teams in the country," said Huggins in his way of answering whether or not the Mountaineers can reach Indianapolis for the Final Four. "I think if we truly are one of the two or three best teams in the league, then we'll be one of the best teams [in the country]."
(EDITOR'S NOTE: To see Katz's full interview of Huggins, click here.)
This isn't meant as a dismissal of Villanova. The Wildcats do bring back guard Scottie Reynolds and fellow guards Corey Stokes and Corey Fisher, as well as forward Antonio Pena. Newcomers Dominic Cheek, Taylor King, Maalik Wayns and Mouphtaou Yarou are all expected to have an impact. So, too, will Reggie Redding when he returns from his fall semester suspension.
But the Mountaineers return quite a loaded lineup with senior forward Da'Sean Butler (17.1 ppg, 5.9 rpg), Devin Ebanks (10.5 ppg, 7.8 rpg), guards Joe Mazzulla and Darryl Bryant (both coming off an offseason suspension), and role players John Flowers, Wellington Smith and Kevin Jones rotating inside. Well, that's if freshman forwards Danny Jennings and Deniz Kilicli don't take their place.
Huggins said Wednesday during Big East media day that Kilicli might be the biggest surprise of any player. The 6-9, 260-pound Turkish national has "bigger hands than your head. He stepped out and caught a ball like it was a softball."
"The NBA guys all think if he continues to develop he'll be pretty good," Huggins said of Kilicli, who prepped last season at nearby Mountain State Academy, which might become a transitional feeder for the Mountaineers. "He scores. He's so much more mobile. He'll be hard to guard in the post. He has unbelievable hands."
Getting Kilicli is exactly what Huggins needed/wanted in his transition from the more cerebral shooting era under Beilein. Huggins got the Beilein holdovers to work 3-point shooting and some backdoor cuts into his more intense defensive system. It worked well in the first season when Huggins coached Joe Alexander and friends to the Sweet 16.
"We're more into guys that are bigger and stronger," Huggins said. "Shooting was their thing."
But the work ethic that Beilein started has permeated down through the program. Butler has shined under Huggins. Ebanks' arrival was fortuitous after he was originally slated to go to Indiana with Kelvin Sampson. Sampson's implosion at IU led Ebanks to Morgantown. His solid production last season could have tempted him to bolt to the NBA draft, where his skills were coveted. But Ebanks stayed back and should flourish this season.
"He's long and can guard," Huggins said. "A lot of people don't realize that it's hard to think and play when you're a freshman and you're thrown out there. You think about this or that and it's hard to play. As the season went on Devin played better and better. I think watching him now you see how comfortable he is. I think he's going to have a big year."
Mazzulla and Bryant, who were both suspended from basketball activities over the summer for legal issues in the spring, have committed to the defensive end so far in practice, according to Huggs.
"I remember being in Milwaukee and those three guys [Marquette's Jerel McNeal, Dominic James and Wes Matthews] were chasing him around and he didn't like that," Huggins said of Bryant. "Now he would relish it. He's as good as anybody in the league."
Huggins doesn't boast too loudly. He's a bit of a low talker, especially when he's not coaching. But he also isn't going to push something he doesn't believe in too much. He knows he has a squad that can make a run this season. He won 26 games in Year 1. He won 23 in Year 2. And he's primed to push 30 in Year 3. The Mountaineers are one of the marquee teams in the loaded 76 Classic in Anaheim, Calif., opening up with Long Beach State on one side of the bracket and then playing either Texas A&M or Clemson in the second game. UCLA, Portland, Butler and Minnesota are on the other side. Hosting Ole Miss and playing Ohio State during the Big East season will offer up plenty of other power-rating points.
Calipari's Kentucky team is getting most of the talk nationally and rightfully so for the impact the new-look Cats will have on the season. But Cal's former Conference USA coaching rival is back. The Mountaineers aren't as dominating as the Cincinnati teams Huggins coached earlier in his career, but this edition has the chance to do something similar -- make a run at a No. 1 seed.
• As expected, the Horizon League coaches projected Butler to win the conference, with possible NCAA team Wright State on the Bulldogs' heels. Cleveland State, which shocked Wake Forest in the first round of the NCAA tournament, was picked third, followed by Milwaukee, Green Bay, Detroit, Youngstown State, Valparaiso, UIC and Loyola. Butler's Matt Howard was predicted to repeat as Horizon League player of the year.
• Gonzaga was picked to win its 10th straight West Coast Conference title. The Zags' nine consecutive league titles form easily the longest streak in the country. Upstart Portland, which will get a chance to showcase itself against UCLA in November, was picked second. Saint Mary's (sans Patty Mills) was third, followed by San Francisco, Santa Clara, San Diego, Pepperdine and Loyola Marymount.