Once-fired Monson: 'I enjoy life again'
October, 26, 2009
10/26/09
11:02
AM ET
There is a chance, albeit a small one, that Long Beach State could meet Minnesota in next month's 76 Classic in Anaheim, Calif.
If it occurs -- likely in a consolation game, since the schools are on opposite sides of the bracket -- then there should be an acknowledgment of how much Dan Monson helped put Minnesota in the position it is today. Tubby Smith, one of the best hires an athletic director has pulled off in the last decade, has put the Golden Gophers in the mix as a regular NCAA tournament team for years to come. But Monson shouldn't be forgotten.
The Gophers needed cleansing after the Clem Haskins academic scandal vacated the 1997 Final Four. After leading Gonzaga to the 1999 Elite Eight, the fresh-faced Monson was hired to bring some sort of normalcy back to Minneapolis. He did that.
He lasted seven-plus seasons with the Gophers, but only one NCAA tournament appearance ultimately led to his dismissal in November 2006.
Early-season firings aren't and shouldn't be the norm in college basketball, as they are in the NBA. But the four-month break was actually just enough time for Monson to decompress before the Long Beach State job opened.
Initially, his wife, Darci, cried when Long Beach called. A Northwest native, she wasn't enamored with moving to Southern California and the possible headaches of raising four children in the area. But that has quickly subsided. The family couldn't be in a better place or space.
[+] Enlarge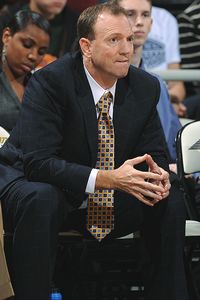 Matt A. Brown/Icon SMIDan Monson has quickly turned it around at Long Beach State.
"I enjoy going to work every day; that's the main thing that's different now," Monson said. "I don't care about the money or the league. I enjoy life again."
Two seasons after the firing, Monson is enjoying a renaissance at Long Beach State. He has pulled off a turnaround of this once-proud program, one that can claim success stories on the court under Jerry Tarkanian, Lute Olson and Seth Greenberg.
The 49ers were coming off NCAA probation that vacated the 2005-06 season, and one year later, Larry Reynolds led the program to the NCAA tournament out of the Big West. Monson went 6-25 in the first year with a depleted roster, but then last season went 15-15 and improved the conference record from 3-13 to 10-6, just one game behind first-place Cal State Northridge. LBSU lost a share of the title on a buzzer-beater by UC Santa Barbara in the regular-season finale.
This season, the 49ers should be right in the mix for the Big West title with Northridge, UCSB and UC Riverside. Among the four starters returning is Larry Anderson, who became the first Big West freshman in 35 years to earn first-team all-league honors. From 6-25 to title contention, life is good again for Dan Monson.
"He's happy and content and at peace," said former Monson assistant Mark Few, who is entering his 11th season as head coach at Gonzaga. "He's in a good place. He loves it there."
Monson's life had become so draining at Minnesota. When he first arrived in Minneapolis, Monson would gloat about what the Gophers had in a conference like the Big Ten, according to his friends. The amenities were cool at the time. But the pressure to produce now, rather than later, was not.
"I don't know if I ever felt [at peace] at Minnesota," Monson said. "Those eight years were very difficult, between the probation and all the adjustments. I don't know if I ever got into a comfortable routine."
The environment he is in at Long Beach State has much more of a Gonzaga-like feel. The Zags dominate Spokane, Wash. That's not the case in the Long Beach area near Los Angeles, with so many other interests permeating the sports and social scene. But there is still a community-like feel on campus that he missed.
Recruiting has also been much more of a joy, with the roster dominated by Californians (11). Monson spends more time at home with his wife and four children. Monson said the number of days he's at home isn't even comparable to when he was at Minnesota or Gonzaga, which does have to recruit outside the Northwest quite a bit.
"I left Minnesota feeling like I wish I would have won more, but I did what they wanted me to do, which was clean it up," Monson said. "I helped stabilize the program and run it the right way. We went to the NCAA tournament the first year off probation. We weren't a total disaster on the court. The academics and the recruiting were a solid base, but it needed a bump. Tubby has given that to them.
"I don't have a beef with the University of Minnesota at all. They gave me a lot of money, made me a better person for sure, and a lot better coach, since I had to deal with a lot of different situations there. I wouldn't trade any of what I learned about myself those eight years."
The Big West has searched for an identity since UNLV departed for the WAC (and later the Mountain West). Becoming an all-California league has helped narrow the focus, but it still could use a school like Gonzaga, a program that separates itself by garnering national publicity and becomes a barometer for the rest.
Long Beach State certainly has the history, the facility and the recruiting base to become that school. The rest of the league may challenge that statement, but the 49ers might have the first crack at distancing themselves.
"You've got to have that marquee team," Monson said. "Gonzaga lifted the other schools up to where the others are trying to match it."
Monson referenced Pacific's run from 2003 to 2006, when the Tigers were a regular in the NCAA tournament, even winning first-round NCAA games in 2004 and '05. The 2005 team went 18-0 in the Big West.
"If a league like this gets a couple of teams in the tournament, it can separate itself from the rest of the mid-majors," Monson said.
To do that, the coaching staffs need to stay somewhat intact. Pacific's Bob Thomason arrived in 1988. UC Irvine's Pat Douglass took over in 1997. UC Santa Barbara's Bob Williams got his gig in 1998. Cal State Northridge's Bobby Braswell, who earned the league's automatic berth last season, started with the Matadors in 1996.
"These are good jobs in great locations," Monson said. "I was ready again after 90 straight days going to the bus stop, ready mentally to take a head job again. And doing that for three months made me appreciate this job, made me appreciate what I have here. This is a great set up for me."
• The ACC media projected Duke and North Carolina in a dead heat for first place. That's a fair guess, as neither team is expected to dominate. Both could challenge for the national title, but both are flawed -- Duke in speed and quickness and Carolina in the experience of its guards.
But the rest of the poll is clearly debatable. Clemson was picked third, followed by Georgia Tech, Maryland, Wake Forest, Florida State, Virginia Tech, Boston College, Miami, Virginia and NC State.
A few certainties from my vantage point: Clemson, with its questionable perimeter shooting, won't finish third, and the experience and productivity returning at BC will prevent the Eagles from finishing ninth. Both are NCAA tournament teams in my mind, and so are Maryland, Georgia Tech, Wake Forest and likely Florida State. Yes, that's a possible eight teams in contention for bids out of the ACC, which is unlikely. But the balance in this league could lead to a banner season. I'm not sold yet on whether Virginia Tech or Miami can get there.
• Stats from intrasquad scrimmages don't mean much in the big picture, but they're still worth sharing.
USC desperately needs North Carolina transfer Alex Stepheson to be a major force this season. His numbers were solid in the Trojans' Gold and Cardinal scrimmage Sunday night: 13 points in 20 minutes and five boards. Leonard Washington played even though he's academically ineligible this semester. Clearly, Washington needs work -- he went 1-of-11 from the field.
If Wisconsin is going to keep its NCAA tournament streak going (11 straight appearances), Jon Leuer will need to be effective. He wasn't during Sunday's scrimmage, going 2-of-12. Trevon Hughes could be this team's stud, and he did have three steals. But he also had three turnovers and four assists.
Renardo Sidney hasn't been cleared by the NCAA's eligibility center to compete in games, but he can practice and be involved in scrimmages for Mississippi State. He certainly tantalized the Bulldogs staff with 19 points and seven boards in a 7-of-16 outing (3-of-7 on 3s, too) in 31 minutes during a Saturday afternoon scrimmage. All-America shot-blocker Jarvis Varnado was on the same side as Sidney and scored 22, making seven of 10 shots, nailing all eight free throws and blocking five shots. That was according to the box score. But the press release reported he scored 33 points. That probably tells you all you need to know about scrimmages. Either way, the Bulldogs will take a big night from Varnado. The bigger concern would be Ravern Johnson's going 2-of-13 and missing all eight 3s he attempted.
• Washington is trying to reach out to Gonzaga with a proposal to play a series in Seattle every year at Key Arena, with UW assistant athletic director Richard Kilwien saying the game would bring in $300,000 per school in the 50-50 ticket split. But the Zags' argument is that they already play a game in Seattle every season for their fans in the western part of the state. Gonzaga wants a true home-and-home series to resume with the start of the series back in Spokane -- and the Zags aren't budging. Kilwien and the rest of the Huskies aren't either, saying that they're not interested in a home-and-home series. So the stalemate continues, and the series won't continue. Gonzaga does have a true home-and-home with Washington's Pac-10 rival, Washington State.