Vandy should be right in the thick of SEC race
October, 27, 2009
10/27/09
6:38
PM ET
In roughly six weeks, you'll know if Vanderbilt is a real serious player for the SEC East title.
By that time, the Commodores could be through the Maui Invitational with a title, or at least with two wins over projected NCAA teams Cincinnati and Maryland, and through a gauntlet of nonconference games that includes Missouri at home, Illinois on the road and always-tough Western Kentucky on a neutral court in Nashville.
Vanderbilt coach Kevin Stallings isn't shying away from pushing his veteran team early in practice. On Monday, Stallings made it quite clear to his players that there needs to be a sense of urgency every day in practice because of the ensuing slate of games.
"I hope there's a positive buzz about how we're playing," Stallings said of his goal for how the Commodores will be perceived after Thanksgiving week in Maui. "But in order for that to happen, we've got a lot of work to do now, because everyone else is working just as hard."
The 'Dores have been slowed a bit by injuries early with junior center A.J. Ogilvy, a candidate for SEC player of the year, suffering a concussion on the first day of practice. There have been foot and shoulder injuries to a few players, too.
[+] Enlarge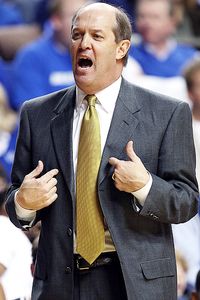 Andy Lyons/Getty ImagesKevin Stallings' fellow SEC coaches picked Vandy third in the East, behind UK and Tennessee.
But there have also been two surprises in the first two weeks of practice that have Stallings feeling pretty pumped about this squad. He didn't have to worry about returnees Ogilvy up front or guards Jermaine Beal, Brad Tinsley or top defender Jeffrey Taylor. That foursome should be the core of this squad. But what Stallings wasn't sure of was how much he could get out of redshirt sophomore Festus Ezeli or highly touted freshman guard John Jenkins.
Ezeli played in 29 games last season, occassionally spelling Ogilvy. He's a big body at 6-11 and 255 pounds, but averaged a modest 3.8 points and 2.6 rebounds. But on the summer trip to Australia, Ezeli emerged as a productive threat, even on the scoring end. He hasn't disappointed in practice, either, giving the Commodores an option either next to Ogilvy or as his replacement.
As for Jenkins, we knew he was going to be a scorer. That much was known. He averaged a whopping 42.3 ppg at Station Camp (Tenn.) High School last season. But Stallings needed him to be a defensive pest and an assist man to ensure the bigs could get the ball.
"He's going to defend just fine," said Stallings of Jenkins, who isn't getting even close to the hype of Kentucky's or Florida's freshmen in the SEC East. "But I really like the way he can pass the ball, especially into the post. He sees and feels the game well. Post-feeding is an important skill on our team. He can really, really shoot. But we didn't know he could be as good a post feeder as he is. He also moves his feet really well."
Still, Stallings is old school and isn't ready to push Jenkins past his older guards like Beal and Tinsley. He said there is still a gap between those who have played and Jenkins.
"It's nice having a highly regarded freshman, but he's not there yet," Stallings said. "He will impact our team and there will be times in games when he'll make a big string of 3s. He's a prolific shooter. Every time he shoots the ball I think it's going to go in."
Stallings doesn't fret the noticeable SEC attention shift to Lexington this season. He has come to accept that during his 11-year tenure. Despite a pair of Sweet 16 appearances since 2004, Vanderbilt never seems to get quite the amount of attention of some of its SEC peers.
"Kentucky's program is always going to get more attention and more hype in the preseason than most of the rest of the programs in the SEC," Stallings said. "That's the way it is going to be and nothing we can control or care about."
For what Stallings can control, he's done quite a job of lately.
ESPNU's Scouts Inc. recently reported that Vanderbilt landed 6-8 Rod Odom, rated the No. 14 small forward on the ESPNU 100. Odom originally committed to Arizona, but got out of the commitment and immediately switched to the Commodores. Odom joins 6-11 center Josh Henderson in the class of 2010.
ESPNU wrote that Odom is a solid ballhandler, can make jumpers and 3s and has a high basketball IQ.
• Stallings paid for his team's trip to Australia out of his own contract after the cash-strapped university offered up concern over the $100,000 tab. Going on foreign trips has been a major hit for schools over the years as they enrich the players, give them ample viewings for international scouts and can help teams find their own identity. Schools are allowed to make the trips every four years. Usually, teams fund raise for these trips, thus not taking money out from the general pool of cash in the athletic department. Yet for some reason, the Pac-10 figured cutting these foreign trips out all together would be a way of cutting costs. Well, common sense prevailed this week. The Pac-10 announced through its compliance center that it had withdrawn the proposal in advance of this week's NCAA board of directors meeting in Indianapolis.
• The Missouri Valley predictions were somewhat predictable. Northern Iowa, which returns its core, was picked first with 38 first-place votes, followed by Creighton (one). The rest of the order: Illinois State, Southern Illinois, Wichita State, Bradley, Indiana State, Drake, Missouri State and Evansville. Illinois State's Osiris Eldridge was tabbed as the preseason player of the year.
• Western Kentucky was predicted to win the Sun Belt East Division while North Texas, a sleeper team if you're looking for one, was tabbed to win the West Division. Troy and Middle Tennessee were projected to be Western's challengers (followed by South Alabama, Florida Atlantic and FIU), while Denver and Louisiana-Lafayette were slated to push UNT (followed by Little Rock, Louisiana-Monroe, Arkansas State and New Orleans). Western Kentucky's A.J. Slaughter and North Texas' Eric Tramiel were two of the five on the first team (Denver's Nate Rohnert, Middle's Desmond Yates and Troy's Brandon Hazzard finished the first team).
• The Maui Invitational named former South Carolina and Wake Forest coach Dave Odom, who is becoming a bit of a statesman of the game, to be its new tournament chairman. He's replacing former Big East commissioner Dave Gavitt, who has been battling health problems. Odom is also the non-active coaching member on the newly formed coaches' ethics committee.
• If you'd watched Syracuse's Jim Boeheim deliver his postgame news conference Sunday on SU's athletic Web site, you'd have no idea that it was Oct. 25. Boeheim is in perfect mid-season form evaluating his team after a game. Yes, the Orange was the first team to open up with a real exhibition game, just 10 days after the official start of practice. Syracuse played Cal State Los Angeles at the Carrier Dome in preparation for the early start to the season next week. SU is in the Coaches vs. Cancer Classic with two games at home before joining Cal, Ohio State and North Carolina in New York.
Boeheim was in a somewhat good mood because of the play of freshman James Southerland, who may warm up to the Syracuse fans quite quickly. While it was just an exhibition, Southerland made all seven shots he attempted, including five 3s. The Orange expects Andy Rautins and Iowa State transfer Wesley Johnson to be their top two 3-point threats, but they were a combined 0-for-6. The competition between Scoop Jardine and freshman Brandon Triche to start at the point continues. Jardine got to the line to make 8 of 10 free throws, had 11 assists and no turnovers. Triche was just 1-of-3 at the line and had three assists and no turnovers. The Orange won rather easily, 97-54.
• The NCAA board of directors has a major meeting Thursday with a slew of basketball-related proposals. Among those that continue to resurface is the one allowing players to practice with their coaching staff (can you imagine?) during the summer as long as they are enrolled in summer school. Schools that don't have a summer session would be exempt. Also: reducing the maximum number of regular-season games from 29 to 28 or 26 plus a multiple-team event (that can be up to four games); allowing team practice to begin on Oct. 1 (and going up from two to four of the allowable eight hours of practice to be devoted to team practice the first week) before getting up to the regular 20-hour practice week beginning Oct. 15; allowing schools to pay for travel expenses for official visits for parents and legal guardians (maybe this would cut down on questionable funding of unofficial visits?); allowing student-athletes to stay on financial aid if they decide not to play after a coach departs but not counting it toward the maximum 13 scholarships; preventing JC or CC transfers from using more than two PE credits.
• Former Kentucky coach Billy Gillispie has been making the rounds, visiting his coaching friends and watching practice. He was at Kansas last week and had also planned to visit Marquette. Gillispie worked for KU head coach Bill Self at Tulsa and Illinois while Marquette head coach Buzz Williams worked under Gillispie at Texas A&M.
• Freshman Xavier Henry is ready to take on a major role with top-rated Kansas, according to Self. Henry's play in the last few days at practice has shown that he "gets it," Self said. Henry is expected to be a major scoring option for the Jayhawks behind guard Sherron Collins and forward Cole Aldrich. Henry isn't necessarily hunting his shot, but isn't having an issue finding his role as a player around the ball at all times. Self said guard Tyshawn Taylor, who injured his thumb during the now infamous basketball-football fracas last month, hasn't missed an official practice yet. Taylor averaged 10.8 points for the gold-winning U.S. Under-19 team in New Zealand this summer.