Monroe's return adds to Georgetown's potential
October, 28, 2009
10/28/09
1:12
PM ET
NEW YORK --
Greg Monroe
was the perfect candidate to leave school early for the NBA draft.
He was a big man with exceptional passing reads who had lived up to his high school hype. He was the Big East Rookie of the Year after averaging a dozen points and nearly seven boards a game. He had NBA personnel tantalized by his skill set. And he led Georgetown -- to the NIT.
You can't blame Monroe for the Hoyas' sudden free fall in the middle of their Big East schedule that saw them drop seven of their nine games in January. (Six of the seven were league losses; the other was at Duke.) Monroe was hardly alone, as inexperience reigned over the Hoyas at the worst time.
"I don't know how to explain it," Monroe said of the downward spiral in which the Hoyas went from 11-1 to 13-8 en route to a pedestrian 16-15 finish (7-11 Big East). "We didn't make plays down the stretch when we needed them: a stop, a rebound or execute our offense. We couldn't find a way to do it. There's a big difference this year since we understand what has to be done. We will win more games this year."
[+] Enlarge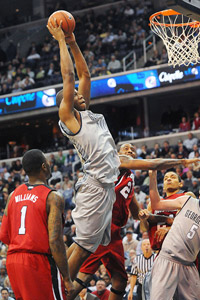 James Lang/US PRESSWIREGreg Monroe could've been a high pick in the NBA draft but chose to return to Georgetown.
A year ago, Georgetown cruised into the Old Spice Classic in Orlando and torched rival Maryland by 27 points. The Hoyas then beat Memphis at home by nine in overtime. And then, the kicker, Georgetown opened Big East play in late December with a stunning 11-point win at co-league favorite UConn. All three of those victims went to the NCAA tournament, with UConn a No. 1 seed.
"I thought we had a chance to be special in this league after that game," Monroe said as he recalled the UConn game while at last week's Big East media day in New York. "We had a tough game after that [a 16-point home loss to Pitt]. But it was a special conference last year. This year there is more balance. The league lost a lot of stars. We have a better focus and we know what it takes to win more games."
Monroe could have bolted. He could have run for the easy money as Georgetown floundered for the first time under John Thompson III with a 12th-place finish in the Big East after winning the league in consecutive years with a Final Four berth two seasons ago.
But the Hoyas' win-loss record had nothing to do with Monroe's decision.
"I just had to evaluate myself, and I knew I wasn't ready to make that step," said Monroe, whom an NBA team likely would have selected in the top 10 despite his assessment. Monroe said his skills weren't polished enough. He wasn't physical enough.
"Of course I want to play in the tournament," Monroe said. "But I can't make a mistake leaving too early."
Somehow Thompson wasn't surprised by the refreshing and true analysis.
"He can look in the mirror and be honest with himself," Thompson said. "He likes the collegiate experience. He likes being at Georgetown. There are a lot of kids out there that look for the first opportunity to go. Sometimes it's right, and sometimes it's wrong. They want to jump and get to the league. But he can look in the mirror and be honest with himself that he has to be stronger and improve his offense. There's no rush for him to make that jump."
Now, don't be surprised if he does it after his sophomore season. The 6-foot-11 Monroe should be in contention with Notre Dame's Luke Harangody for Big East Player of the Year if he can live up to his expectations. The Hoyas should be a better fit for making a run at a top-three finish with the experienced junior backcourt of Austin Freeman and Chris Wright, role-playing wings Jason Clark and Nikita Mescheriakov and a deeper frontcourt.
Losing DaJuan Summers (13.6 points per game) early to the NBA draft and senior guard Jessie Sapp (6.5 PPG) is a hit. You can spin their departures all you want, but Summers was still a talent and a potential mismatch. Sapp added a solid, experienced guard. But there was clearly something amiss with last year's group that didn't always mesh. The spring training-like buzz about this group is that it is in a better space.
"The hunger is different," Thompson said. "The energy is different. It's not an excuse, but we did have six players in our rotation last year that were going through it for the first time. That's a reality. It was a bad year to be inexperienced in this conference."
Thompson is banking on the natural growth process of a college team. Through the first two weeks of practice, he is seeing that this squad is no longer running scared at times.
The confidence Thompson gleaned during the offseason was evident by his taking on a more challenging schedule in December. Thompson didn't hesitate to schedule top-15 team Butler in the Jimmy V Classic in New York on Dec. 8 and then fly out to Anaheim to play one of the Pac-10 favorites in Washington at the Wooden Classic. Thompson has said it's a Big East-like week. It is, with more travel. He likely wouldn't do that stretch if he weren't confident this team could make a run within the conference.
Playing the Colonial League's top team in Old Dominion again at home -- a team that has given the Hoyas fits recently -- will be a tough follow-up to that Butler-Washington stretch when the Hoyas return to Washington, D.C., to face the Monarchs on Dec. 19.
"We have the pieces," Monroe said. "We lost two great players in Jessie Sapp and DaJuan Summers, but with me, [junior] Julian Vaughn emerging and the freshmen coming along well, we've got the pieces for us to be versatile."
Thompson said the wide-eyed look of a young team is gone. This squad still doesn't have a senior. But it has a big man who could be one of the best in the country. If he is, the Hoyas should be a factor throughout the season, not just in spots in November and December.
• The MAAC predictions had Siena projected to win the league yet again. The Saints have a real shot to win a third straight first-round NCAA tournament game. The Saints won 27 games last season and return key players Ronald Moore and Edwin Ubiles.

As has been the case recently, Niagara was picked second. Rider, with preseason player of the year Ryan Thompson, was third followed by Fairfield, Loyola, Saint Peter's, Canisius, Manhattan, Iona and Marist.
There was a time earlier this decade when the latter three teams were at the top of this conference. That shows how difficult it is to maintain success at this level when there are coaching changes. The continued excellence in the MAAC at Siena and Niagara can be attributed to the decisions of the coaches and schools to keep Fran McCaffery and Joe Mihalich, respectively. The long-term commitment by both coaches is a direct result in their programs' maintaining a place atop the league.