Don't discount the talent still around at Wake
October, 29, 2009
10/29/09
10:04
AM ET
WINSTON-SALEM, N.C. -- Dino Gaudio played the game, attempting to woo Jeff Teague in the 11th hour at his home in Indianapolis before the sophomore made his mid-June decision to stay in the NBA draft.
Teague was probably gone anyway, even before the third-year Wake Forest head coach wasted the time trying to convince Teague he should return for his junior season. Teague's teammate and classmate James Johnson was already out the door, listening to the chatter that he was ready for the league.
Once it was official the one-time No. 1-ranked Demon Deacons and first-round flameout (to Cleveland State, of all teams) were without two first-round draft picks, the easy thing to do was toss this season's team onto the irrelevant heap.
"To be honest with you, if I was somebody in the media, I'd probably think the same way," said Wake Forest senior guard Ishmael Smith. "We lost 34 points, two guys that go 16 and 19 in the NBA draft. I would think the same thing."
Well, that thinking isn't going on here. It would be foolish to dismiss this squad. Let's not forget Wake Forest still has one of the more potentially prolific scoring wings in the country in Al-Farouq Aminu, who would assuredly been a lottery pick had he bolted with his teammates after last season. There's a beefy, developing and deep frontcourt led by seniors Chas McFarland, David Weaver and hyped sophomores Tony Woods and Ty Walker. Senior guards Smith and L.D. Williams are also still around.
You can certainly wonder if this team can consistently shoot from the perimeter and whether or not they'll be as difficult a matchup at small forward with Johnson gone.
But don't think for a second this team lacks confidence.
"Ish was our leader last year," Woods said. "Jeff was our point guard, but Ish was our leader."
Smith doesn't stop smiling, either. Talk to him and he is beaming with confidence and pride about Wake Forest. He's not Chris Paul. He's not Justin Gray. He's not Teague. But he'll be just as important to this team.
"He's one of the most talented point guards in the league," said Gaudio of Smith, who has started 60 games at Wake, was the sixth man last season and has quite a career assist-to-turnover ratio (427-255).
"He's a playmaker, but more so a big-shot maker," Gaudio said. "He hit the game-winner against Virginia Tech [as a sophomore] and Miami [later that same season]. He takes big shots, and he made them as a sophomore."
Smith was injured to start last season and lost the starting position he had held as a sophomore. Teague was the big-shot maker when he returned. Now the onus is on him.
"Everyone has been telling me on Facebook that 'It's your team.' There's a lot of pressure, but we've got really talented guys, good bigs and guards that are back," Smith said. "Chris [Paul] was more of a facilitator. Jeff [Teague] was more of a scorer. I'm more of a facilitator who will get people involved. I know when to score and when to pass. I know when to set a team up and get the ball to who's hot."
That will undoubtedly include Aminu, who was overshadowed by Teague and Johnson last season. Aminu is about as reserved a player as you'll find. He's a bit of a low-talker and doesn't show much emotion. Gaudio got right in on him early in practice to ensure that Aminu understood this season was different. He told him directly that he had to win every drill.
"I told him he's got to hold himself to a completely different standard," Gaudio said. "He has to dominate every possession. He's understanding the pace of practice and how hard he has to work."
[+] Enlarge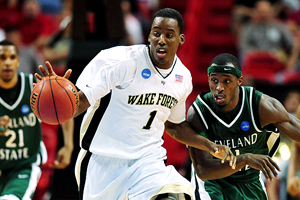 Steve Mitchell/US PresswireThe 84-69 first-round loss to Cleveland State was a bitter pill to swallow for Al-Farouq Aminu and WFU.
Aminu chose to blow off USA Basketball and work out this summer, going to the Nike skill camps instead. He said he was advised to stay home and hone his craft. He said his circle is tight and he wasn't swayed by talk that he was lottery material. Aminu knew he was nowhere near ready for the real man's world of the NBA.
He has worked on his shot, ballhandling and footwork. Without Teague and Johnson, you can be assured Aminu will score more than 12.9 points a game. He'll also take more than 4.7 shots a game.
Aminu said he'll embrace the attention. His teammates have no issue with shifting it to him, either.
"You'll see a more aggressive, more attacking Al-Farouq Aminu," Smith said. "He'll prove to be one of the best small forwards in the country."
Bring up that 15-point Cleveland State loss and you'll get a bitter response. The players say they've been quizzed incessantly about how they could have laid an egg to the Vikings in Miami.
Woods said it had been developing and wasn't a shock, considering the second half of the season. The Deacons posted a 16-0 start, rising to the top of the poll after wins at BYU, at Clemson and over North Carolina and Duke at home.
At that point, Wake looked like a title contender (and was a Final Four pick by, ahem, yours truly). But what followed was a roller-coaster finish. The players all said they weren't ready to handle the success. They are now. It's clear the loss to the Vikings had a lasting effect on them.
"That was a big reason why I came back," Aminu said. "To get put out in the first round, I didn't want that to be my only NCAA tournament experience. I want to win a couple of games, hopefully get to the Final Four. No disrespect to Cleveland State, but to get upset like that -- our team was dejected. We had a Final Four-type team, and to lose like that and go home was devastating."
Wake Forest won't be picked to win the ACC this season -- Duke and North Carolina can argue about that. The Demon Deacons aren't perceived to be better than Georgia Tech, Clemson or Maryland, either. But you can expect Wake will be with those clubs, as well as Boston College and Florida State, throughout the ACC chase.
If McFarland makes himself a factor, if Weaver and Woods are as productive as they have shown early in practice, if Aminu scores, if Williams makes perimeter shots and if Smith leads, then Wake Forest will certainly remain plenty relevant.
The Demon Deacons will know how tough they are early, with road games at Purdue (ACC-Big Ten Challenge) and at Gonzaga in consecutive games in early December. Winning one of those true road games could go a long way toward earning key power-rating points for an NCAA berth in March.
"These seniors have won more games each of their three seasons and put us in the tournament last year," Gaudio said. "If they get us in the tournament again, they'll get to leave a little bit of a legacy at Wake Forest."
• South Carolina coach Darrin Horn says junior forward Sam Muldrow has been boarding and blocking shots extremely well in practice. The Gamecocks need balance on a squad that will be dominated by guard Devan Downey and forward Dominique Archie. Muldrow is also scoring well around the basket, but Horn said he needs to see it in a live game. Downey, meanwhile, has been an exceptional leader. "He's always vocal and passionate but he's also bringing the younger guys along," Horn said. The second-year head coach projected that home losses could decide the SEC East since winning on the road will be at a premium. Whoever can't protect their home court will likely lose the division title.
• Cornell was picked for a three-peat as the Ivy League champ in the preseason poll. Princeton was slotted second, followed by Penn, Harvard, Yale, Columbia, Brown and Dartmouth. The Big Red will have player of the year candidates in Ryan Wittman and Louis Dale. But don't sleep on Harvard's Jeremy Lin as a possible POY, even if the Crimson don't win the league.
• Akron coach Keith Dambrot is building the program to beat in the MAC. The Zips are tabbed as the favorites in the MAC East, followed by Kent State, Buffalo, Miami, Bowling Green and Ohio. Central Michigan was picked first in the MAC West with Northern Illinois, Eastern Michigan, Ball State, Western Michigan and Toledo trailing. Kent State's Chris Singletary and Akron's guards Brett McKnight and Anthony Hitches lead the all-MAC preseason team. What the league lacks this season is an NBA player. There's still time, but the league needs a standout like it has had in the past. Multiple bids would finally be a nice thing, too.