Badgers don't mind being picked low
November, 2, 2009
11/02/09
6:14
PM ET
ROSEMONT, Ill. -- This is perfect for Bo Ryan.
Go ahead and pick Wisconsin low, somewhere in the bottom third of the Big Ten. You wouldn't be alone. The Badgers lost Marcus Landry and Joe Krabbenhoft, who combined to average 20-plus points and 10-plus rebounds per game for a team that finished with 20 wins overall (10 in the Big Ten) and recorded a first-round win over Florida State in the NCAA tournament.
Why wouldn't you push the Badgers down in a season in which their conference is loaded?
I would.
But I also don't doubt the Badgers will still find a way to finish high enough to earn their 12th straight NCAA berth -- and eighth in a row under Ryan.
Ryan admits he loves being the coach of a team that doesn't seem exciting enough, doesn't have enough talent and supposedly won't hold up come March.
"That's the Chester in me," Ryan said of his hometown on the New Jersey-Pennsylvania border near Philadelphia. "That's OK. I won't change the way I coach. What it does is, when I get home, my wife will remind me all the time that we're not going to be very good this year. I don't like my wife saying that. It sends me off to the Kohl Center with an attitude of, 'We'll show them.'"
Ryan has had elite players. This isn't a program devoid of top-level talent. Kirk Penney has had a successful professional career outside the NBA. Devin Harris was a top-10 pick and has done quite well for himself in New Jersey and Dallas. Alando Tucker was a first-round pick, too.
[+] Enlarge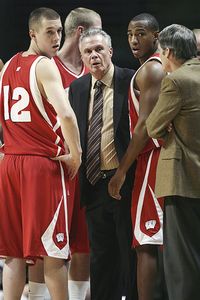 Chris Gardner/US PresswireBo Ryan doesn't seem to mind the low expectations for his Badgers this season.
Trevon Hughes may have a harder time making the league, but he's a big shot-maker. The third-year starting point averaged 12.1 points and nearly three assists per game last season. Fellow senior Jason Bohannon made 64 3-pointers last season.
"We've got two experienced guards this year and we're eager to prove people wrong," Hughes said at the recent Big Ten media day outside Chicago. "We like the challenge that the Big Ten is loaded and we're predicted ninth. That's bulletin-board material. We'll win the games we're not supposed to."
Hughes said his future "Hall of Fame coach" always maximizes the talent.
"Everyone thought we had this slow, methodical offense that can't come back, and yet we came back and beat Florida State," Hughes said.
Ryan said the key is finding the players who fit into his system, the role players who don't hesitate to play subordinate roles until it is their time.
"The players we have in this program and the coach we have allows everything to be continuous," Bohannon said. "Each player learns from the next. I learned from Mike Flowers, one of the best defenders under coach Ryan. We keep building on each other."
To get an NCAA bid, assuming the Badgers will be bunched in the middle of the Big Ten, they'll have to differentiate themselves in nonconference play. Wisconsin will host Summit League favorite Oakland (Nov. 18) before taking on Arizona in the opening round of the Maui Invitational (Nov. 24). A possible matchup with Gonzaga, which plays Colorado, could arise in Maui's second round if the Badgers beat the Wildcats.
But the game the Badgers already are circling is Duke's visit to Madison on Dec. 2 in the ACC/Big Ten Challenge.
"That's a game that will be a grow-up game for us," Ryan said. "Whatever happens in that game will send a message throughout our team. Purdue was delivered a message by Duke. That Duke game will tell us what we have learned from Maui, from Oakland, from Fort Wayne [in the season opener]."
Purdue coach Matt Painter cautioned Wisconsin about not hyping the rare Duke visit too much. Purdue did so too much last season in the same event, losing by 16 to the Blue Devils at Mackey Arena.
"They were tougher than us," Painter said. "Duke has games like that all the time, whereas we made it a big deal. That's the way their games are all the time. They enjoy coming into opposing players' gyms. It showed that Mackey Arena is not guaranteeing us a victory. Going into Wisconsin is going to be tough since it's a tough venue, but they [the Blue Devils] thrive on that and pulling out wins."
Painter said it was made even more painful that a Purdue win could have shifted the ACC/Big Ten Challenge toward the Big Ten. Still, the Boilermakers and Blue Devils reached the same end point in the season -- the Sweet 16.
Duke is projected to compete for the Final Four. Wisconsin is predicted to be an NIT team. So a Badgers win against the Blue Devils would do wonders for the team's profile.
The Big Ten has a chance to be like the Big East last season.
There could be multiple No. 1 seed contenders (Michigan State and Purdue) and at least nine Big Ten teams start the season believing they can make the NCAA tournament. The number was comparable last season in the Big East.
If Wisconsin can make the NCAA tournament, the Big Ten will live up to its preseason hype of landing at least eight teams in the Big Dance. Michigan State, Purdue, Ohio State, Michigan and Minnesota start the season in the top 25. Illinois is on the fringe, and at least one Big Ten coach said the Illini might be the most talented team in the league.
Northwestern could make a strong argument to be a top 25-30 team, as well. That adds up to seven before Wisconsin is even discussed. Penn State could be a possibility, too. But if the Badgers are an NCAA team, the league will truly be the deepest it has been in a while.
"There's going to be a logjam somewhere in there, but you don't want four or five teams at 7-11 and/or 8-10," Painter said. "If you want to do what the Big East did last year, we've got to have a great nonconference."
That could start with Wisconsin's performing well in November and early December.