BC confident it can exceed expectations in ACC
November, 4, 2009
11/04/09
11:34
AM ET
CHESTNUT HILL, Mass. -- Is it really early November?
No, it can't be. Boston College's practice gym has no windows, so you can't see the weather outside, whether there's snow on the ground or the first fall leaves are still blustering on campus.
It's easy to lose track of the date if you're watching BC practice. There is very little teaching going on here, because there is no need. This team knows what to do.
It's more fine-tuning -- an injection of new plays, a critique on making a cut on the inside when popping up for a pass off a screen. But nothing too dramatic. In one of the more unusual circumstances in major Division I college basketball, the Eagles didn't add a single player to an NCAA tournament team that won against eventual national champion North Carolina in Chapel Hill and beat Duke at home last season.
Sure, they lost point guard Tyrese Rice (16.9 ppg) and his long-bomb, high-arching 3-pointers that kept defenses extended. He was always a threat, no matter the score. But Rice's departure after his senior season hasn't ruffled this bunch. There is more than enough here to score at four of the five positions (center being the exception) against any team in the ACC. Whether the Eagles can defend in the interior and rebound from the frontcourt positions is still in question.
Make no mistake: This is not a title contender. But it should be an NCAA tournament team yet again, despite a predicted ninth-place finish by the ACC's (heavily North Carolina-based) media contingent.
"I've never had a situation where I haven't brought in someone new to help energize the guys returning," said BC coach Al Skinner, who is universally respected and admired by his coaching colleagues for his ability to live a serene coaching life. "I thought this was a unique group."
Skinner said the staff made a decision last season not to bring in someone unless that person provided a special need that they didn't have. Now, of course, if the Eagles had been hand-delivered Kentucky freshman John Wall, they would have taken him. But the players still must adapt, and this group has adapted as well as any other Skinner has coached.
"The one thing everyone understands with no newcomers [is] that this is it," Skinner said. "We are who we're going to be without new wrinkles."
And who they are is more than capable of surviving in what should be a highly competitive and unpredictable ACC.
"People slept on us last year," BC junior Joe Trapani said. "We were picked 11th and finished sixth and beat Duke and Carolina. One of the pluses of nobody new is that we start where we left off last year. No practice is wasted on teaching guys plays. We're leaps and bounds ahead of where we are from last year."
Part of the reason is the development at the position Rice vacated -- the position that probably caused many to project a BC decline.
[+] Enlarge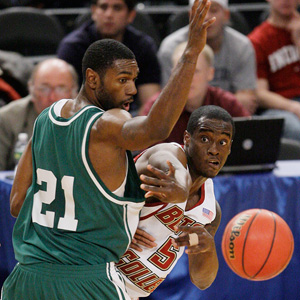 AP Photo/Julie JacobsonOnce the season starts, look for Biko Paris to start at the point position for the Eagles.
Throughout Tuesday's practice, junior Biko Paris and sophomore Reggie Jackson were matched against each other. They will share the position and give the Eagles two totally different looks.
Paris is listed at 6-1, Jackson at 6-3. Paris is much more the distributor but can make the deep 3-pointer. Jackson's length makes him a tougher matchup, and he can drive to the basket a bit easier. Senior forward Tyler Roche said, "They both handle the team very well."
"Everyone wants to know the same thing: How will this team be without Tyrese?" Paris said. "If you really know basketball, you would see that we really jelled better last year when I was at the 1 and he was at the 2. He was free to get his shot off."
Skinner didn't hesitate to make that switch in key games, and there were times, such as when the Eagles nearly clipped Duke in the ACC tournament, that he put Rice on the bench for stretches.
"My confidence is above the rim," Paris said. "My teammates have a lot of confidence in me. I know they have my back."
Jackson said he was a point guard in high school in Colorado. But that didn't appear to be the case when he was put at the position in a game early last season.
Paris said Jackson approached him and told him he was nervous about playing the position.
"And he dribbled the ball off his foot," Paris said of Jackson. "That's when Coach said, 'I can't put him at the position.' It was his first game, and he knew he had to learn. Since then he's come into the gym and done dribbling drills. I told him it's 75 percent confidence. He's a wonderful player at nearly 6-4 with his long arms and athleticism. I don't know if I'll go against a guard that is as athletic as him in the ACC."
Jackson said he was too anxious playing the point last season. He said he has found his pace this season and is increasingly comfortable. His handle is not as tight as that of Paris, but the high dribble and drive to the hole will be hard at times to defend.
"We'll miss Tyrese's leadership and his 17 points a game, but we relied too heavily on him last year," Jackson said. "We're leaning more on each other's talents. We'll be a more aggressive and better defensive team."
Skinner will likely start with Paris at the point and the physically imposing, 6-5 Rakim Sanders at shooting guard. Last season he made the two biggest shots for the Eagles by beating Virginia Tech and Georgia Tech at home in those games' final possessions (two wins that were essential to receiving an NCAA bid). Up front, the Eagles will have Trapani, Corey Raji and Josh Southern. Skinner will probably start with Jackson off the bench. Roche will be next, giving BC a solid seven that includes five juniors, a senior and a sophomore. Junior forward Cortney Dunn and sophomore forward Evan Ravenel will compete for the eighth spot.
Jackson is fine with his role as the energizer off the bench, but don't think for a second that he won't have plenty of minutes on the floor, either in place of Paris or subbing for Sanders or Trapani if the Eagles go smaller.
Skinner said Jackson's approach to playing the point has "changed tremendously. He now has an idea what the role encompasses. He's a little more mentally ready to do what's necessary. Last year, when he was at the point, it was about him. Now when he's at the point, it's about us."
The Eagles had their stumbles last season. The dreadful loss to Harvard, just days after BC knocked off the previously undefeated and top-ranked Tar Heels, was one of them. Rice's problem last year was his sense that he could flip a switch when he wanted to raise his game. But it was sometimes too late when teams gained confidence on him, as Harvard's Jeremy Lin did. That shouldn't happen with this group.
That said, the Eagles have a tough stretch of games early in the season. If they get past Saint Joseph's in the first round of the Paradise Jam in the Virgin Islands, they will likely play Purdue in the semifinals. Then, in a third game, they would probably play either Tennessee or the Missouri Valley favorite, Northern Iowa. BC also plays return games at Providence (a lower-level Big East team, in a game BC should win) and at Big Ten contender Michigan, and then the Eagles open up the ACC on Dec. 6 against Miami.
"I purposely challenged them with this schedule," Skinner said. "I'm not looking for a paper lion. We only got 10 guys. We've got eight guys who can legitimately play and two others that might have to figure it out. So let's go. You don't need more than eight anyway."