Scrimmage gives Texas, Zags quality opponent
November, 9, 2009
11/09/09
5:05
PM ET
The NCAA has cracked down on scrimmage information.
No news is supposed to get out. No scoring is supposed to be kept.
But teams conducting the scrimmages are still competitors, and of course you can't play a game without keeping score.
The information coming out of the Gonzaga-Texas scrimmage Saturday at the Denver Nuggets' practice facility at the Pepsi Center was supposed to be confidential. But word has leaked out to those who cover the Zags. According to other sources, the scrimmage didn't disappoint. The two teams played a 40-minute game and then a 20-minute period.
[+] Enlarge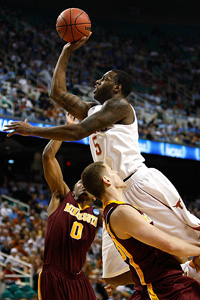 Streeter Lecka/Getty ImagesTexas coach Rick Barnes said Damion James, above, has grown as a player since looking into the NBA draft.
Texas won the 40-minute game 77-74, and coach Rick Barnes did try to lean more on his younger players than his veterans. Still, both sides gleaned plenty of positives from the scrimmage.
The biggest question for the Zags was in the middle. Gonzaga knew it could rely on the perimeter of Matt Bouldin, Steven Gray and Demetri Goodson. But what would happen with the departure of Josh Heytvelt inside? Robert Sacre was out most of last season with a stress fracture in his right foot. If he's healthy, the Zags have a legitimate post player.
Well, it was only a scrimmage, but Sacre was going against one of the best frontcourts in the country, led by Texas center Dexter Pittman. The word was all good for Sacre, who finished with 26 points and nine rebounds, according to sources who had knowledge of the box score.
If Sacre can become a major force for the Zags in the post, they will be able to compete with most teams in the country. He has to stay injury-free, which has been an issue for him.
The other major question for Gonzaga was how German native Elias Harris would handle a bigger stage, albeit on a practice court, against a top-3 team. Harris didn't disappoint either, scoring 22 points and grabbing eight rebounds, according to the source. There is a feeling among those close to the program that Harris will be equal to most freshmen in the country. He will likely have an immediate impact for the Zags.
Turning the ball over was an issue for the Zags late in the controlled scrimmage, which shouldn't come as a complete shock as the Zags transition from Jeremy Pargo to Goodson at the point. Finding Bouldin late in the game is a must if he's going to be their money player.
Barnes is a firm believer in scrimmages. He scrimmaged Davidson and Gonzaga in successive weekends instead of paying a team for an exhibition. While Barnes said he couldn't talk specifics of either scrimmage, he did say that scrimmages get a team more ready for the regular season because you can put your team in against a likely quality opponent.
The issue for Barnes will be how to rotate in a loaded, albeit inexperienced, perimeter. Against Davidson, Barnes started sophomore Varez Ward at the point and then rotated in J'Covan Brown and Dogus Balbay. Through a variety of sources, Barnes went with Balbay and Brown more at the point against the Zags. But the rotation will include times when freshman Avery Bradley (the likely starting shooting guard), freshman forward Jordan Hamilton and senior Justin Mason handle the ball.
What Barnes learned in these scrimmages is how much Brown, Hamilton and freshman wing Shawn Williams are going to help the Longhorns. There will be times when Barnes may go with four perimeter players and Pittman. But the versatility of those perimeter players also includes senior leader Damion James, who returned from testing the NBA draft waters a more fundamentally sound player.
What was evident through the first three weeks of practice is that as talented as Brown can be at the end of games, he still needs to find another gear. At the same time, Bradley could temper it back a bit since he sometimes plays too quickly. Williams and Hamilton are still figuring out the intensity and pace of practice and the college game.
Barnes said all of the freshmen and newcomers have had their moments of impact.
Shooting the basketball shouldn't be too much of a problem for the Longhorns. Sources said Williams and Brown made a pair of 3s, and if Bradley, Mason, Jai Lucas (who is eligible to compete in mid-December after transferring from Florida), James and Hamilton hit their share of deeper perimeter shots, the Longhorns will be able to display their offensive versatility.
Barnes' other charge in the next two weeks is to ensure that Gary Johnson, Clint Chapman and Matt Hill can maximize their contributions behind Pittman.
If there was one certainty that has emerged for Barnes, it is that James made an intelligent decision in returning to school.
"If you ever wondered if it was the right thing to do to allow him to go into the draft, then look at how much the experience helped him," Barnes said of James. Barnes said he was against the change in the withdrawal date that the NCAA adopted. The NBA deadline to withdraw from the draft is still 10 days before the draft, but players must let their college know by May 8, less than two weeks after the NBA's early-entry deadline, if they intend to return to school.
"It's a bad rule," Barnes said. "Ninety-nine percent of any kid that puts his name in the draft is thinking of staying in, but now they won't get the info. Why do we always do things that are about us [the coaches]? Let's do what's right for the kid."
Barnes does right by his players in providing quality competition. Texas plays North Carolina at Cowboys Stadium in Arlington, Texas, on Dec. 19 before hosting Michigan State on Dec. 22.
"I believe in it," Barnes said of tough schedules. "That's what kids want to do."