California struggles without two key parts
November, 20, 2009
11/20/09
1:36
AM ET
NEW YORK -- The Cal we saw Thursday night was not the Cal we picked to win the Pac-10. No way.
No Theo Robertson or Harper Kamp means no chance for California to win the Pac-10, at least until those players are back from a stress reaction (Robertson) and a knee injury (Kamp).
"Those two guys, along with [then-senior] Jordan Wilkes were key guys for us last season," Cal coach Mike Montgomery said. "All of a sudden we're picked with all the hype."
[+] Enlarge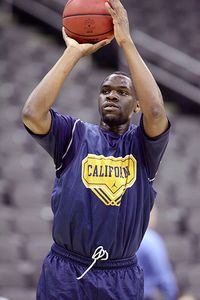 Douglas Jones/US PresswireSyracuse was already a tough enough opponent for Cal. And being without Theo Robertson certainly didn't help.
The Golden Bears were the best 3-point-shooting team in the nation last season and did return Robertson, along with senior guards Jerome Randle and Patrick Christopher. Robertson was averaging 18 points in the first two games, but suddenly couldn't practice when the team got to New York because of his bum right foot. Kamp stayed back in Berkeley because he's not ready to consistently practice after offseason knee surgery.
"They're the glue," Montgomery said. "They're the best thinkers and the people that really know what's going on now."
Cal could never catch Syracuse on Thursday night at Madison Square Garden, losing 95-73 in the semifinals of the 2K Sports Classic benefiting Coaches vs. Cancer.
Randle said he assumed Robertson was going to play.
"Then I saw he wasn't going to suit up and saw him in a boot," Randle said. "We had to have a different mindset for the game."
Montgomery said the Bears will know about Robertson's situation when they return to Berkeley on Saturday after Friday's third-place game against Ohio State. He said Robertson was "really, really sore and there was no way we were going to risk it at this stage in the season." Montgomery said Robertson wore a boot to keep his foot from flexing and to isolate where the pain was on his foot.
As for Kamp, Montgomery noted that he'd been practicing well but can't string together a few in row without discomfort.
"He wants to get to the point where he can practice hard and play the next day," Montgomery said. "He doesn't want to play, sit out and then play again."
Against the Orange, Randle had to take on much more of the scoring load with 25 points on 17 shots. Christopher struggled against Syracuse's zone by going 6-of-20 from the field and 0-of-7 from the 3-point line. The Bears were forced to play some big men that haven't had as much time like 7-foot-4 Max Zhang and 6-9 freshman Bak Bak.
"We need Theo, we need Harper, but until we get them back we have to pick up the slack," Randle said. "Missing Theo or missing Harper, we still have to win."
Senior Jamal Boykin got more involved without Robertson and Kamp with 14 points on 12 shots. Foul issues (four) limited the effectiveness of starter Markhuri Sanders-Frison.
The good news for the Bears is that the rest of the Pac-10 is in a state of flux, too. Washington, the other preseason favorite, hasn't been challenged yet. But UCLA fell flat to Cal State-Fullerton, Oregon State dropped two of three at a tournament at Texas Tech, and it's hard to say how good Oregon or Arizona are just yet. The likelihood of Arizona State having staying power is probably unrealistic with such a young team.
"I don't know if Syracuse is a great gauge to say if we're any good," Montgomery said. "They're big and we're not. I knew the zone would be a problem, and they had a lot of run-outs on us."
• Ohio State junior guard Evan Turner started the season with a triple-double against Alcorn State with 17 points, 10 assists and 11 rebounds. He got his second triple-double of the season Thursday night against North Carolina -- although this one wasn't nearly as nice: 23 points, 11 rebounds and 10 turnovers.
"It was a rough night, obviously," Turner said after the 77-73 loss to the Tar Heels. "I just have to come out [Friday]. The game is over and I just have to make sure it never happens again. Sometimes I might have thought about the situation too much, whether I should shoot or pass, so I traveled here and there."
• The tournaments on the ESPN family of networks get plenty of pub. But there is one tourney not on ESPN's air that is flying too far under the radar. The Paradise Jam begins Friday in the Virgin Islands and could provide a stellar final four of its own this weekend.
If the seeds hold, the semifinals in this event could feature four teams that are destined for the NCAA tournament.
Tennessee, which needs to beat East Carolina in the first game, would match up against Northern Iowa in one semifinal, assuming the Missouri Valley Conference preseason favorite beats DePaul.
The Volunteers are coming off an otherworldly 124-49 win over UNC Asheville in which Scotty Hopson came out of his shell and scored 25 points.
The Panthers beat a solid Denver squad 71-65 in their opener with a balanced effort, led by Kwadzo Ahelegbe's 18 points and 13 from Adam Koch.
On the other side, assuming Purdue gets past South Dakota State (which upset Wyoming on the road last week), the Boilermakers could face Boston College. The Eagles have to fly past a Saint Joseph's team that opened up with wins over Drexel and Holy Cross. But BC gets suspended starters Rakim Sanders and Corey Raji back for the opener against the Hawks. Boston College found a new scorer in their absence, as senior Tyler Roche has gone for 30 and 19 in the two games. The Eagles already knew they had a stable set of guards in Reggie Jackson and Biko Paris.
Purdue will enter this tournament minus point guard Lewis Jackson, who is out indefinitely with a foot injury. Coach Matt Painter said he expects Kelsey Barlow to get more minutes in the rotation, even though Barlow doesn't play the same position. The Boilermakers will still lean on Keaton Grant at the point and have veteran leadership up front with Robbie Hummel, JaJuan Johnson and E'Twaun Moore with D.J. Byrd (13 ppg) and Chris Kramer (11 ppg) more than holding their own.
So don't sleep on this weekend's Paradise Jam. A final four in St. Thomas of Tennessee-Northern Iowa and Purdue-BC would probably be one of the better semifinals of any of these early-season events.