Sidney waits as NCAA continues to investigate
November, 23, 2009
11/23/09
7:34
PM ET
EDITOR'S NOTE: On Sunday, Outside the Lines aired a segment on the Renardo Sidney situation. That can viewed by clicking here.
Mississippi State coach Rick Stansbury is understandably worried this week about Renardo Sidney's capacity to handle the unknown.
Every day, Stansbury said, Sidney comes to practice and asks the same question: Any word? The answer has been no for quite some time. No word on his eligibility -- and even though it was changed recently to being "under review" -- there is no guarantee that a decision about his eligibility is forthcoming.
Earlier this year, the L.A. Times reported that there were questions about how the Sidneys, who moved from Jackson, Miss., to the Los Angeles area, could afford housing in the area for the two years they lived there. The story detailed the connections between sneaker sponsorship and Sidney's odyssey to Southern California.
Sidney's attorney, Montgomery, Ala.-based Don Jackson, said the lack of a decision is in essence a suspension. Mississippi State leaves later in the week for South Padre Island, Texas. Sidney won't be able to attend if he's not cleared to compete.
[+] Enlarge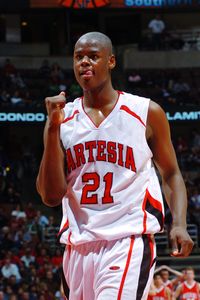 Chris WIlliams/Icon SMIWill Renardo Sidney ever suit up for Mississippi State in a game? That's anyone's guess at this point.
Sidney's attitude apparently fluctuates. He isn't in great shape yet, because it's hard for him to push himself to the maximum without knowing whether he'll play. The coaching staff has similar feelings since they can't count on using him at this juncture. Through a variety of sources, the school is under the impression that the NCAA hasn't found a violation yet to hang the case on. The school is hoping to hear more early this week, but with the Thanksgiving holiday, this could drag on into December.
Stansbury said it's hard to ignore the cloud that is over the program because no one has an answer. The Bulldogs have been dealing with other issues recently. Stansbury suspended forward Kodi Augustus for two games after Augustus publicly questioned Stansbury's playing-time decisions after the loss to Rider. The schedule also starts to get tougher when the Bulldogs play Richmond in South Padre on Friday.
Meanwhile, from a variety of sources with knowledge of the situation, if no decision occurs then Sidney is essentially ineligible. The NCAA knows that Mississippi State isn't going to run the risk of playing Sidney, even if Jackson were to get a court injunction. Why? Because if he's ultimately ruled ineligible, the Bulldogs would have to vacate games -- and it's not worth doing that.
Sources said that the NCAA legal counsel has been in the loop and it would defy logic from the NCAA's standpoint if the organization purposely used this as a stall tactic to help a legal case that could be forthcoming. If Sidney were to sue to force an injunction, then the NCAA could use that lawsuit as a way to use discovery to get some of the information that it still covets. The case has been completely tossed upside down with it moving from the enforcement wing to the eligibility center, which the head of that operation, Bill Saum, has been removed from his post. This has slowed the case down by forcing others to get involved who haven't worked on the case from the outset. The NCAA won't say anything about Saum's departure except that it was a personnel matter.
As for Jackson, he said he continues to provide information. This is the latest missive of what he has provided (in his own words):
1. NCAA Eligibility Center staffer Alex Hammond personally reviewed deposit records for every family bank account since the family's move to California. Notably, bank deposits matched information previously provided to the NCAA regarding payments from boarders, loans from family members, payments from Reebok and loan proceeds from a FDIC-regulated financial institution. NCAA ELIGIBILITY CENTER STAFF ARE NOW REQUESTING THAT THE SIDNEY FAMILY PROVIDE "RECORDS" TO ESTABLISH THE SOURCE OF EACH OF THESE DEPOSITS. I was advised by an attorney for the NCAA that the family should be able to get information from their bank establishing the source of every check that was deposited into their accounts. For example, if John Doe wrote Patricia Sidney a check in 2007, the NCAA Eligiblity Center staff is under the mistaken belief that the financial insitution should have records containing John Doe's name. This is an intentional effort to seek production of records that are non-existent and is nothing more than an effort to establish a foundational basis to deny his certification. Records of this nature do not exist.

2. Canceled checks for every Reebok payroll check and team sponsorship payment to Renardo Sr. were provided to the NCAA Eligiblity Center staff. These payments totalled in excess of $200K over a three year period. Sidney Sr. had specific duties under the terms of his agreements with Reebok.

3. Deposit records for the Dream Team Foundation and the predecessor foundation (that sponsored the summer league team) were provided to NCAA Eligibility Center Staff.

4. Records documenting team travel expenses, including airline purchases, were provided to the NCAA Eligibility Center.

5. IRS and State of California filings for Dream Team Foundation and predecessor non-profit corporation.

6. Sponsorship and supply agreement between Reebok and the Dream Team Foundation. The Dream Team summer league team was coached by Renardo Sr.

7. Bank records outlining ALL payments for travel expenses for the Dream Team Foundation were provided to the NCAA. This included numerous airline tickets, hotel and restaurant payments for members of the Dream Team. This also included identical information for the predecessor non-profit corporation.

8. Notwithstanding the fact that cellular telephone records were previously produced to NCAA staff, a demand was made that the Sidney family execute a records release allowing the NCAA to access additional cellular telephone records for the Sidney family. This request was made to seek access to EVERY cellular telephone call that was made by the family over a period of several years.

9. Payment history documenting each payment made to Renardo, Sr. under his consultant agreement and the sponsorship and supply agreeement.

10. Checkbook register carbon copies and canceled checks from "boarders who resided in the Sidney home and contributed to monthly rental payments."

Demands have been made that the family provide tax records for Sidney's maternal grandmother, maternal grandfather and maternal step-grandfather. The maternal grandfather is a retired automotive industry employee who made in the mid-six-figure income range. The maternal step-grandfather is a deputy sheriff and retired military serviceman.
Jackson said that the NCAA has put the burden of proof on the Sidney family without giving them a violation to defend. Why does he say that? Because he's convinced there are no violations. It will be interesting to see if the NCAA puts forth a violation or simply doesn't make a decision based on the circumstantial evidence.
The Bulldogs aren't worried about Sidney leaving at the end of the semester to go overseas since he's not that marketable at this juncture without any game competition.
• Kentucky coach John Calipari spent Sunday afternoon in Cancun, Mexico, thinking of ways to tinker with his lineup. The Wildcats have displayed shaky defense in two of their four games. Miami (Ohio) and Sam Houston State combined for 162 points and 33 3-pointers.
"It's the biggest team I've coached, including the New Jersey Nets," Calipari said by phone from Cancun, referring to his Wildcats. "We finally played some defense against Rider, shutting someone down. That's a very good Rider team [that beat Mississippi State]."
Calipari said the recent play of freshman forward Daniel Orton may mean more minutes for him in the lineup. Orton played only 10 minutes against Sam Houston and didn't score. But he played 23 against Rider and he put up 14 points and grabbed six boards.
"I may have to play Orton and DeMarcus Cousins together because Orton is playing so well," Calipari said. "I'm going to have to steal some minutes from somewhere."
The dilemma for Calipari is that he has to keep Patrick Patterson on the floor, so if he also has Cousins and Orton, that's quite a big lineup. Patterson can hit the face-up jumper or 3-pointer, which could mean he would be the more likely of the three players to be off the block.
Meanwhile, Calipari also may need to tweak his backcourt. Freshman John Wall isn't an issue with his 20.3 points and 7.3 assists (and 4.3 turnovers) average in three games. But suddenly fellow freshman Eric Bledsoe has to play sound fundamentally. Bledsoe has a team-high 22 turnovers (and 14 assists) in four games.
"They've been sloppy turnovers," Calipari said. "I told him he's got to raise the bar."
Calipari said he wants him to be aggressive, but without turning the ball over so much.
Kentucky plays Cleveland State in Cancun on Tuesday and then either Virginia or Stanford on Wednesday.
• I completely understand the new format of these tournaments that start on campus and then head to a neutral site. The Gazelle Group has it right by locking in the finalists, regardless of what happens on campus. It's somewhat of a bowl-like scenario for the organizer. The CBE Classic pits Texas and Iowa and Pitt versus Wichita State. Iowa lost to Duquesne and Texas-San Antonio. I'm not sure Iowa will bring a ton of fans to Kansas City, Mo., but it will be more than either of those two teams.
Locking in Syracuse, Cal, North Carolina and Ohio State avoided any kind of Gardner-Webb situation like the event had a few years ago with Kentucky. The NIT Season Tip-Off, run by the NCAA, would've been burned had Hofstra upset Connecticut. If that had happened, the coveted UConn-Duke final and a likely huge fan turnout at Madison Square Garden would not have occurred.
With that said, Gazelle misfired on the Legends Classic matchups. In order to ensure Michigan State played Florida, the game was set up as a semifinal Friday in Atlantic City, N.J. The other matchup is between Massachusetts and Rutgers, two teams that are struggling right now, losing home games to Cornell and Vermont, respectively. That's great to get MSU-Florida. But don't call this a tournament with a championship trophy. Whoever wins the MSU-Florida game should be handed the trophy, not who then goes on to beat UMass or Rutgers. There is no way either of those teams should be playing in a title game. In this instance, it's simply a round-robin tournament that shouldn't have a true champion.