Mazzulla happy to be back with Mountaineers
November, 26, 2009
11/26/09
2:38
AM ET
ANAHEIM, Calif. -- West Virginia's
Joe Mazzulla
made his mark with a near triple-double against Duke in the 2008 NCAA tournament.
The Mountaineers won the game and Mazzulla seemed to be a rising star. But his junior season was a flop.
He didn't play after Dec. 9 because of a shoulder injury. A domestic battery charge forced him to be suspended from the program over the summer. He was reinstated to the team in late August, but his left shoulder wasn't ready.
So he sat again -- until Tuesday night in Charleston, W.Va., where he finally played 15 minutes against The Citadel, dishing out six assists. It was nearly two years since he last played and was relevant with this team.
Now on the eve of only the Mountaineers' third game of the season, a first-round 76 Classic game against Long Beach State, Mazzulla is prepared to make his mark again. He'll likely team up with Darryl "Truck" Bryant in the backcourt.
[+] Enlarge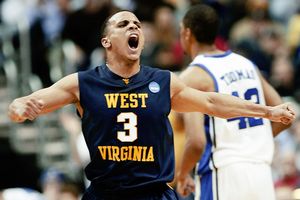 Win McNamee/Getty ImagesIn 2008, Mazzulla played a large part in WVU's second-round upset of Duke in the NCAA tourney.
"I was so excited to get out there,'' Mazzulla said during Wednesday's practice at the Anaheim Convention Center. "I was worried about being a step slow defensively and not being able to play. But I got over that and I've been watching a lot of film.''
West Virginia coach Bob Huggins said he purposely held Mazzulla back in the first weeks of the season because it wasn't worth rushing him back to the court.
"I trust Huggs and listened to him and my athletic trainer about what I should do,'' Mazzulla said.
The Mountaineers could be at full strength for the Long Beach game if sophomore Devin Ebanks plays after sitting out games this season due to "personal reasons."
The Mountaineers, who were picked to finish second in the Big East, are just happy at the prospect of three games in the next four days.
"We're probably the only top 25 team that has played only two games,'' Mazzulla said. "We're tired of beating each other up. A lot of people are forgetting how we play. Cincinnati and Syracuse are great teams, but now we have a chance to be on nationally televised games and make a statement."
More news and notes from here in Anaheim:
• After being around the UCLA team on Wednesday night at Disney, I got the sense that they are confident Nikola Dragovic will get off from his assault case with the spin that Dragovic was the victim, not the aggressor, once his side is fully developed.
• UCLA desperately needs Tyler Honeycutt to be back in the lineup sooner than later. Honeycutt can solve some of the scoring issues for the Bruins. The problem is UCLA coach Ben Howland said Honeycutt has a stress reaction in his right tibia. He is being held out for precautionary reasons while his injury heals.
• Clemson has won 11 straight nonconference road games under Oliver Purnell. It's still impressive that Purnell took a high-level ACC team to Liberty and UNC Greensboro this season.
• You might not meet finer folks than Portland coach Eric Reveno and Butler coach Brad Stevens. Two coaches who are solid people with seemingly loving, young families, run their programs the right way. Both are destined to keep their respective schools near the top of their conferences.
• UCLA athletic director Dan Guerrero said the Bruins will play at the L.A. Forum (now used as a church) during the 2011-12 season while Pauley Pavilion gets a facelift. The exterior renovation of Pauley will start next season. The Bruins may play some games at Anaheim's Honda Center or at the Staples Center in 2011-12, too. But the Forum will be the main home and Guerrero said the arena operators were glad to help. He said the Bruins will have to provide a scoreboard since there is no longer one in the building.
• Portland athletic director Larry Williams said Oregon hasn't shown an interest in renewing its home-and-home series, which is ending after an eight-year run. Portland just beat the Ducks last week. Oregon State apparently isn't biting either, and there is concern that Washington, which concludes a home-and-home with the Pilots on Dec. 19, may not want to renew, either. The Pilots beat Washington last season in Portland. This is all a shame since the Pilots are becoming a quality opponent and a good power-rating team. The Portland-Oregon potential split is akin to the Washington-Gonzaga series. The Huskies don't want to do a true home-and-home anymore. This is a classic case where getting better ends up hurting quality nonconference scheduling.
[+] Enlarge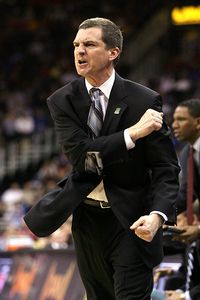 Douglas Jones/Icon SMITexas A&M coach Mark Turgeon seems fired up about his team's chances for another tourney bid.
• Texas A&M coach Mark Turgeon doesn't mind that the Aggies are clearly the one school that is way under the radar at this event. The Ags don't really have a national profile with this group yet. But Turgeon said he's going to play quicker. If Bryan Davis can stay out of foul trouble, A&M has a real shot to be sneaky-good. Turgeon said he is fully confident that the Aggies will find a way to be in the NCAA tournament again.
• Found out that Minnesota director of basketball operations Joe Esposito coached one of the all-time bizarre characters I covered at Fresno State, James "Gumby" Gray. Esposito coached him while at Angelo State (Texas). Anyone who was around the Bulldogs in the mid-90s knows Gray was one of a kind.
• When saying a few words at the pre-tournament reception at Disney Wednesday night, I mentioned seven of the eight coaches. Everyone except Bob Huggins. And trust me, I'll never hear the end of it. It was a minor slip and Huggs was quick to poke fun at me that I only mention his name when there is bad news.
• It's just too bizarre that Dan Monson is here with Long Beach State and so too is the school that fired him in Minnesota. The 49ers are on opposite sides of the bracket, but if the two schools could meet in the consolation bracket. Monson told me in the preseason that he's as relaxed as he's ever been and it shows. He's in a good space.
• Paul Biancardi, the director of scouting for ESPNU's Scouts Inc., says Long Beach State had a solid recruiting class with three players that could keep the 49ers near the top of the Big West: 6-4 Jacob Thomas (Columbia Heights, Minn.), 6-5 Shelton Boykin (Long Beach Poly) and 6-9 Nick Shepherd (Houston's Westbury Christian).
• Give some credit to Stanford's Johnny Dawkins for quite an effort from the inexperienced Cardinal in Cancun. Stanford beat Virginia on Tuesday and pushed Kentucky on the ballroom floor before losing in overtime on Wednesday night.
• Wisconsin will make the NCAA tournament. I said it. I believe it. The Badgers, picked ninth in the stealth Big Ten poll, have once again overachieved.
• Gonzaga's Maui Invitational win is yet another way the Zags legitimize themselves as a high-major program that plays in a mid-major league. So let's stop the nonsense of putting the Zags in the mid-major category.
• Butler is creeping closer to Zag territory, but the schedule isn't high-major yet. Butler does have quality games like this event, hosting Ohio State, playing Georgetown in New York, but the Bulldogs still play true road games at nearby Ball State and Evansville. Gonzaga is done playing those type of regional home-and-home series.
• Wow, Holy Cross is 0-5 after getting blown out at UNLV on Wednesday. Meanwhile, Pacific is 5-0 after beating San Diego State. And in a game involving former Kentucky opponents, Rider surprisingly was run over by Sam Houston State.
• The Vanderbilt win over Arizona in the fifth-place game is going to be one of those games the Commodores look back on and say that was a must get after dropping the opener to Cincinnati.
• No question the three biggest misses for the preseason top 25 were Syracuse, Gonzaga and Cincinnati. It's early, but those three sure look like top 25 teams on the court.