The Big 12 and Pac-10 play one of these, too
December, 3, 2009
12/03/09
7:33
PM ET
For the first time in the 11-year history of the event, the Big Ten finally won its Challenge against the ACC.
But are you aware of the standings in the Big 12/Pac-10 Hardwood Series?
Don't be upset if you have no idea. The concept is perfect for the two power six leagues, but the execution still needs work. In 2007, the Pac-10 won the first challenge 7-5, while the two conferences tied 6-6 in 2008.
The 2009 event is already under way, if you hadn't noticed, with Nebraska's 51-48 win over USC on Sunday giving the Big 12 a 1-0 start.
The slate of games in the event continues Thursday night with Washington at Texas Tech (ESPN2, 7 p.m. ET), USC at Texas (ESPN2, 9 p.m.) and Baylor at Arizona State (FSN, 10:30 p.m.).
The rest of the games are as follows (all times ET):
Friday: Colorado at Oregon State (FSN, 11 p.m.)
Saturday: Oregon at Missouri (ESPNU, 5 p.m.), Washington State at Kansas State (ESPNU, 9 p.m.), Iowa State at Cal (ESPNU, 11 p.m.)
Sunday: Kansas at UCLA (FSN, 5:30 p.m.), Arizona at Oklahoma (ESPNU, 7 p.m.)
Dec. 16: Oklahoma State at Stanford (FSN, 10 p.m.)
Dec. 22: Texas A&M at Washington (FSN, 11 p.m.)
Therein lies part of the problem. Do you notice how spread out this event is? It lasts for nearly a month.
"It's been good for both leagues, and it adds a quality opponent to the schedule, which helps the RPI," Texas A&M coach Mark Turgeon said. "The only thing I would change is to try to get the games done in one week. I know it's hard with 12 versus 10, though."
[+] Enlarge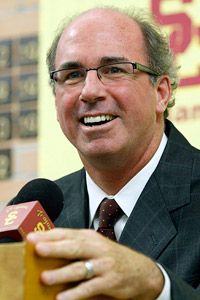 AP Photo/Nick UtUSC and new coach Kevin O'Neill have already lost to Nebraska … No. 2 Texas is up next.
Indeed, two Pac-10 teams have to play twice in the event to ensure that all 12 Big 12 schools get an opponent. That's one of the problems. The other is that there are existing contracts with Big 12 and Pac-10 schools that are already ongoing, so it's hard to determine which games are part of the series and which ones aren't.
Another aspect of the event is that the matchups don't deviate from one year to the next. These are home-and-home series over a two-year period. In the Big Ten/ACC Challenge, the only thing that is certain is that if you're on the road or at a neutral site one season, you'll be at home the next. But the opponents rarely are the same each season (the Clemson-Illinois and North Carolina-Michigan State series are more the exception than the rule).
"The reality is that it becomes more of a home-and-home series with a return than a challenge," said Colorado assistant coach Steve McClain, who has coached four games this season while Jeff Bzdelik takes care of health-related issues in his family.
Colorado starts up a two-year series in the event Friday with a comparable rebuilding partner in Oregon State.
Kansas and Texas are the marquee teams in the Big 12 and don't necessarily need the event. But ensuring a Texas-UCLA series, which occurred in the first two years, and now a Kansas-UCLA series (after Kansas played Arizona in consecutive seasons) is good for both parties.
"We're recruiting out West, and for us to play UCLA and now USC, it gives us a presence," Texas coach Rick Barnes said. "It gives us another quality non-league game early in the year."
Texas doesn't shy away from these those, as it has consistently played a top-five schedule. The Longhorns already played Pitt in Kansas City and will play North Carolina in Dallas and host Michigan State before the end of the calendar year. Kansas played Memphis in St. Louis and has home games against preseason top 25 (though now-fading) teams Cal and Michigan later this month.
While Kansas and Texas don't need to schedule something like this, they're not going to fight the concept.
And for the rest of the league, it is coveted. Think about this: Washington State at Kansas State is a quality game for both schools since the folks in Pullman, Wash., and Manhattan, Kan., have a tough time getting true home-and-home series with fellow power-six schools. Texas Tech would have the same issue in trying to get Washington to come to Lubbock if it weren't mandated by both leagues.
Missouri's win over Cal in last season's event was one of the Tigers' best non-league wins. Texas A&M beating Arizona helped the Aggies a year ago, too.
"It's just like Illinois going to Clemson. That might not happen without the event," said Barnes, who once coached at Clemson. "This is building."
Iowa State desperately needs a road win after dropping a neutral-site game to Northwestern this weekend and then a home game Wednesday night to Northern Iowa. And with Cal losing at New Mexico on Wednesday, the Hardwood series matchup with the Bears and Cyclones on Saturday takes on even more meaning for both schools.
"This gives us a quality opponent at the right time of the year," said Iowa State coach Greg McDermott before Wednesday's loss to the Panthers. The Cyclones will be taken even more seriously if they can get a win.
"It's good to be relevant now," said McDermott, who sat L.A. Pomlee for the UNI game and lost Jamie Vanderbeken to a leg injury in the first half, but has two studs in Craig Brackins and Marquis Gilstrap on the squad. "We're moving in the right direction, and I like our approach."
Actually, the game to watch might be Oregon's Saturday afternoon visit to Missouri. These are two teams that love to run and press. Both teams need the win badly, too. Should be a fun one.
• The Pac-10 is getting beat up this season, and with good reason. The league hasn't stood out with any big-time wins yet and only Washington seems to be getting through unscathed, at least before Thursday night's test.
This isn't an excuse, but it is interesting to note where the players from the league's all-freshman teams of the past three seasons are these days:
2006-07
Ryan Anderson, Cal (Orlando Magic)
Chase Budinger, Arizona (Houston Rockets)
Taj Gibson, USC (Chicago Bulls)
Spencer Hawes, Washington (Sacramento Kings)
Brook Lopez, Stanford (New Jersey Nets)
Tajuan Porter
, Oregon (Pac-10's active career scoring leader)
2007-08
Jerryd Bayless, Arizona (Portland Trail Blazers)
James Harden, ASU (Oklahoma City Thunder)
Davon Jefferson, USC (Israeli pro league)
Kevin Love, UCLA (Minnesota Timberwolves)
O.J. Mayo, USC (Memphis Grizzlies)
2008-09
DeAngelo Casto
, Washington St. (averaging 12.8 ppg/5.7 rpg)
DeMar DeRozan, USC (Toronto Raptors)
Jeremy Green
, Stanford (averaging 15.1 ppg)
Jrue Holiday, UCLA (Philadelphia 76ers)
Isaiah Thomas
, Washington (averaging 20.6 ppg)
Klay Thompson
, Washington St. (second in the nation with 26.4 ppg)