Reinforcements on the way for Seton Hall
December, 14, 2009
12/14/09
6:54
PM ET
Seton Hall better not take a cue from UTEP or Boston College when adding a key player to the mix midstream. The transition can be bumpy.
[+] Enlarge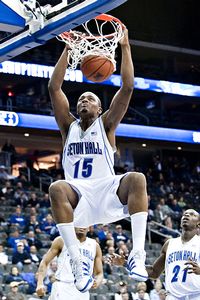 Duncan Williams/Icon SMIHerb Pope is averaging a double-double for an 8-0 Seton Hall team this season. But the going only gets tougher for the Pirates.
UTEP added Derrick Caracter to its lineup Sunday for the first time this season. Caracter scored two points in 12 minutes and the Miners lost 87-80 to New Mexico State at home after beating the Aggies by 21, 12 days earlier in Las Cruces, N.M.
Boston College, fresh off a home loss to Harvard, finally got
Rakim Sanders
back after a high ankle sprain. Sanders had only played four minutes this season -- in a loss to Saint Joseph's in the opening of the Paradise Jam in St. Thomas (he was suspended for the first two games of the season for a violation of team rules). Sanders played 34 minutes on Sunday night and was 5 of 14 for 14 points as the Eagles looked lost in a defeat to upstart Rhode Island, 80-69. Seton Hall has even more at stake. The 8-0 Pirates will be adding
Keon Lawrence
, back from his suspension for the first semester for a DUI arrest, and Memphis transfer
Jeff Robinson
for this Saturday's game against Temple. The Pirates are coming off an absurd game against quick-shooting VMI, winning 134-107 with
Jamel Jackson
coming off the bench to make 12 3s and score 40 points while
Jeremy Hazell
scored 33 and
Herb Pope
brought down 20 rebounds. Things are good at the Hall and with Temple starting off a brutal slate of games -- Navy (Dec. 22), easily the softest followed by Big East beasts West Virginia (Dec. 26), Syracuse (Dec. 29), Virginia Tech in Cancun, Mexico (Jan. 2), at Connecticut (Jan. 6), Cincinnati (Jan. 9) and at Georgetown (Jan. 14) -- the Pirates don't have much room for error. Either Seton Hall is going to be flying high by mid-January or hoping it can be relevant when the soft landing of the Big East schedule arrives in its final four league games -- Rutgers, Marquette, at Rutgers, at Providence. "All I know is that in the last three years, we haven't had enough players," Seton Hall coach Bobby Gonzalez said. "I'd rather try to keep everyone happy more than not have enough. We've never had enough at Seton Hall." Gonzalez said he told the team that "we're going to learn some things about our team. Everyone has been saying that it has been cupcake city. How good are we? We'll find out right off the bat. It's going to be no joke. We're just trying to win as many of these games as possible and get into the Big East and see how good we are. We understand we have to prove ourselves now." Gonzalez said the grinder of the Big East hits every team at some point and for the Pirates it's coming early. "It's going to be a challenge and I've told them all they have to step up," said Gonzalez of the first game against Temple, which is coming off a win over Villanova Sunday. "We'll need every piece to be good to go to the NCAA tournament [for the first time in Gonzalez' three-plus seasons as head coach]." Gonzalez said not having Lawrence to start the season messed up the team. And he said Lawrence's abrupt suspension prior to the opener led to the Pirates nearly being knocked off in their opener to St. Peter's (53-51 win). "We had been starting him the whole first month of the year and that screwed us up," Gonzalez said. "Three days before the first game I had to change the lineup. I should have just gone with [returnees]
Robert Mitchell
and Jeremy Hazell. I was believing in Keon and it screwed us up. I should have stayed with what was working." But now that he has Lawrence back, Gonzalez said he will be part of the second unit as a player who allows him more flexibility at shooting guard defensively. He said the defensive matchups that Seton Hall can now deal with have improved by rotating in Lawrence and Robinson. But he knows he'll have to massage the egos on a squad where things are working. The Pirates have four players averaging double figures in scoring -- Hazell (21.5 ppg), Pope (14.6), Mitchell (13.4) and Jackson (11.1) -- with
Eugene Harvey
(9.9) and
Jordan Theodore
(9.6) just a smidge under. The amazing thing about the VMI game is that
John Garcia
, who was averaging seven boards a game, didn't play because he was ailing and Gonzalez wanted to rest him for Temple. What Gonzalez had no idea about was Pope's continued ability to rebound and that Jackson could be this dead-on as a 3-point threat. Pope, a transfer from New Mexico State, has had six double-doubles and three games with 15 or more rebounds. "He's such a natural," Gonzalez said. "He's got a nose for the basketball both offensively and defensively. He gets the tough rebounds out of his area. He's got great hands. His post-game needs work and he's shooting horrible from the free-throw line [16-for-43 for 37.2 percent] but he's some rebounder." Meanwhile, Jackson is being billed as Seton Hall's Rashad Anderson, the former Connecticut guard who was a specialist 3-point shooter. Jackson played two years at Technical Career Institute before transferring to Seton Hall. Gonzalez said the Pirates thought they were getting him last year but a grade didn't come through for him and he had to go back to the junior college. He was the 2008 NJCAA Region XV player of the year and played two years at Boys to Men Academy and Lincoln High in Brooklyn. So, as you can see, he's well-traveled. But now it's worth the wait. "He's a big guard who makes shots," Gonzalez said. "There are certain matchups that are going to be better for him." That's quite true. Jackson played only 12 minutes against UMass in the previous game, missed both 3s and scored just one point (at the free-throw line). Remember, he went for 40 off the bench with 12 3s against VMI. If Gonzalez can keep everyone pleased with their roles, if he can get the right contributions and combinations then we'll know if the Pirates are a real player when it's through with this gauntlet on Jan. 15. "I can see the potential of this team," Gonzalez said. "It reminds me of the Providence team I coached under with Pete Gillen that went to the Elite Eight [1997]. I'm not saying we're an Elite Eight team. We're going to have to hope and pray we make the NCAA [tournament]. But I think this team has the potential to be a factor. It's exciting. I don't think there's any game this season that we won't go into that we have no shot. We should be a legitimate contender in every game we play."