A missing stopwatch was reason for long delay
December, 21, 2009
12/21/09
1:27
PM ET
The fallout from the clock management issue at the end of Saturday's Butler-Xavier game at Hinkle Fieldhouse is this: Make sure every officiating crew has a stopwatch with them prior to tipoff.
John Adams, the NCAA's current coordinator of officials and former Horizon League officiating chair, lives in Indianapolis and happened to be at Saturday's game.
He witnessed firsthand how the officiating crew handled the delicate situation of determining that the final 1.2 seconds had actually elapsed as Bulldogs sophomore Gordon Hayward's putback went through the net in Butler's 69-68 win. Because the clock stopped with 14.7 seconds left for a hiccup of time, that meant Hayward had actually scored with five-tenths of a second left.
Adams said Hayward released the ball with 1.8 seconds left, it reached the basket with five-tenths of a second left and it took six-tenths to get through the basket -- meaning the game was in fact over.
Adams said he sent a note to all conference coordinators that they must check the scorer's table 10 minutes prior to tipoff to make sure there is a stopwatch.
The 10-15 minute delay at the end of Saturday's game was a result of the referees' lack of a stopwatch on any of them. One had to be found for them in the coaches' offices at Hinkle Fieldhouse.
"I knew they were looking all over for one," Butler coach Brad Stevens said. "I think they got it out of one of the coach's offices or in the weight room."
Adams cited Section 10, Article 1 in the rule book, which states the duties of the timer is to provide a stopwatch. He said this rule was put in play two years ago.
"I don't remember ever seeing a game like that take so long to figure out," Adams said. "But it was purely an issue of not having a stopwatch. The guys were prepared to wave off the Butler basket if that had been discovered, too.
"The crew did everything right," Adams said of D.J. Carstensen, Sid Rodeheffer and Bo Boroski.
Adams said the clock also stopped with 36 seconds left in a similar hiccup. He said the officials did the right thing by going back to check the clock in between the held ball and the dead ball after Hayward's basket.
"You can't go back any further to fix a timing error," Adams said. "They did everything right in the rule book."
Adams had to get a tape to watch it again because his DVR shut off right before the end of game.
"It's not my responsibility to manage the situation at a game like that," Adams said. "But I wanted the officials to make a statement to explain what happened."
[+] Enlarge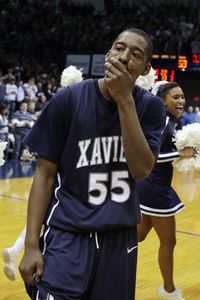 AP Photo/Michael ConroyJordan Crawford reacts in disbelief as the officials end Saturday's game after a lengthy review.
Adams said he wanted to stress that the call could have gone the other way and the Butler basket may not have counted if it had been discovered that more time had elapsed.
"I went to the assistant police chief and said I think there is a 50-50 chance that they will wave off the basket," Adams said. "If that happens, you need security with [the officials] right away. Once Xavier got the bad news, it was momentarily not pretty. But I'll hand it to the Xavier coach [Chris Mack]. He wasn't happy, but he didn't go crazy. He got his team off the floor and was gracious in the interview room."
Mack was understandably upset and waved his hands around and did follow the officials on the court for a few steps. A few players from Xavier jawed a bit and had to be pushed back by XU personnel.
"They thought they had 1.2 seconds left to throw it up and take a shot, but there wasn't," Adams said. "That basket almost didn't count. It was a wild finish, marred by a lengthy delay of not having a digital stopwatch."
On Monday afternoon, Mack e-mailed ESPN.com with the following comment, taken word-for-word:
"Really, there is no difference in opinion on the facts. The clock stopped and we had to wait for the officials to sort it out. We were anticipating a last-second play initially. After a little discussion with the officials, I began to feel that the game was over and that depending on how much time elapsed (turned out to be 1.3 seconds), Hayward's shot was either before or after the buzzer. The officials made the right call on the timing. Tough ending. There were a few time stoppages and non-stoppages in the final minute, but those weren't under review and hadn't been made aware to the officials. At the point they reviewed the final possession, I don't think by the letter of the law, officials are able to go back beyond the final possession. Butler is an excellent team, we gave it all we had and unfortunately came up short. We'll be better because of it."
As for Stevens, he said he was also initially telling his players in the huddle how to defend a play with 1.2 seconds left. But as the minutes mounted he got the impression that the game was over one way or another: Either Butler was going to win or the basket was going to be called no good.
"I hate that it ended that way," Stevens said.
But one thing Adams and (of course) Stevens agreed on was that the game wasn't handed to Butler. Hayward made the play to win the game.
"It was a remarkable basketball play," Stevens said. "Gordon was on the ground, got up and got the loose ball and put it in. There aren't many who have such a wherewithal that he has. He's got a special savvy."
Stevens also feels his Butler team still has a shot to be special.
"Xavier played terrific," Stevens said. "We lost by one point to Clemson. Does that make Clemson night and day better than us? No. We were fortunate to win by one point against Xavier. But there's no doubt those wins [Ohio State and Xavier] were huge for us."
Butler is facing one of the toughest schedules in school history and up next is a game at UAB on Tuesday night. The Blazers beat Cincinnati at home last week and have only one loss. Elijah Millsap is having an all-star season for UAB.
The Bulldogs won't get a breather when the Horizon League starts with UW Green Bay as the opener. The Phoenix beat Wisconsin at home and lost at Oakland in large part because their best player -- guard Rahmon Fletcher -- was out with a knee injury. He returned against Youngstown State and scored 28 points in 28 minutes.
The Horizon will provide plenty more challenges for the Bulldogs with Wright State and Detroit capable of being pests at home. Cleveland State nearly knocked off West Virginia, Loyola (Ill.) won at Bradley and Illinois-Chicago is coming off a week in which it beat Oregon State and Northern Illinois.
None of these opponents, save West Virginia, is comparable to what Butler has played, but you have to remember that the Bulldogs go into every road game as the target and must be up. It's the same thing that Gonzaga has to deal with in the WCC and what Davidson dealt with it in the Southern Conference during the Stephen Curry days.
That's why it's no surprise when games are tight on the road and controversies occur that get little pub. Butler lost at UW Milwaukee by three last season in late February.
Butler had the ball with 5.9 seconds left. Along the baseline, Hayward passed the ball to Willie Veasley. But the clock started on the pass, not when the ball was inbounded. Veasley then passed to Zach Hahn, who didn't get a shot off before the clock expired.
The game was not televised and referee Todd Williams said after the game that an on-site monitor didn't have the view of a clock.
Stevens said that last season the "referees did what they were supposed to do, they went and looked at the monitor and there was no way to look at the clock."
So Butler didn't get a shot off. On Saturday, neither did Xavier. But it was apparent through the timing of a stopwatch that the officials got the call right.