Gerrity's presence gives Trojans confidence
December, 22, 2009
12/22/09
9:56
AM ET
USC coach Kevin O'Neill was probably the only one in the country who had redshirt senior point guard
Mike Gerrity
as the most significant mid-December addition to a team.
O'Neill had to be, considering Gerrity had shown little at Pepperdine or Charlotte to indicate he could be an instant impact player.
[+] Enlarge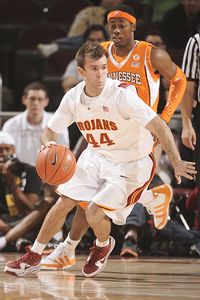 Matt A. Brown/Icon SMIPoint guard Mike Gerrity's performance against Tennessee gives the Trojans confidence.
Former USC coach Tim Floyd gave Gerrity a scholarship for his final semesters in college after the hometown and nearby Mater Dei High alumnus transferred back last season to be a walk-on with the Trojans. But Floyd probably didn't envision Gerrity to be the starting point guard -- let alone a major contributor -- not with highly-touted newcomer Lamont Jones penciled in as the starter.
But Floyd resigned, Jones got out of his national letter of intent and went to Arizona, and USC athletic director Mike Garrett surprised everyone in the biz by tabbing the one-time Lute Olson successor, O'Neill, to replace Floyd.
With these unplanned events, Gerrity suddenly became the most important player to O'Neill.
Last Saturday, against Tennessee, Gerrity gained eligibility to play. The Vols were supposed to come West and move past the Trojans as if they were going on the Disney monorail looking at the sights below. USC was depleted with injuries to Kasey Cunningham and Alex Stepheson. It also struggled without a true point in losses to Loyola Marymount and Nebraska at home and then at Georgia Tech and Texas.
So what happened?
The 6-foot-1 Gerrity didn't have his shot down against the Vols (1 of 7), but he did everything else right in making 10 of 11 free throws, scoring 12 points, grabbing five boards, dishing out 10 assists (six turnovers) in the most stunning result of the week, a 77-55 win over Tennessee at the Galen Center. "I knew he'd be that big a difference on this team," O'Neill said from Honolulu, in advance of Tuesday's Diamond Head Classic quarterfinal game against Western Michigan. "I didn't know he'd be that good. He was very, very good. He gives the rest of our players confidence, too. Before that, we could barely play the games. We didn't have a playmaker."
Gerrity's arrival, coupled with a healthy Stepheson, suddenly gives the Trojans a solid playmaking-post combination. Stepheson's knee injury kept him out of the preseason and the first two games of the regular season -- including the loss to Loyola Marymount on Nov. 21.
The North Carolina transfer, who contributed on the 2008 Final Four team with the Tar Heels, has been dominant in the post in the past two games. He scored 16 points and grabbed 13 boards in an efficient 8-of-11 effort from the field in a win over Idaho State on Dec. 11. He followed that up against the Vols with 40 minutes, the same 8-of-11, 19 points and 15 boards.
As soon as O'Neill got the job in the late spring, he was convinced he needed a point guard. But he wasn't going to rush someone into the job if he didn't think the player could be a fit. The Trojans' staff scoured the earth and couldn't find one that they wanted late. "I tried to get some guys, but the point guards weren't good enough," O'Neill said. "We ended up being stuck, and had to wait this thing out."
The Trojans already had decent face-up scorers in Nikola Vucevic and Dwight Lewis. And, according to O'Neill, USC will add Leonard Washington, a rugged defender who was academically ineligible, either for Wednesday's second game in Honolulu or the third game on Christmas Day. Washington's appearance will depend on when his first-semester grades are posted.
USC is suddenly relevant.
Sure, the Trojans hadn't won a significant game until beating the Vols, but what if they follow up that win with a tournament title in Hawaii?
The field is actually stronger than originally projected. USC could face one-loss Saint Mary's in the semifinals if the Gaels get past one-time CAA co-favorite Northeastern. On the other side of the bracket, the likely finalist could be ranked UNLV, which has to get past SMU and then either Hawaii or the College of Charleston.
The Pac-10 has done nothing to differentiate itself so far. USC has by far the league's best nonconference win. And even though the Trojans don't appear to be as talented or as deep as Cal and/or Washington, there is nothing to say USC can't challenge for a top four Pac-10 finish this season. That might not be good enough for the NCAAs, but it certainly could be NIT worthy -- which was probably not a thought until a week ago. "I wasn't stunned we won the game," O'Neill said of the victory over the Vols. "I was stunned how we won it. I just feel like we can be competitive in any of our games. If you don't have a true point guard -- forget it. I don't care what your talent is. You need a true point guard."
O'Neill said he had never heard of Gerrity prior to taking the job. O'Neill was with the NBA's Memphis Grizzlies last season, and prior to that he was Arizona's interim coach. Gerrity was at Charlotte that season and did not stand out in the 26 games he played in to warrant enough West Coast interest.
O'Neill admits that Gerrity probably wouldn't have had a shot at USC had Floyd stayed put. "Out of every bad situation comes opportunity," O'Neill said. "This guy was given an opportunity, and he's really been our most valuable player."
That's quite a statement, considering Gerrity has played in one game.
Gerrity is the bridge point guard. O'Neill doesn't hesitate to say that next season's starting point guard will be incoming freshman Maurice Jones, a 5-foot-7 point out of Arthur Hill High (Mich.). By mid-December 2010, the starting wing will be former Fordham scorer Jio Fontan. O'Neill can't comment on Fontan until he's on campus, but he will be there for the start of the second semester.
Getting the win over Tennessee did wonders for O'Neill. "We won't feel that we cannot compete with any team," O'Neill said. "I'll take our chances going into any game. Leonard will give us a three-man rotation of bigs. We're going to be a totally different team. I would never downplay that win. It was huge for a lot of reasons, most of which was confidence. It was a big win for me as a coach, big for our players, big for our program."
USC was floundering prior to that win. O'Neill was a surprise choice to be its head coach.
Now, at least for a few days, he has the credibility win at his new school, and that is always important for a coach trying to make an impression.
If Gerrity can continue to be the answer at the point, Stepheson is a force inside, Washington defends and the role players make perimeter shots, the Trojans can manufacture some wins and be competitive enough to make the Pac-10 race interesting. But flopping in Hawaii this week would negate the good vibes.
The Trojans are fragile at 5-4 entering Tuesday's game. They can become more relevant if they win this week.