Recapping the season's first six weeks
December, 23, 2009
12/23/09
8:44
PM ET
As we head into the holiday weekend (a happy holiday to all!), let's take a quick and broad look at what's gone on the first six weeks of the season …
Top storyline: Syracuse
The Orange had the offseason hype of adding Iowa State transfer Wesley Johnson, but the loss of Jonny Flynn was supposed to be a disruptive force. That wasn't the case at all. Brandon Triche and Scoop Jardine have handled the point guard role quite well. The bigs of Arinze Onuaku and Rick Jackson have been a force at times. The Orange went from a marginal top-25 team to a Big East title tri-favorite and national title contender. Picking Syracuse to win it all doesn't sound nearly as strange as it did a couple of months ago.
As expected: Kansas and Texas
The Jayhawks and Longhorns have lived up to their preseason hype of being the two best teams in the country so far. Kansas and Texas should stay in the top two spots for quite some time, maybe until they meet each other in Austin on Feb. 8. The addition of Xavier Henry for Kansas has made it an offensive force and diversified its options even more. Texas' depth took a hit when Varez Ward went down with a season-ending quad injury, but then the addition of transfer Jai Lucas provided the necessary depth. UT's Damion James is having an All-American season, proving that returning for a senior year rather than staying in the NBA draft can make sense.
[+] Enlarge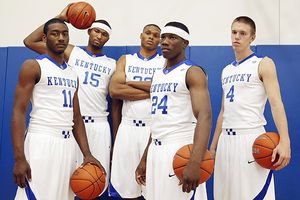 AP Photo/Ed ReinkeKentucky's much-heralded freshmen class has lived up to the hype for the unbeaten Wildcats.
The freshmen: Kentucky
John Calipari and the Wildcats had the top freshmen class coming in, and no one has disappointed. John Wall has been sensational at the beginning and end of games to close out Miami (Ohio), North Carolina and Connecticut. Eric Bledsoe has had his moments of being a highlight finisher, DeMarcus Cousins has proven to be a monster in the middle at times and Daniel Orton can be a shot-blocker if he stays out of foul trouble. Kentucky is a national title contender because of its freshmen class. As exceptional as Patrick Patterson has been this season, he can't lead the Wildcats to the Final Four without the play of these fresh faces.
The horrific injuries: Evan Turner, Ohio State and Derrick Roland, Texas A&M
Both injuries were freak in nature and have lasting effects on two NCAA tournament teams. Turner went up for a dunk and landed hard on his back, fracturing a vertebra against Eastern Michigan. Turner may return this season, but prior to that he was having a first-team All-American season with two triple-doubles as the team's Mr. Everything.
Roland suffered a season- and career-ending fracture of his lower right leg that left his leg going in the wrong direction Tuesday night at Washington. The gruesome injury scarred the Aggies and clearly had an effect on them during a nine-point loss. Roland was A&M's second-leading scorer, their top perimeter defender and a solid locker room presence.
The surprises: New Mexico and Texas Tech
The Southwest is loaded with juicy storylines this season. Toss in a potential C-USA favorite UTEP (with the addition of Derrick Caracter) and the Southwest is the place to be this season (not to mention Texas as a possible national champ).
The Lobos were supposed to be rebuilding, yet Steve Alford has corralled a collection of unheralded players and turned them into a solid offensive machine behind Darington Hobson">Darington Hobson, Roman Martinez and Phillip McDonald. The Lobos have won on the road, neutral courts and at home to shoot up to No. 12 in the country.
Texas Tech was picked to finish in the lower third of the Big 12. Who knew the Red Raiders would be able to run the way they have so far, averaging 82 points a game and scoring more than 90 three times? Save a two-point loss at Wichita State, Tech has been one of the best stories so far. The overtime win over Washington at home was one of the better games this season.
The disappointment: UCLA and the Pac-10
There's no way to sugarcoat the Bruins' demise this season. They're just not as talented as they've been of late and the 4-7 record reflects that. Losing to Big West and WCC teams isn't embarrassing, but the location (home and neutral) and the margins (27 points to Portland) made it hard to fathom. The Pac-10's inability to make its mark in the nonconference season has pushed it below power-six level heading into league play.
The best races: The A-10, C-USA, MWC and MVC could provide some of the most competitive play this season. There is a great chance for all four of these leagues to provide multiple bids -- upward of four in the first three, and likely two or possibly three in the latter -- if there is clear separation between the haves and have-nots.
Team to keep an eye on come March: Cornell can win a game in the NCAAs if it gets a decent seed. The Big Red has won games away from home against perceived higher-level leagues. Cornell has a shooter in Ryan Wittman and size with 7-footer Jeff Foote. Of course, that's if Cornell can earn the Ivy berth ahead of surging Harvard and Jeremy Lin.
The additions to watch: Caracter will be the difference for UTEP as it tries to win its league; point Mike Gerrity will make USC a factor in the Pac-10; and if we're going to believe what is coming out of Morgantown, then Turkish freshman forward Deniz Kilicli will be a major factor for West Virginia starting in February when he's eligible.
[+] Enlarge

Chris Cozzone/US PresswireFew players in the country have been as hot as Jacob Pullen lately.
Hidden gem:
Jacob Pullen
, Kansas State
The junior guard has been on a tear of late, making 7 of 10 3s (28 points) in a road win at UNLV and 6 of 9 3s (30 points) in a win against Alabama in Mobile. Pullen is averaging 20 points a game and shooting 43.6 percent on 3s.
On the road to history: Northwestern is 10-1, has survived the loss of Kevin Coble (foot injury; out for the season), won games against Iowa State and Notre Dame on neutral courts, won at NC State for a true road win and beat Stanford at home -- in addition to winning all the games it should win. The only loss was at home to Butler. The Wildcats have plenty to prove in the Big Ten, but so far they are on the path toward their first-ever NCAA tournament appearance.
Dangerous teams I'm going to track: Temple, Wichita State, UAB and Ole Miss. All have made their marks so far this season with significant wins and are capable of being tough outs come March. These are teams you don't want to sleep on.
Player of the year race: It's still wide-open. Notre Dame's Luke Harangody may not be on a good enough team to win the honor and Oklahoma's Willie Warren hasn't been consistent enough. Wall is a leading candidate if Kentucky is a No. 1 seed, but don't be so certain that someone like Texas' Damion James can't win the award this season if there isn't one player with monster numbers on an elite team.
Coach of the year: Once again, it's still early, but Northwestern's Bill Carmody and New Mexico's Steve Alford are good candidates. So is Syracuse's Jim Boeheim.
Freshman of the year: Wall just means more to Kentucky than Henry does to Kansas. Both could win the honor in a given year, but Kentucky wouldn't be the same without Wall. The Jayhawks would probably still be undefeated without Henry.
Biggest surprise player on the national scene: Charles Garcia, Seattle
Scouts have flocked to see the 6-9 junior out of Los Angeles who is averaging 23.3 points and 10.2 boards for the Redhawks. He scored 30 at Portland, 41 at Wofford and 29 against UC Irvine. You will hear more about Garcia as the season progresses.
By the way, not mentioning Purdue, North Carolina, Villanova, Michigan State and plenty of others in these categories doesn't mean they haven't mattered as much yet. All four of those teams -- along with several others -- could still make a run at the Elite Eight or Final Four.
Two more things to get out there before the holiday break:
• With all due respect to Hank Nichols, the former NCAA coordinator of officials, it's not even close in comparing the accessibility, openness and information provided by the new chair, John Adams. Adams has already helped explain a multitude of situations, including the Butler-Xavier clock controversy from last weekend.
• Arizona's Nic Wise hit a 3-pointer to beat Lipscomb in overtime Monday night. The officials on site ruled the basket good. But when they went to the monitor, they couldn't determine for sure that it shouldn't have counted -- so they stuck with the call on the court. Here's the YouTube clip for you to judge.